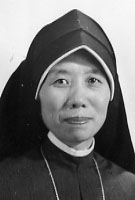 Sister Sabina Nakamura, MM
Born: February 1904
Entered: January 12, 1929
Died: September 28, 1978
Not too long after Maryknoll Sisters had begun mission work in Korea, they became aware of a young Japanese woman (rare in a Korean parish) who appeared at the Church some time each Sunday, but rarely for Mass. Curious, they asked her if she was a Catholic and learned that she was a Buddhist; but her aunt in Japan was a Catholic and she herself had attended a Catholic school in Japan for some time and realized that she should go to church every Sunday to pray. She didn't know much about Mass, but she liked Benediction with the incense and hymns.
Thus began the journey in faith of our most beloved Sister Mary Sabina Nakamura, a faith in God, in the Church, and in Maryknoll that never wavered, that only grew stronger and deeper with the passing of the years. Sister died September 28, 1978, and was buried in Kyoto.
Tonight we come to celebrate a life that enriched so many people. For those of us who knew her in the intimacy of Community life, her death is a deep personal loss. For the Japanese Region she was like a rock from which we all drew strength.
Hisa Nakamura was born in Morioka in Northern Japan in February 1904. Her father, an agricultural specialist, was assigned to Korea by the Japanese government and took his family with him. Incidentally, he laid out apple orchards which were the foundation of the flourishing apples of modern Korea.
As a result of her contacts with the Maryknoll Sisters, she was baptized Agnes at the age of twenty-one on Christmas Day, our Sister Agneta Chang being her godmother. It is interesting that today, October 4, is the anniversary of the day Sister Agneta is presumed to have died at the hands of the Chinese communists.
Agnes entered Maryknoll in 1929. Many are the stored told, often by herself, of this genuinely Japanese young woman adapting to the culture and life style of her adopted western community. Though her adaptable disposition and winning sense of humor were saving graces, apparently the adjustment took its toll on her health as she became ill. Her profession date was advanced and she went to our sanatorium in Monrovia. Here she took every opportunity to improve her English.
Here, too, she made one of the great friendships of her life with Sister Teresita Wong, one of our Chinese Sisters. They were roommates and shared a deep spiritual friendship until God called Sister Teresita to Himself and restored Sister Sabina to health that she might carry on a long and fruitful mission life.
This early experience of suffering helped to enhance the natural gifts with which the Lord had endowed her, gifts that were entirely and unfailingly committed to the Lord and to each and every one of his suffering children. A deep spirituality permeated her every contact.
All who knew Sister Sabina agree that she was unique. Perhaps because she combined in her personality so many extreme opposites:
– gentleness versus strength like a rock;
– her love of peace and harmony versus her ability to stay in on hard-nosed negotiations until the battle was won (One instance of this was when our Sisters were interned in Dairen and were able to receive a subsistence fee from the Japanese government that was wrung out of them by Sister Sabina!)
– her ability to be at home with any class of people versus her utter simplicity of life.
One of our Sisters said, "There was a certain timelessness about Sister Sabina. She related in a warm personal way with each person she encountered, whether young or old, understanding them, listening to them, giving them the benefit of her excellent astute judgment."
Among our Sisters in Japan, Sister Sabina came to earn the affectionate name of "our Sage."
Steeped as she was in Japanese culture, her intuitions were often a great consolation to those in authority. Sister herself had a deep and reverent respect for authority and a sensitivity for the difficulties they often encountered. She would remind Superiors that, like the bamboo, the little ones are protected close to the soil, while the ones at the top got battered in the storms!
We rejoice with our beloved Sister that she has entered into the perfect life; for those of us who have been so close to her, our hearts will long feel the loss of her comforting quiet presence. Yet, no doubt, we shall still feel her presence.
We thank our Heavenly Father for calling Agnes, His gentle lamb, to our Maryknoll Community. And we thank Him for this Community that enables us to share our Maryknoll life with Sisters of other cultures.
May our dearest Sister Sabina rest in peace! In Japanese we say: "Eien ni yasuraki ni ikoan koto o o—inori itashimasho!