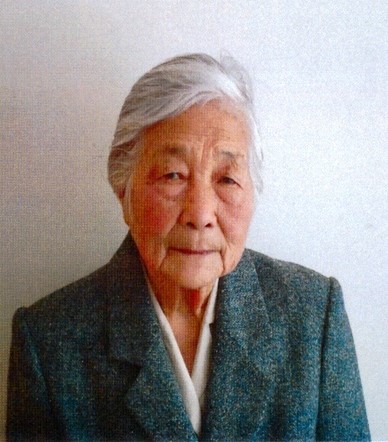 Sister Sophia Aihara, MM
Born: November 14, 1925
Entered: August 28, 1954
Died: August 3, 2023
Sister Sophia Setsuko Aihara passed away peacefully in Residential Care, at the Maryknoll Sister Center in New York on August 3, 2023. Sisters, who had known Sophia in Japan, and other Sisters, spent prayerful time with her during her last hours. Sister Sophia was 97 years old and had been in Maryknoll for 69 years. She was known for her gentle and quiet presence among us.
Sister Sophia was born November 14, 1925 in Uchida Ashiya City, Hyogo Prefecture, Japan, to Masao Aihara and Suzuko Kitagawa Aihara. She had three brothers, Seitaro, Koji, and Natsuo who have all predeceased her. She kept in close contact with her only nephew, Masakazu Aihara, and his family in Kobe, Japan.
Sophia attended high school at Sacred Heart Girls School (Seishin Joshigakuin) in Obayashi, Japan. She was baptized here when she was seventeen years old and later taught at the school for several years before entering Maryknoll. She attended Kobe University for two years and then transferred to Doshisha University in Kyoto where she received her B.A. Over the years she continued her education at Fordham University in New York and Sacred Heart University in Tokyo where she received her M.A. in English Literature in 1971.
Sophia entered the community in 1954 at Maryknoll, NY making her first vows on March 7, 1957 and her final vows in Japan in 1963. She was assigned to the Japan Region in 1957. First, she went to Matsugasaki, the Center House in Kyoto, to assist in the liturgical vestment-making project. She then moved to the Saiin Parish doing pastoral work from 1959 to 196l. Later she continued her pastoral ministry in the Ise Parish in Mie Prefecture.
When the Maryknoll Girls School opened in Yokkaichi in 1963, Sophia was assigned there to teach religion, English and math. She remained there until 1969 when she left to further her studies.  After receiving her M.A., she taught English and English Literature at Sacred Heart Junior College in Tokyo until 1987.
Sophia then concentrated her work in Kichijoji, Tokyo where she remained doing a variety of ministries until she retired at the Maryknoll Center in 2015. One of the projects she enjoyed was working for Encyclopedia Britannica doing translation and editing of articles on religion and related topics. During this time she also did family ministry, visiting her mother in Kobe regularly to attend to her needs. At the Kichijoji Parish, she had Bible study classes, as well as participating with various women and other groups. She visited the women in the neighborhood and helped out in numerous local activities.
One of her responsibilities was taking care of the men from the MAC alcoholic rehabilitation center who came to the house to help out with gardening and other jobs. She also assisted with the women's AA groups who used a space on the property for their meetings. A group of volunteer women, who prepared materials for the blind, used the Kichijoji house for their work. Sophia took care of these women and joined in their gathering.
When the house in Kichijoji was rebuild in the 1980's, she was the main contact between the contractor and the Sisters.
Sophia enjoyed gardening and helped keep the property looking nice. She continued her interest in English literature. In her later years, she started to study Greek because of her love for the New Testament and to enhance her scripture classes at the parish. She loved to travel and during her Renewal times went to various countries such as India, China, etc., to learn about their cultures.
She actively participated in all Regional and community gatherings, gently contributing her ideas. The Sisters looked forward to her delicious Japanese meals when it was her turn to cook. She was a steady presence in the community and all felt at ease with her.
After she returned to the Center in 2015 and joined the Eden Community, she found the adjustment somewhat difficult. But as time went on, she settled in and gladly participated in the activities in the Community.
We are grateful to the staff on Residential Care 4 for their considerate care of Sophia over these past eight years. We are especially grateful to the aides who took such kind one-on-one care of her. They became her good friends.
We welcome Father John McAuley, MM who will preside over the Mass of Christian Burial for Sister Sophia.