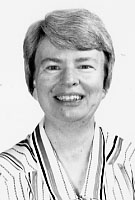 Sister Suzanne Spychala, MM
Born: June 25, 1942
Entered: October 18, 1964
Died: October 5, 2003
Today we are gathered as Sue's family in sorrow, and yet a peace pervades our hearts knowing that she has moved from a time of so much hope of recovery, to these last weeks of growing peace into this moment of joy. In her own words she wrote some years ago in Japan, when asked to prepare for her funeral, "Wear colors, not black, to celebrate my risen life and the good times we had together here on earth." The liturgy today supports her in this sentiment. "I will come again and take you to myself so that where I am there you may be also." (John 14:3)
Sue died on Sunday afternoon, October 5, 2003, in Maryknoll Residential Care IV surrounded by her friends. Sue was sixty-one years old and had been a Maryknoll Sister for thirty-nine years.
Suzanne Mary Spychala was born, an only child, on June 25, 1942 to Harry Anthony and Dorothy Margaret Earnest Spychala in Toledo, Ohio. Her Baptism, First Communion and Confirmation were all received at St. Teresa's and St. Catherine's parishes in Toledo. Though the family moved briefly to Los Angeles, Toledo was the city where she completed high school at Central Catholic. Her father and mother continued to live in Toledo, and it was there where Sue, returning twice from Japan for family ministry, cared for them until their deaths in 1980 and 2000 respectively.
Sue entered Maryknoll at Valley Park, Missouri on October 18, 1964 after working four years as a stenographer and export manager. Following the Novitiate she made her First Vows at Maryknoll, New York on June 24, 1967. She and her group were the first to keep their own names and renew their Promise of Fidelity annually. Sue made her Final Profession on October 17, 1976 at Kichijoji in Tokyo, Japan where she had been assigned in 1971.
While in Japan Sue worked in Adult Education, teaching English as a Second Language, and along with that worked thirteen years with women. She helped prepare those who would go to Beijing in 1995 for the International Conference on Women. It was necessary for attendees to speak in English, Spanish or French.
From 1980 to 1983, Sue served in the Promotion-Mission Education office then returned to Japan. In the 90's, as her mother grew older and more frail, Sue asked to come again to the States. After helping her mother get settled in assisted living, she was asked to take on the work of Director of United States – Canadian Vocation Ministry from 1999 to 2002.
Sue has been thanked by so many from around the world and described by superiors and friends alike as dependable, enthusiastic, energetic, funny, generous, sensitive to the feelings of others, a team person and one with an even disposition. She could always put on an act and did so with regularity, given the right persons to cooperate!
One Sister, in drawing a verbal portrait said, "Sue was short, chubby, with mischief in her eyes, disarming in her forthright simplicity. To know her was to love her!" Sue found the work of the mystics very appealing and said that her reason for asking to go to Japan was because of the mysticism there. Anthony DeMello's "The Song of the Bird" sustained her in these later months.
Address books seem so necessary to most of us but Sue stated in Japan that she did not have one, "I have two white sheets of paper folded in quarters in my flowered letter container on my desk." It is with this same simplicity that she moved through the stages of her illness, thinking carefully of how she could become well, suffering the consequences of treatment until it became clear to her that God had in mind a new home for her.
We offer our condolences to her family, to the Little Sisters of the Poor in Oregon, Ohio, to her dear friend Sister Marie Rosso, who came from Honolulu to be with her in these last weeks, to Sister Chris LaTulippe, who so faithfully accompanied Sue here and at Sloan Kettering, to Sister Jeanne Schaedler, to the Japan Region and to the members of Sue's entrance group. We also thank the staffs of Outpatient Care and Residential Care for their supportive ministry to her during these last sixteen months.
God has blessed us in Sue's life among us and we celebrate that in this Liturgy of Christian Burial. As the first reading states, "I saw the Lord always before me" and indeed she did. We welcome our celebrants, Maryknoll Fathers Francis Diffley and Patrick O'Donoghue, our Staff and Maryknollers who have come from other places to be with us today in sadness and in joy.