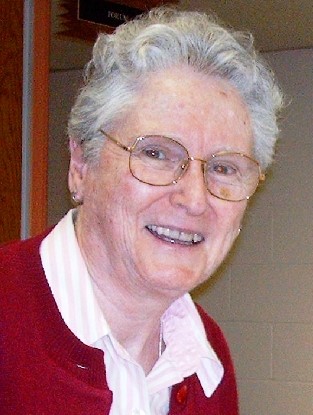 Sister Teresa Ann Lilly, MM
Born: August 28, 1927
Entered: September 2, 1956
Died: July 25, 2022
We gather here today to celebrate the life of our Sister Teresa Ann Lilly who went to her God Monday, July 25, 2022, at Maryknoll Sisters Center, NY at 6:15 a.m.  She was 94 years old and a Maryknoll Sister for 66 years.
Teresa Ann Lilly was born August 28, 1927 to Joseph Francis Lilly and Nora Josephine Norton in Brooklyn, New York.  She had one brother, Joseph Francis Jr. who was called Frank in the family.  Her parents and brother have predeceased her.
After graduating from high school at St. Agnes Academy, in Queens, New York in 1945, she began nurses training at St. Catherine's Hospital in Brooklyn, New York where she received her R.N. in 1948. She then passed the state boards and was registered in New York State.  While she worked at St. Catherine's she became the head nurse in record time, Teresa continued her nursing education at St. John's University, working for a degree in nursing.
In her application form to enter the Maryknoll Sisters community, Teresa explained why she was looking to enter religious life in a foreign mission community, and Maryknoll specifically: "Everything else seems temporary and empty. There's so much more to be done," she said, "and Maryknoll will provide more challenge than any other community."
Teresa entered the Maryknoll Sisters Novitiate in Maryknoll, New York, on September 2, 1956 from Holy Child Parish, Richmond Hills, NY.  During the novitiate, Terry – that's what her companions called her – was well loved by all, but probably especially by the younger members, who sometimes had the joy of experiencing her remarkably kind and skillful nursing in the novitiate clinic, marveling that this was the same Terry who regaled them with her poetic skills. She could produce the most apt ditties on the spur of the moment. It also goes without saying, that, as she was almost 30 when she entered Maryknoll she shortly joined the elders in the group and became part of the famed "Elastic Eleven." They did an unforgettable soft shoe chorus lineup.
At Reception Terry was given the religious name, Marius. She made her First Profession at Maryknoll on June 24, 1959 and her Final Profession in San Pedro Necta, Guatemala, on June 24, 1965.
Sister Marius' first assignment was to Bethany, at the time the Sisters Residential Care unit, immediately after First Profession. When she left Bethany a year later to proceed to her first overseas assignment, San Pedro Necta in Guatemala, she put her Bethany experience in "lyrical" terms no Maryknoll Sister could ever forget. It applies as well to the 3rd and 4th floor, or in whatever circumstances we find ourselves at life's end. Only a piece of the poem is quoted here:
"BETHANY is MOTHER MARY JOSEPH'S ideal of a Maryknoll Sister,
With wrinkles and grey hair,
BRILLIANCE with a silenced tongue,
COURAGE with cancer as a companion,
HOLINESS with a toothless grin,
And a three-minute memory."
Bethany is / Where the Martha Days of working draw to a close /
And the Mary Day's of sitting at the Lord's feet begin."
The very last line: "Bethany is, Maryknoll's Waiting Room for Heaven."
Assigned to Guatemala in 1960, Terry accompanied Sister Marian Therese Cote who suffered greatly from Multiple Sclerosis. In a 1963 letter to Mother Mary Colman, Terry reported that Sister Marian Therese was walking better on her crutches after surgery. She also reported, "we were a perfect team, she the head and heart and me the hands and feet."  When the time for Terry's Final Profession approached, Sister Marian wrote of Terry's goodness and her capability as a nurse, but ultimately, it was her delightful sense of humor that made living in a two-Sister house a real joy.
In 1968, Terry was assigned to Ilopanga in El Salvador, a new ministry, "The Formation of Christian Communities".  She return to her baptismal name, Teresa.
In 1973 she served in Congregational Services, in Mission Education. In 1989, at the end of her second term of Congregational Services, this time in Health Ministry.  She gave the Reflection at the Liturgy for the incoming and outgoing Sisters in Congregational Services, describing it as "the Community serves my needs and I give the Community a helping hand."
With the conclusion of her ministry in Mission Education, in 1976, she went back again to Guatemala, until 1986, serving first in San Pedro and then in Santa Elena in the Peten. In 1990 she was in Guatemala City  in La Communidad, San Jose, working everywhere as a pastoral agent for women's groups. When Terry returned to the Center in 2004, she served in Medical Records as data entry clerk until her assignment to Monrovia in 2007. While in Monrovia, she attended a retreat based on the meals in Luke's Gospel and she did not approve of the assessment of Martha so she changed the ending:
"We can be sure that they all ate well, there's really nothing more to tell.
But later, Martha got her wishes, and Mary had to do the dishes."
Terry returned to Maryknoll in 2013.  She joined the Chi Rho Community and then the Eden Community in 2015. During those years, she delighted her Maryknoll Sister audience with mimicry and was asked innumerable times to fit appropriate words of the occasion to familiar songs they knew. In 1996, Terry had seen an appeal for Sister's poetry in the CGB Bulletin and sent a packet, claiming that they were mainly from her novitiate days, regretting that the "muse" had faded after that. We can surely say, "Not so, Terry, not so!" A book of her poetry is available at the back of chapel for all to enjoy.
In the last years of her life, while she was in "God's Waiting Room," she struggled valiantly with memory loss and recognition of everyday activities. However she never lost her sense of rhythm when she heard a bouncing tune.  We remember Terry for the boundless joy she brought into our lives.
We would like to thank our Maryknoll Brother Fr. David La Buda, MM who presided at this mass of Christian Burial.  And we would also like to thank Terry's family and friends.