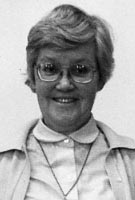 Sister Teresa E. Alexander, MM
Born: June 8, 1926
Entered: September 7, 1945
Died: January 1, 2013
The turn of the New Year took on special meaning for us as our Sister Teresa Eileen Alexander surprised all by quietly slipping into eternal life at 8:00 a.m. on January 1, 2013, in Residential Care IV at Maryknoll, NY.  A few months before her death, Sister had requested that her body be given to science.
We all knew Sister Terry, as she was affectionately called, to be a gentle, faithful and unassuming missioner when the deaths of the Churchwomen in El Salvador on December 2, 1980, thrust her and Sister Madeline (Maddie) Dorsey into international limelight.  The image of Sisters Terry and Maddie at the gravesite of the martyred women is an unforgettable part of our history as Maryknoll Sisters.  How both women responded so spontaneously and well to the role thrust on them as witnesses to this tragic event will forever be a tribute to them and to Maryknoll.
Teresa Eileen Alexander was born in Yellow Springs, Ohio, on June 8, 1926, one of ten children of Catherine Beatrice (Heider) and Charles Martin Alexander. Teresa attended Yellow Springs Elementary School and graduated from Bryan High School in Yellow Springs in 1944.  She did office work for a year before entering Maryknoll on September 7, 1945.  She made First Vows at Maryknoll, NY, on March 7, 1948 when her baptismal name became her religious name as well.  She made Final Vows at Maryknoll, NY, on the same date in 1951.  Between 1948 and 1955 she did office work at the Motherhouse and for the Field Afar Magazine before being assigned to Maryknoll Teachers College.  There she earned a Bachelor of Education in 1959, and was assigned to Middle America. She completed six months of Spanish language study and was sent in 1960 to Puerto Armuelles, Panama. There she taught for five years in Colegio San Antonio before being transferred in 1965 to Panama City, where she taught in Colegio San Vincente until 1972.
In 1973 Sister Teresa made a significant change in her mission life.  Responding to the request of the Bishop of David, Panama, she left teaching and joined another Sister to do parish work in the rural town of Boqueron, Chiriqui, Panama.  The 1980s were turbulent years in Central America and when calls were made for Sisters to serve in troubled neighboring countries, Sister Teresa offered to go to El Salvador.  Going there in April 1980, she worked briefly in La Libertad and then joined Sister Maddie in Santa Ana.  The two remained in El Salvador through the crucial events of that time until circumstances forced Maryknoll from the country in April 1981.
Sister Teresa, together with Sister Madeline, then worked for one year in Guatemala City, Zone 5, and from 1983 to 1988, they did pastoral work in Lazaro Cardenas, Merida, Yucatan, Mexico. In 1988 the opportunity for Maryknoll Sisters to return to El Salvador was once again opened.  Sister Teresa, however, chose to honor her commitment to three years of Congregational Service in Treasury and in the Admissions Office before she could return in 1991 to parish ministry in Santa Cruz, Soyapango, in her beloved El Salvador.
Sister Teresa remained in El Salvador through 2006, and in 2007 she returned to Maryknoll, NY, assisting, on a part time basis in Treasury, until her full retirement in 2011.  In these later years, Sister's prayer ministry was for El Salvador and the poor and suffering.
Few of us realized that Sister Teresa was quite a writer.  Her personal files are filled with letters and delightful histories of her work in the different missions where she served, as well as beautiful reflections and talks she gave over the years when invited to talk about the deaths of our Sisters Maura Clarke and Ita Ford.  Sister Maddie treasures a birthday card from Sister Terry  where she says "you have been a great friend throughout the years.  How fortunate we were to be together in El Salvador." For the rest of us she wrote a paragraph that was "not to be forgotten in her letter of appreciation." She wrote:
"I have always cherished my time with the poor in Panama, El Salvador, Guatemala and Mexico.  I grew to love each person deeply and was thrilled to share life with them, to know them, their culture, their way of living, their great hospitality and generosity.  They taught me many things about God and our earth.  I also have enjoyed all the years I have been in service here at the Center."
In her own quiet way, Sister Teresa was single minded in her dedication to God, to mission and to each task that she generously undertook.  In many of her writings about the death of the women in El Salvador she says that she remembers the women not by their death but by the life they lived. She would then go on to describe what impressed her most about each one.  Today each one of us is remembering Sister Teresa by the life she lived.  It was a life marked by quiet constancy and gentle faithfulness to ordinariness that so uniquely prepared her for an extraordinarily beautiful and historic role in mission in El Salvador that will be her legacy forever.
We welcome Maryknoll Father Earnest Lukaschek, another long time Latin America missioner, who will preside at our Memorial Eucharist today for Sister Teresa Eileen.