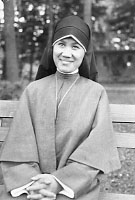 Sister Teresa Yeung, MM
Born: August 15, 1896
Entered: October 13, 1927
Died: April 3, 1971
This letter brings you word of the death of our Sister Maria Teresa in Hong Kong on April 3, 1971.
Sister Maria Teresa (Teresa Yeung) was born on August 15, 1896 in Canton, China. Her family could trace its Catholic origins back three hundred years, and one of her uncles was among the first Chinese Bishops to be consecrated. Sister's mother died at the time of her birth. She and her sisters lived in Canton but were educated in Hong Kong. It was there that she first met the Maryknoll Sisters — in fact the first group of Maryknoll Sisters to arrive in China in 1921. Teresa was a great help to the Sisters. In addition to gladly giving her services as interpreter she worked tirelessly to help the Sisters provide for their needs and learn the ways of what was, in those days, a very strange place to Americans. The Sisters were poor, even with regard to necessities, but Teresa and her friends helped them to get along.
When she herself entered the Maryknoll Community in October, 1927, her reply to a Chinese gentleman who asked her why she came was, "When I saw such fine American women leaving their own country to come to ours with no other ambition than to help our people, I said to myself, 'If they do so much why should not I, a Chinese, try to do something for my race?"' Sister Maria Teresa made her first profession on April 30, 1930, and was assigned to Hong Kong in August 1931. There, with the exception of a few decennial trips to Maryknoll, she spent the remainder of her life as a missionary to her own people.
To summarize a life as full as Sister Maria Teresa's has been, is like trying to empty the ocean into a well. Sister, as a young missioner, cared for an old ladies' home, visited the hospital wards of the poor, visited the women in prison and taught them the treasures of the Christian way of life. Later, as a friend, counselor and advisor to her own people in Hong Kong, she cared for those bereft of family and friends, always with concern and empathy.
With the development of what was first called the Industrial Department and later the Mission Art Department, Sister directed and taught hundreds of young women, and a few not-so-young, the art of embroidery and the various arts with needle and thread on beautiful fine silks that became the admiration of many who came to the popular Vestment Department. Each individual in the department was a special person to Sister Maria Teresa. She took a deep interest in their family problems, joys and sorrows, and in providing them with the opportunity to become attracted to her Faith if they were not already Catholics. On the side, Sister was Moderator for the Children of Mary Sodality; she organized a vernacular school for education of girls who could not attend classes during regular hours; she cared for babies left on "our doorstep", usually by arranging for a foster home but one little tyke was crippled from birth so this baby needed "specialing". Sister, herself was the specialist, and with love, gave confidence to the little alive bundle that she really counted. The album with the charming wedding pictures of this young lady who knew no other mother than Sister Maria Teresa, is here at the Knoll and speaks volumes.
There were war years during which Sister had to go to Macao. There she took care of an orphanage that just "sprang up" when many children found themselves homeless and parent-less because of the conditions. Three hundred and more children were housed, clothed and fed for many months through the ingenious direction of Sister Maria Teresa.
Sister Maria Teresa's favorite subject was "beauty", which hardly needs to be specified to include the concept of heaven being the most beautiful place of all. It was very real to her. She saw beauty everywhere. The response to her was beauty; no matter with whom she worked, her delicate and sensitive feeling for beauty was felt. Those who were materially poor and uneducated responded to that innate refinement. And with the elegant and materially rich, there was a sensitivity that touched and made gentle the beneficiary as well as the beneficent.
In 1967, Sister became seriously ill and entered Our Lady of Maryknoll hospital. Although she recovered sufficiently to return to some part—time apostolic work she was not able to go back to the full—time supervisor in the Vestment Department. In the last few years she gave herself to a new career, consoling the sick and dying in the hospital. She was able to bring peace to the souls of many, especially to those who had no hope of recovery and to their families.
Sister Maria Teresa's Resurrection Mass has taken place in Hong Kong. Heaven, which to Sister Maria Teresa, was such a vivid concept is now a reality.