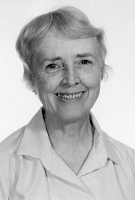 Sister Teresita Driscoll, MM
Born: September 23, 1916
Entered: December 7, 1936
Died: April 10, 1996
Sister Teresita Driscoll was born on September 23, 1916 in Lawrence, Massachusetts. Her parents are Teresa and Patrick and her brothers Joseph and Leo. We thank her family for sharing Teresita with us these many years. She was a much loved and loving member of Maryknoll.
Mary Catherine graduated from St. Patrick's Grammar and High School and entered Maryknoll on December 7, 1936 when she was 20 years old. She made her First Profession on June 30, 1939 at Maryknoll and Final Profession on the same date in 1942 in Honolulu. She completed a Bachelor in Education degree at Maryknoll Teachers College in 1944.
Sister Teresita was assigned to Hawaii in 1941 and, except for time out for education and Congregational Service, she spent 50 years in Hawaii. It was quite evident to all who knew Teresita that she loved being in Hawaii and her many years of teaching elementary and junior high school students in several parochial schools. Her teaching included CCD, Religion, English, Spelling, Science and Reading. As she began to age, Teresita adjusted to different settings and worked with senior citizens and taught English to refugees and immigrants in Honolulu. She as particularly happy to work with the elderly, refugees and immigrants, especially those who were poor. Besides teaching, Teresita was given other responsibilities during those many years: Principal, First Councillor, Community Superior.
When Teresita returned to Honolulu after Congregational Service in the Nursing Home in 1990, she had no full-time ministry, but lived to the fullest just being present, as much as her health would allow. During this time, she served as the Regional bookkeeper. Sister Teresita was assigned to the Center Main House Community in December 1995.
It was at the Center that Sister celebrated her Diamond Jubilee with five others of her group. Before the Jubilee Celebration, Teresita was known to comment aloud that she wasn't sure she would be there. She was not only there at the Liturgical Celebration, but she did one of the Readings and contributed the phrase "Search for God's Will" as part of the summary of the Jubilarians' theme for the celebration.
When asked what was her understanding of community living, Teresita shared:
"I think communal living involves an attitude of mind and heart that says 'That these (Sisters) you have given to me; may we be one in You.' Our common purpose in life should be kept alive and visible to others so that we are easily recognized as Christ's disciples. Prayer, personal and communal; work, intellectual and menial, sharing of time and talents, and much personal sacrifice are necessary to bring this about."
These words were lived by Teresita. When she worked in the Nursing Home on Congregational Service she was known for her compassion. During her many years in Hawaii, Teresita always felt there was so much to be done and felt challenged to contribute. She was known to work quietly, in a low key and unobtrusive way. She continuously worked to improve her skills and helped others to do so.
During her time of illness Sister Teresita seemed so frail and delicate and, yet, was always cooperative, pleasant and even cheerful. Sister Teresita's Diamond Jubilee phrase "Search for God's Will" reminds us of the Scripture, "Well done good and faithful servant, come share your master's joy" (Mt 25:14-23). Now that her search is complete, Teresita enjoys the blessings of God and the joy of the resurrection.
Our celebrant for today's Liturgy is Maryknoll Father Daniel Jensen. Let us together all join joyfully in our Eucharistic celebration!