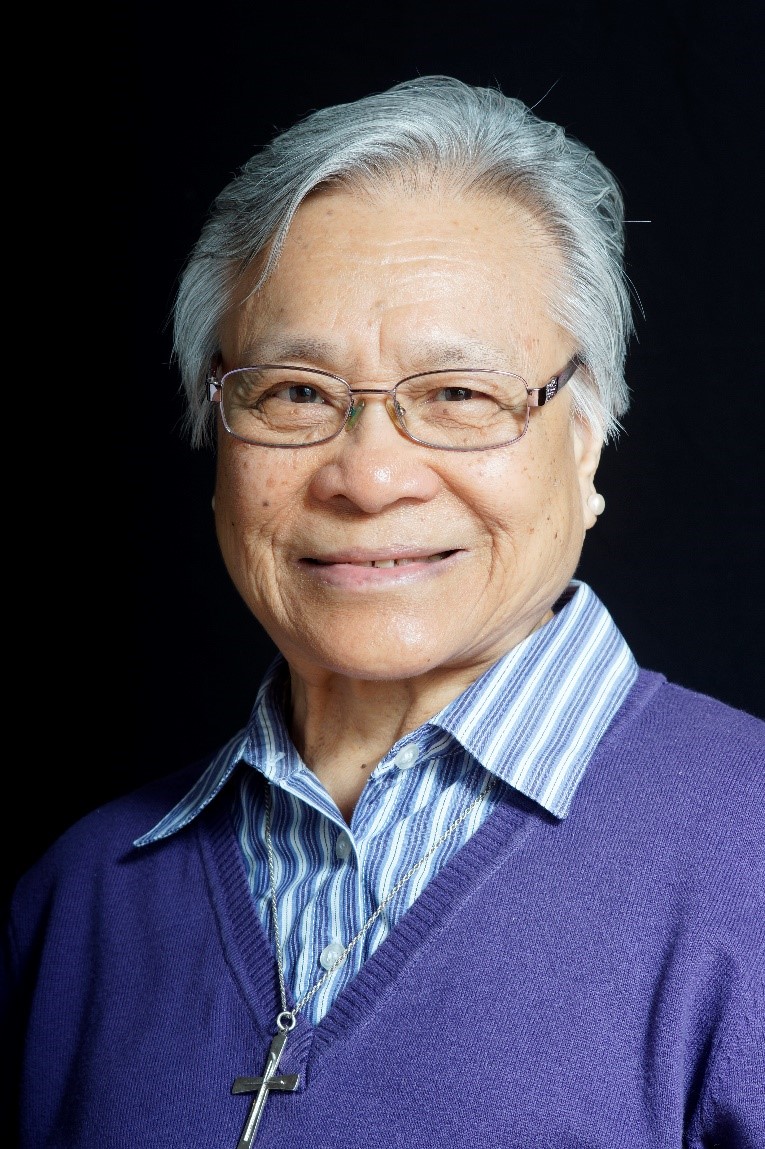 Sister Teresita Perez, MM
Born: May 26, 1939
Entered: June 26, 1967
Died: December 29, 2022
The closing words of a poem Sr. Teresita wrote come to mind as we celebrate her life at this Liturgy of Christian Burial. In the poem entitled "The Brook," Teresita is sitting by a brook. She is at peace because she feels God's presence there. The poem in a way captures her devotion and closeness to God throughout her life, her life's tone, and its ending as a coming home. She writes:

        "I'm not afraid anymore,
              I'm home
              And loved
              To the fullest!
         Oh, what joy
              That is!"

Sister Teresita Perez went home peacefully to God on December 29, 2022 in the Integrative Care Section of the Maryknoll Sisters Center, Maryknoll, New York. She was 83 years old and had been a Maryknoll Sister for 55 years.
Teresita was born on May 26, 1939 in Altavas, Aklan, Philippines to Anacleto and Placida (Santos) Perez. Teresita was the eldest child and only girl of eight children. She had seven brothers: Oscar, Nori, Ely, Cesar, Jesus, Ben, and Richard. Five brothers have pre-deceased Teresita. Cesar and Richard are still living. Teresita had 24 nephews and nieces.
Teresita attended the University of Santo Tomas in Manila, receiving a Bachelor of Science in Education in 1961. She taught high school before entering the Philippine Novitiate in Manila on June 6, 1967.
In 1969, Sr. Teresita received her mission assignment to Peru. After language study, she worked in Arequipa, where she taught Religion and English in the grade school and high school, and where she had a reputation for being a very good teacher. Teresita made First Vows in Arequipa on June 29, 1970, and made her Final Vows on June 25, 1975. She served as Education Coordinator for two years and was a chaplain in the hospital and a poor barriada or area. She was engaged in retreat and youth work, and family pastoral work in Peru from 1969 until 1993. Her poems speak of her appreciation for the natural beauty of Peru and its hard-working people. In one of her poems, she describes Pasquala, a lady farmer whose hands are caked with earth from working with the soil.
When Teresita came back to the Center for Reflection Year in 1974, she took the opportunity to enroll in a Clinical Pastoral Education program at the Central Islip Hospital for 11 weeks and later for a year in Sept. 1980-1981 at the University of Chicago Medical Center and Clinics, where she interned as a chaplain. Her CPE supervisor wrote that Teresita "was perceived as a warm, caring, available, reliable, trustable person in ministry."
Teresita was assigned to the Philippine Region from 1993 to 2003. Leah Andal-Guevarra, the present Campus Ministry Officer of Miriam College, the former Maryknoll College in Manila, wrote that Sister Teresita was instrumental in establishing a separate Campus Ministry Office at the College unit, when spiritual formation for the students was handled by the Theology department. Teresita was an active participant and facilitator during the World Youth Day held in Manila in 1995 when Miriam College was one of the official catechetical sites and hosted hundreds of youth, who were both local and foreign delegates. Leah writes that Sister Teresita's contribution to youth formation went beyond Miriam College. She was part of those who drafted the first Campus Ministry manual of the Archdiocese of Manila. She is remembered as the "strikta madre" who was always willing to accompany someone in faith.
Dr. Rosario Oreta Lapus, past president of Miriam College, writes of Teresita's service as Campus Minister: "We developed a long-standing personal and professional relationship of deep respect, collaboration, and friendship." Sr. Teresita's office was "a safe place . . . where there was music and joyful singing and the students were organizing themselves to form teams for Teresita's many projects." In collaboration with Miriam College, Sr. Teresita worked with the indigenous people of the Dumagat Tribe of Tanay, Rizal. Dr. Lapus adds, "She knew how to inspire the youth and direct their energy and abilities positively.  Moreover, she impressed upon our community the essential part of our mission and identity – the Catholic dimension of our school.  Her legacy and this noble purpose live on at Miriam College."
Teresita became a member of the Rogers Community in Maryknoll, New York from the Philippine Region on December 1, 2013. She worked in the Donor Services of the Congregation's Development Department.
In 2008, Teresita went to an orthopedic surgeon for possible knee replacement surgery. It was during an exam in preparation for the operation that Teresita got a diagnosis of cancer. Sr. Teresita underwent treatment. She recovered well and was faithful to her treatment. In early December of 2022, Sr. Teresita became ill and asked to come home to the Center, where she died on December 29, 2022.
As we bid farewell to Teresita, we are reminded of the words of Dan Schutte's "Song of Farewell." "Go now in peace, faithful friend of God, as you take our love into paradise. God's holy angels will lead you home to the wide waiting arms of the Lord."
We will surely miss Teresita as a dear friend and sister.
We thank the staff of Health Care on Main 2 and 3 at the Center who gave Sr. Teresita good care. We welcome Teresita's brother Cesar, his wife Lourdes, and their daughter Maria Lourdes, who are here with us today. We welcome our Maryknoll brother, Fr. Clyde Philips, who will celebrate the Liturgy of Christian Burial for us.