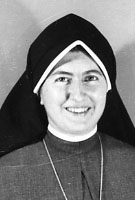 Sister Theresa Perkes, MM
Born: June 18, 1921
Entered: September 6, 1949
Died: August 25, 2000
Sister Theresa Perkes died peacefully on Friday, August 25, 2000, in the Residential Care Unit of the Maryknoll Sisters Center. She was seventy-nine years of age and had been a Maryknoll Sister for nearly fifty-one years.
Theresa Mary Perkes was born in Birmingham, England, on June 16, 1921, the oldest of four children born to James and Marina Poole Perkes. She had two brothers and one sister. When Theresa was three years of age, the family emigrated from England to Canada settling in Manitoba. Theresa attended St. Michael's Academy in Brandon and graduated from Flin Flon High School in 1936. After completing a one year commercial course at St. Mary's College in Winnipeg, she worked as a stenographer for the Hudson Bay Mining and Smelting Company. Theresa attended the University of Manitoba in Winnipeg from 1944-1948, graduating with a Bachelors of Science degree in chemistry. She returned to the Hudson Bay Company as a research chemist for one year before entering the Maryknoll Sisters Congregation on September 6, 1949, at Maryknoll, NY. Theresa had been thinking about religious life while at the university and both her parish priest and advisor at the university supported her decision to enter. Yet the "where" of that decision remained in question as both priests offered her information on different religious congregations in Canada. Theresa wrote: "I did not seem to be able to make a choice. We talked over teaching and nursing orders yet none of these seemed to be what I was searching for. Finally, Father asked me ever I had thought of missionary work. As I reflected on his question, it became clear to me that this was what I felt called to do."
At Reception, Theresa received the religious name of Sister Marina. She made her First Profession of Vows March 7, 1952, and her Final Profession of Vows on the same date in 1955 at Maryknoll, NY. In 1952, she was assigned to Transfiguration School in New York City's Chinatown as an elementary school teacher. She taught at Transfiguration until 1956 when she was assigned to Hong Kong. Theresa taught high school chemistry, physics and general science at Maryknoll Convent School for the next fifteen years. She attended the University of Warwick, Coventry, England, obtaining certification which allowed her to serve as principal. In 1971, Theresa became principal of Maryknoll Sisters School and continued in this position until 1976. She was also elected to the Regional Governing Board during this time and served in this capacity from 1971-1973. Theresa loved teaching and found it challenging and satisfying. She wrote: "There is a special bond between teacher and student which lasts a lifetime. My life was greatly enriched by my years of working with Chinese students. There was pain and joy in watching them leave and mature, in sharing their struggles and successes."
In 1976, Theresa returned to the United States to give congregational service. She offered to serve in the Development Department as a member of the Global Awareness Team centered in Northern California with responsibility for a large area of the Pacific Northwest. Theresa plunged into this new ministry with her usual quiet enthusiasm and thorough preparation. Through the Global Awareness workshops, Theresa wrote, "We hope to develop social awareness that would lead to concern and eventually to committed action for justice on the part of the participants." These were transformative years in Theresa's own life as she reflected on the Scriptures relating to justice and the needs of the poor and oppressed in preparation for the Global Awareness workshops and participated in the experiential dynamics of each workshop. She felt called to accompany the economically poor in a new way.
Theresa completed her time in congregational service and returned to Hong Kong in September 1980. She began formal language study in the hope of preparing for a new ministry and lived with four Sisters in the low-income housing area of Shun Lee. The assassination of Monsignor Oscar Romero in March 1980 and the deaths of Sister Maura Clarke and Sister Ita Ford in El Salvador in December 1980 had a profound impact on Theresa's reflections. She was deeply moved by Monsigor Romero's words on poverty: "Poverty is a force of liberation because in addition to being a denouncement of sin it is a force of Christian spirituality. It is also a commitment. Poverty is a commitment which assumes voluntarily and through love the condition of the needy of this world in order to give testimony to the evil this represents." Theresa wrote: "Romero's words called forth a strong response from deep within me. I realize now that I must go forth and live what I was preaching, as Maura Clarke did, that we need to be in solidarity with the poor. For me at this time in my life I see no other way of doing this than by going to a people who are in desperate straits and being with them in their struggles."
Theresa made the difficult decision to leave Hong Kong and continue her discernment at Maryknoll. She was assigned to the Panama-Nicaragua Region in January 1982. After language school in Bolivia, she worked in Ciudad Sandino in Managua with Basic Christian Communities and teaching English. In 1987, she requested a transfer to the Mexico-Guatemala-El Salvador Region. She was assigned in 1988 and went to Oaxaca, Mexico, to begin pastoral ministry as part of a parish team. Language was difficult for Theresa, but she continued to study Spanish and struggled to communicate with the people. Tess wrote: "I felt at home in this my first mission in Mexico."
Theresa returned to the Center in 1990. After a period of time, she was assigned to Monrovia in 1992 where she remained active in social justice issues as a member of the Conference of Social Justice Coordinators of Southern California. In 1998, she returned to Maryknoll to Residential Care.
We offer our deepest sympathy to Theresa's family: her sister, who is unable to be with us and nephew who is here with us today. We welcome our Maryknoll brother, Fr. Gerald Nagle, who will preside at this Eucharistic Liturgy of Christian Burial as we lovingly remember and give thanks for the life of our Sister Tess.