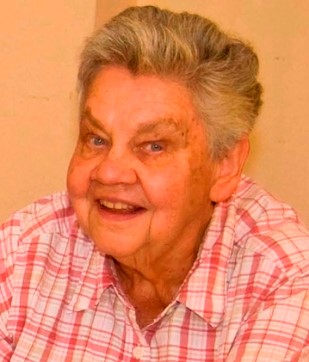 Sister Therese Howard, MM
Born: October 7, 1927
Entered: September 2, 1956
Died: November 22, 2021
Sister Therese Howard died on November 22, 2021, accompanied by Sisters Carolyn White and Mary Ellen Kerrigan who kept vigil during her final moments. Sister Therese was 94 years old and was a Maryknoll Sister for 65 years. May she know with all the saints "what is the breadth and length and height and depth of God's Love that surpasses all knowledge."
Therese Alvera Howard was born on October 7, 1927 in Janesville, Wisconsin to Floyd W. Howard and Nellie Mergener Howard. Therese had one sibling, her brother Robert. She was predeceased by her parents, brother and sister-in-law. Therese graduated from Dormont High School in Pittsburgh in 1945 and from Carnegie Institute of Technology (now Carnegie Mellon University) in Pittsburgh in 1949 with a degree of Bachelor of Science.  In 1950, she obtained a Certificate in Medical Technology at Allegheny General Hospital where she worked until she entered Maryknoll on September 2, 1956.
Therese came to Maryknoll from St. Anne's parish in Castle Shannon in the Diocese of Pittsburgh.  She was one of the older members in a large group of entrants in 1956 who ranged in age from 17 to 34.  Not to be outdone by the energy of the youngsters, the eleven who were in their thirties, or on the verge of turning 30, surprised the entire novitiate one day by lining up Rockette-style to do a little soft-shoe routine, dubbing themselves "The Elastic Eleven!"
Sister Therese made her First Vows on June 24, 1959, at Maryknoll, New York, and her Final Vows on the same date in 1965, also at Maryknoll.  After First Profession she taught chemistry for one year at Maryknoll Teachers College. She was then assigned to study medicine at St. Louis University in St. Louis, Missouri, where she graduated as a Doctor of Medicine in 1964.  One year of internship followed at St. Elizabeth Hospital in Elizabeth, New Jersey, before she continued on to three years of residency in General Surgery at Carney Hospital in Boston, Massachusetts.
In 1967, Sister Therese was ready for a mission assignment and was pleasantly surprised at being assigned to Hong Kong. Her first year was immersed in language study and then, in 1968, while continuing with language, she began to serve part time as a medical officer at Our Lady of Maryknoll Hospital in Kowloon, Hong Kong.
It was not long before Therese became aware of her first nickname. It was linked to the renowned Taoist Spirit of the Wong clan, a healer of the sick. The people believed that whatever the request to this Great Spirit, it surely would be answered. The nickname was a fitting tribute to this Sister Doctor for whom the most cantankerous patients were reserved because, they said, she had a listening ear. She was the physician-in-charge of the ward for chronically ill patients suffering from cancer, stroke, pulmonary and heart conditions. In this ministry, she worked closely with the medical social worker, the physical therapist and the nurse in charge of the Home Care Nursing Staff, who was our Sister Mary Louise Higa.  Therese had another Cantonese nickname on which she capitalized. After a consultation, whenever a patient asked, "Doctor, how can I be sure to see you the next time?" The Sister-doctor would answer with a straight face, "It's easy, just ask for 'Fei Guai Po Yi Sang,'" which translates, I am told, as "Fat Foreign Lady Doctor."
With a sense of humor like that, it was unfortunate that after only one year in active medical ministry, Therese fractured her leg. During her recuperation, while continuing to hone her language skills, she trained in Natural Family Planning, which opened up a whole new ministry for her. In 1973, she joined the Executive Committee of Birthright and provided services to unwed pregnant women. She promoted Natural Family Planning with the conviction that it provided a genuine alternative to contraception and enhanced the status of women. She ran one of five centers of Natural Family Planning where her contributions in medical ethics were sought after.  She also represented the hospital on the government committee that studied and implemented community nursing service throughout Hong Kong.
From the beginning of her part-time service as a medical officer in 1968 to her retirement in October 1994, twenty-six  years in all, Therese could boast of being the longest serving Maryknoll Sister at that stage of the hospital's development.  When she retired, she expressed great satisfaction in her ministry as a medical doctor and the personal contacts it had afforded her. The hospital always had outreach to the community as a priority, which had suited her to a tee.  As so often happens, when she looked back with the wisdom of the years, she said: "As a missionary I had come to Hong Kong with material skills, but I came to realize, the most important equipment I took with me was a listening heart."
Retiring from medical ministry, Sister Therese returned to Maryknoll and brought all that experience to bear in the Communications Office where she served as Director from 1995 to 2004.  In this capacity, she wrote about the mission work of the Maryknoll Sisters and many of her articles were published.  She was the frontline person for reporters and anyone who called for information. Sister Bernice Kita, who succeeded her in the Communications Office, could attest that "All who called hung up feeling they had a friend at Maryknoll."  Indeed, we will remember our Sister Therese as one who had a listening heart.
Until the past year, Therese had been an active participant in the community. Consistently, she had always tried very hard to remain as well as she could for as long as possible. She also accepted her diminishment and moved gracefully according to her needs from Rogers, to Chi Rho and, in 2012, to our Eden Community. Therese died at age 94, having lived a long productive life.
We are grateful to have with us our Maryknoll brother, Fr. John Barth MM, who has graciously come to preside at this Mass of Christian Burial.  We are also grateful that Sister Therese's nephew and his wife were able to be with us in person.  We also welcome all other relatives, friends, and Maryknoll Sisters everywhere who have joined us on livestream.