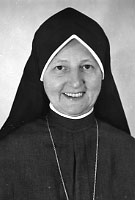 Sister Therese Marie Rickert, MM
Born: March 8, 1895
Entered: December 3, 1930
Died: April 7, 1985
On Easter Sunday, April 7, 1985 at 4:00 a.m., when the Church proclaimed joyfully Christ's victory over death, Sister Therese Marie Rickert peacefully slipped away from us to rejoice in the fullness of life. The day before her death she stated that God would take her on Easter and until moments before her death she was alert and talking.
Mary Elizabeth Rickert was born on March 8, 1895 in Tonawanda, New York. Her parents, Elizabeth Baker and Michael Rickert, were blessed with nine children, five boys and four girls. Mary was the eighth child. It was the experience of growing up in this happy, musical, German family, strong in its bonds of faith and love, that gave Sister Therese Marie those wonderful qualities of kindness, a great sense of humor and an even-tempered, willing disposition.
Mary Elizabeth attended St. Bernard's Elementary School in Brooklyn and graduated from Grammar School P.S. 142 also in Brooklyn. She then went on for a term at Normal Training High School in Brooklyn.
The appeal of consecrated service to God was strong in her family. One of her brothers, Alphonsus, became a diocesan priest and her sister, Julia, a religious. Many of us remember the frequent visits of Julia, then known as Sister Margaret Elizabeth, C.S.J. Her priest brother, Father Alphonsus, had great influence on young people and was instrumental in the choice of Maryknoll by six young women.
Mary Elizabeth, herself, felt called to dedicate herself to the Franciscan Sisters of the Poor. She was with this Community from April 24, 1917 until May 18, 1928. On the advice of her spiritual director she returned home and went to work as a switchboard operator for New York Telephone. Through her brother she learned of and became interested in Maryknoll. On December 3, 1930 Mary Elizabeth entered Maryknoll and at Reception took the name Sister Therese Marie. Two years later, on June 24, 1933 she made her First Profession and three years after that her Final Profession.
With the exception of three years at Mountain View, California from 1953 – 1956, when Sister Therese Marie helped to staff the Maryknoll Seminary, her active life was lived out at the Center. She was an excellent switchboard operator from 1933 to 1953, enabling the connections worldwide that facilitate our work. To many she was the voice of Maryknoll because those were the days when calls for both the Sisters and Fathers went through our switchboard. When asked if she understood that she might never be sent overseas to the missions, her reply was, "I am sure that I understand that I may never be sent to the missions. I am willing to accept cheerfully any kind of work assigned to me in any place…. I am very happy at Maryknoll." After Sister Therese Marie moved to Mountain View, Mother Mary Colunba wrote her saying that she still missed her cheery voice on the phone. And cheery she was. Well-known as a punster and a jester, she was always the life of the group.
Even after her return from Mountain View, Sister helped on the switchboard. Her life of daily service to all of us worldwide beautifully exemplified our conviction that it is through persons like Sister Therese Marie who serve at our Center that Maryknoll can be present effectively over long periods of time among the peoples we serve.
A serious condition began to minimize her ability to be active and in 1966 she moved to Bethany where she had a lighter schedule. She was assigned to pray for the mission of Korea and did this faithfully.
Always a person conscious of God's love for her, Sister Therese Marie deepened her spirituality through suffering. Through these years until her death she prayed that God would take her, telling everyone she was ready to die. But death was not to be then, and this March she celebrated her 90th birthday, surrounded by family and friends.
We extend our heartfelt sympathy to the entire family today and thank them for their care and support of our Sister.
We welcome Father Joseph Rickert as celebrant, and Father Eugene Rickert and Father Steven Ferrari, who will concelebrate the Eucharistic Liturgy with us this morning.