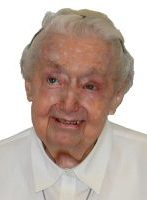 Sister Timothy Marie Healy, MM
Born: May 2, 1920
Entered: December 9, 1939
Died: August 4, 2017
Sister Timothy Marie Healy died peacefully on August 4, 2017. Timmy, as she was often affectionately called, was 97 years old and had been a Maryknoll Sister for 77 years.
She was born in Hoboken, NJ on May 2, 1920 to Ellen Weber and Martin J. Healy and baptized Mary. She had one sister, Virginia. Mary's mother died when she was four and her father died two years later. Her sister Virginia predeceased her in 2006. Both children were raised by caring relatives.
Mary graduated from Mount Saint Dominic Academy in Caldwell, NJ in 1939. She decided in the seventh grade that she wanted to join the Maryknoll Sisters hoping that in Maryknoll she would be missioned to care for orphans somewhere in the world. She entered the Maryknoll Sisters Congregation at Maryknoll, NY on December 9, 1939 from St. Jerome's Parish in West Long Branch, NJ in the diocese of Trenton. At her Reception she received the name, Sister Timothy Marie, a name she retained throughout her entire religious life. She made her First Vows on June 30, 1942 and her Final Vows on the same date in 1945, both at the Maryknoll Sisters Center.
From 1942 to 1956, Sister Timothy Marie remained in the United States where, she said later, "I try to pitch in, and do whatever I see needs to be done." And "pitch in" she did, generously and quietly at the Field Afar Office, the Venard kitchen for four years, the Maryknoll Seminary kitchen and the Crichton House kitchen. Her life changed when she was assigned to Maryknoll Teachers College in 1956 and earned her Bachelor of Education Degree in 1960. Following her graduation, she was assigned to Hawaii. For the next 26 years she served as a 4th Grade teacher on the staff of Maryknoll Elementary School in Sacred Heart Parish in Honolulu's Punahou district.
Timmy returned to Maryknoll, NY in 1986, where she gave 20 more years of dedicated service in the Mail Room mostly as Mailroom Supervisor. At her retirement in 2006, the CLT wrote in gratitude for her work:
"Please accept our sincere Thank You for your 20 years of congregational service in the Mail Room. You have done a wonderful job in so many, many ways. I guess what sums it up for us is "Total Service." You were there for us all whenever we needed you—whether it was convenient or not….You were there to assist."
The priest recommending Timmy for Maryknoll had only one reservation; he felt she might be too frail. Timothy, of course, was tough.  She tended to be shy; she never talked about herself but she often could not resist using her delightful gift of Irish wit that triggered stunningly creative puns which were always unfailingly right on.
Sister Timothy Marie retired from her work in the Mail Room in 2006 but she continued to do volunteer work right up until the time of her death. Typical of her generosity, Sister willed her body to medical science.
We welcome with us this morning our Maryknoll brother, Father Norbert Pacheco, who will preside at this Memorial Mass for our Sister Timothy Marie.