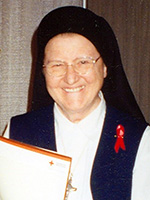 Sister Tresa Zampedri, MM
Born: October 15, 1929
Entered: October 15, 1947
Died: May 11, 2019
Saturday morning, May 11, 2019 the community at Maryknoll Sisters Center awoke to the news that our Sister Tresa Zampedri had died at 4:45 a.m. –as quietly as she had lived during her last years.  She had been in Maryknoll for 71 years.  Sr. Tresa was among the first group of postulants who entered the new novitiate at Valley Park, Missouri. Those of us who entered Valley Park with her learned that about five postulants in our group had rural backgrounds…had knowledge like hers, experiences different from ours.  This was one of my first intercultural wake-ups! We also knew Sr. Tresa to be placid and not easily excited and devoted to the Mother of God.
Velia Elena was born on October 15, 1929 at the family farm in Rupert, Idaho. She was the daughter of Joseph Zampedri and Angela (Steneck) Zampedri.  She was the fifth of nine children and she is survived only by her brother Duane Zampedri.
While she was still in High School Velia became interested in Maryknoll.  She had been reading the Field Afar (now the Maryknoll Magazine).  She was drawn to helping the poor and the sick.  She remembers one of her HS teachers who encouraged her to follow her call.   Her pastor wrote to Maryknoll that the family had a 40-acre farm which was difficult to make productive. Velia realized that she would need some money to satisfy the entry requirements for Maryknoll.  She got an after school job waiting on tables in a small café.  Velia graduated from Rupert High School in Rupert, ID in 1947.  She entered the Maryknoll Novitiate from St. Nicholas Parish.
At her Reception of the habit she was given the name Sister Mary Genevieve Tresa.  Although she never returned to her legal name after Vatican II, she however simplified her religious name to Sister Tresa.  She made her First Profession of Vows at Valley Park, MO in 1950.  She was then assigned to the Maryknoll Motherhouse in Maryknoll, NY.  There for the next 2 years she studied dietetics at NY State University.  She gave service working in various departments where help was needed: kitchen, housekeeping, nursing home, portress, laundry and infirmary.  During this time, she also helped out at our Bethany home for our retired Sisters.  In 1952 she was assigned to Bolivia which was a great and delightful surprise. After one year in Bolivia she made her Final Vows in 1953.  After six months of language study in Cochabamba she worked at the hospital in Riberalta as a dietician.  She also taught in the grade school in San Jose.  She spent ten years in Bolivia then returned the United States for her renewal (decennial, as we called it then) in 1961.
What followed was a time of crisis for Sister Tresa, and she took time to work it out.  Tresa also took time to be with family and acknowledge with her family her father's death in 1964. Meanwhile, among her activities here at the center, she attended Rogers College part-time, helped out again as staff member at Bethany and at the Center Library.  She began joining Sister Anne Cecilia in the bakery.
In 1974 she joined the US Mission Region and became a member of the community in Monrovia, CA until 1981. During these years, she had opportunities to visit her family. Following the 1986 Special Chapter, Tresa retained the use of a modified religious habit, and a simple veil.  Her life brought her again to the Center Community in 1981.
In addition to work she had taken on at the Center before, she added the ministry of visiting the elder citizenry in Ossining, NY.  Sometime before her retirement at the Center, in 1998, she received a Citation of Appreciation from the Supervisor of the Town of Ossining for fifteen years of visiting the elderly in their homes on behalf of the Seniors Services Program.
In 2008 Sister Tresa moved to our Maryknoll Sisters Residential Care, where she remained until her death.   She liked her time of quiet, and she accepted with gratitude any kindnesses offered her.   In her notes she wrote, "I would like to thank the Maryknoll Sisters and my family for all they have done for me."
One brother remains in her immediate family.  She has several nieces and nephews.  To all of them, unable to attend this Liturgy, we extend our condolence and assurance of affection for Sr. Tresa.
We welcome Maryknoll Father Gerald Persha, who will preside at our Liturgy today.