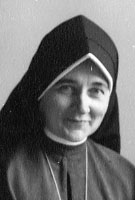 Sister Veronica Malloy, MM
Born: August 14, 1916
Entered: July 5, 1937
Died: May 29, 2003
Sr. Veronica Malloy's long and fruitful life on earth was transformed into eternal life on May 29, 2003 when she died peacefully at 2:30 p.m. in Maryknoll Residential Care.
Veronica Mary Malloy was born in New York City on August 14, 1916, the second of four girls, to James and Bridget Devine Malloy. Both of their parents had come to the United States from Ireland and met here. The girls attended Annunciation Parish grammar school staffed by the Religious of the Sacred Heart. Next door was Father Young's High School which offered an opportunity for students to study Gregorian Chant at Pius X School of Music after school. Veronica did this and went on after high school to take their program to train as a music teacher. For about four years she traveled to Catholic schools in New York City teaching Gregorian Chant. This training placed her in a position to teach our Novices at Valley Park and direct the schola while she was studying at the Center.
She entered Maryknoll on July 5, 1937. At Reception Veronica received the name of Sister Mary St. Michael. Her First Profession was on January 6, 1940 and her Final Profession January 6, 1943, both at Maryknoll, New York.
After First Profession Veronica was assigned to the Venard where she worked for two years, returning to Maryknoll for studies toward a Bachelor of Education Degree which she received in 1946. She had a great desire to go overseas and had assured Mother Mary Joseph in response to a questionnaire sent to candidates for overseas assignments that yes, indeed, she could eat rice three times a day! Instead, Veronica was assigned to Transfiguration Parish in New York City where she taught kindergarten from 1946 to 1949. She loved Transfiguration and found the transfer difficult to Assistant Novice Mistress at Valley Park. After two years there she was assigned again to teaching kindergarten, this time at Maryknoll School in Los Angeles until 1956.
But Maryknoll needed a Principal and Superior in St. Louis, so from 1957 to 1959, Veronica served in those capacities. There is a poignant letter in her file in which she tells Mother Mary Joseph of her hope to go overseas and of her concern about moving from teaching children of Japanese ancestry to those of African American heritage. She had worked in New York with Chinese Americans. She worries about her ability to keep changing cultures. This was Veronica's fifth change in eleven years. What is such a tribute to her is that not only did she succeed in St. Louis in her third major culture, but she goes on to five more assignments, all of which she fulfilled with great love for the people.
In 1959, Veronica was asked to return to Los Angeles where she taught grades 3 and 4, then served as Principal and also Superior. During this time, she was elected as a delegate to the 1964 General Chapter. Her next assignment in 1965, for six years, was at St. Anthony in the Bronx where sadly, she and Sr. Ann Joseph Brisolara closed the school. These were the days of name change, habit change, etc. She writes that in 1965 she was Sr. St. Michael; in 1966 she was Sr. Veronica. In 1967, a 3rd grader said, "What do we call you this year?"
From the Bronx, she returned to Los Angeles and from 1972 to 1975 she, again, had the difficult task of helping the people understand that Maryknoll was ending its commitment and leaving the school. As a member of the Western U.S. Region, she was asked where she would like to go from there and chose, along with Sister Agnes Dougherty, who was her friend and constant companion, to teach at Immaculate Conception, a parish school with children of African American and Mexican American heritage. During this time she was the Region's Due Process Moderator from 1979 to 1982.
Both Sisters were then ready for a return to the East where their families lived, and so in 1982 they entered the Eastern U.S. Region and went to Carthage, Mississippi, where they would do pastoral work for the next twelve years. As Veronica wrote, "We commit ourselves to participate in the struggle for social justice and we respond both by addressing the roots of injustice and by ministering to those who suffer the effects of poverty and oppression. For many, violence is a way of life. We must be a counter sign. We must teach and practice interrelatedness." Much loved by the people, but having turned over their work, they returned to the Center in 1994 where they remained until Veronica was assigned to Monrovia in 1996. After eighteen months there, she returned to the Center for needed health care and to help Agnes. On March 3, 1999, Veronica moved to the Maryknoll Residential Care fourth floor unit where she lived until her death. During these years she was faithfully visited by her sister, our Sisters and her friends from Carthage.
We extend our deepest sympathy to Veronica's family and her many friends and welcome our Maryknoll brother, Father Wayman Deasy, who will offer the Liturgy of Christian Burial with us.