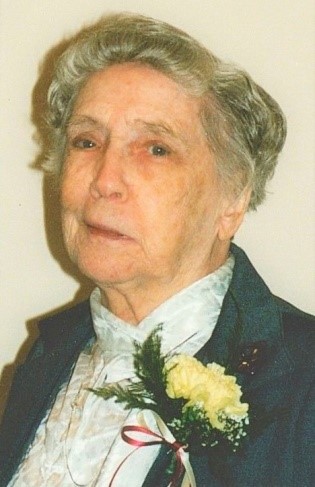 Sister Veronica Mary Martin, MM
Born: February 4, 1920
Entered: December 8, 1941
Died: March 16, 2020
Sister Veronica Mary Martin was born on February 4, 1920 to Catherine (Hopkins) Martin and John Patrick Martin.  She was baptized Anne Helen Martin in St. Monica Parish Church in Philadelphia, PA. Anne Helen had four brothers: Francis, Harry, Johnnie, and William and five sisters: Rosemary, Margaret, Helen, Catherine and Sister Mary Beatrice, an Immaculate Heart of Mary Sister. Anne Helen was the youngest member of this large family. When Sister died on March 16, 2020, she had survived all her siblings and had been a Maryknoll Sister for 78 years.
Anne Helen graduated from John W. Hallahan Girls High School in 1937, then attended Pierce Business College in Philadelphia from 1937-1938. She then worked for the U.S. Census Department, Washington, D.C. until December 8, 1941 when she entered the Maryknoll Sisters Congregation at the Motherhouse in Ossining, New York from the Archdiocese of Philadelphia. At her Reception into the Community, Anne Helen received the name of Veronica Mary, a name she retained for the rest of her life. She made her First Profession of Vows on June 30, 1944 and her Final Vows on the same date in 1947, all at the Motherhouse.  Sister Veronica Mary attended Maryknoll Teachers College and graduated with a Degree of Education in 1947.
Sister's various assignments took her first overseas to Hong Kong, where she served briefly as a grade school teacher at Maryknoll Convent School, then to Hawaii working as an assistant in a Pre-school operated by the Maryknoll Sisters. For much of her religious life, however, she worked in the offices of the Development Department: the Field Afar, Sponsor Desk, and Direct Mail. In the 1950s she also served as a clerk in the United States Government Post office at Maryknoll. From 1973 to 1987, she worked in the Maryknoll Sisters' archives of the Maryknoll Sisters Center. Wherever and to whatever she was assigned, she always worked diligently, joyfully and conscientiously. From 1953 to 1958, besides her regular work, Sister engaged in voluntary service in the Civil Defense Forces of the State of New York. In recognition of this service, "The People of the State of New York awarded Sister Veronica Mary a Certificate of Public Service." Sister was very proud of this recognition.
The changes of the Second Vatican Council weighed heavily on Sister Veronica Mary, yet she made every effort to be cooperative. The sixties had been particularly difficult. Major changes in religious life continued unabated. She wrote to her superiors, "I resolve to support you all the way with prayers to the Holy Spirit for your guidance and the virtue of courage to implement what the Spirit prompts you to put into effect…" In another of her communications, she wrote, "I am not a leader, but a follower." With that knowledge of herself, she put her trust in the leadership of the Community and said, "In these times of great changes, my 50 years in Maryknoll had taught me that God provides excellent leaders for the Community."
In 2012, Sister requested a transfer to the Eden Community. She had been a member of the Chi Rho community since 2003. She was 92 years old and felt her needs could better be met in residential care in the Eden community. In speaking of the many years she had spent at the Maryknoll Center, she said she had no regrets. "I have found great joy to have been in contact and friendship with so many missioners from so many different places, I sincerely feel so much a part of all of them."
Regarding her death, she expressed the desire of giving her body to science and had made all necessary arrangements, but circumstances made it impossible to fulfill this desire. As Sister Anastasia expressed it to the Community in the announcement of her death, "Due to the current global situation with the coronavirus, the New York Medical College is not able to receive her body at this time." Sister's body will be cremated with ashes buried in the Maryknoll Sisters Cemetery.