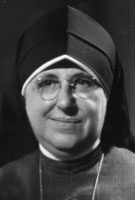 Sister Victoria Francis Larmour, MM
Born: March 1, 1887
Entered: December 7, 1935
Died: April 28, 1978
On Friday, April 28th, Sister Victoria Francis Larmour died peacefully after a long illness at Bethany, where she had lived in retirement since 1969. Born in Fall River, Massachusetts on March 1, 1887, Victoria Amanda Larmour was educated in the public schools of Bridgeport, Connecticut. She attended Smith College, graduating in 1908 with a Bachelor of Arts degree. She earned a Master's at this same institution in 1912; attended the Fordham School of Social Service for a year in 1916, and for another year in 1932.
Victoria entered Maryknoll in December 1935, and made her final profession in June, 1941. She worked here at the Motherhouse in Publicity and as a teacher in what was then our Normal School. She was assigned to Hawaii in 1943 to help in the  development of the newly founded Diocesan Catholic Social Service Agency. Seven years later she was transferred to San Francisco to the Catholic Social Service program there until she was elected as a delegate to the 1952 General Chapter and, subsequently, to the General Council.
Probing these facts we discover the vibrancy and constancy of a woman who described her vocation in the following words, "Just as God makes no two roses, no two birches, no two mountains exactly alike, so every vocation is unique. My vocation had to wait for so many years to come to fruition that I have often called it a Century Plant Vocation."
The seed of this plant was sown in 1904 when Sister Victoria Francis, then a freshman at Smith College, met Mary Josephine Rogers, a member of the Senior Class. Sister tells us, "By the time 17 was a Junior, Mollie Rogers had returned to college, holding a Fellowship and serving as an instructor of Biology. Early in 1907, all the Catholic girls received an invitation from her to form a Catholic Mission Study Club. It was this class which opened up to me the vast field of Catholic mission endeavor through the centuries, and filled me with hopes and plans to serve the mission cause."
When Mollie Rogers left Smith College, Victoria succeeded her in the direction of the Mission Club.
A letter written in 1912 to a friend states, "I have written you of my interest in foreign missions – the work to which I wish I might devote my life. I still try to help by writing and by trying to interest other people. In addition to this, I have become interested in our local charities and settlement work. "
It wasn't until twenty-three years later, at the age of 48, that Victoria realized her dream. Family circumstances had thrust upon her a major part of the responsibility of caring for her parents and a maternal aunt. She stated at the time, "wanting more than anything else to be one of the 'Secretaries', I had to face the fact that I was not free to leave home…. Despite all the variables of time and place, the essence of every religious vocation is the same. God sends His grace in the form of an invitation to serve Him in a special way. He shapes the circumstances of the call. To the man or woman who responds to such a vocation, its ultimate realization, remains a mystery, defying analysis or explanation.; No Sister can explain, why she became a nun. She can only relate the external circumstances which favored and those which hindered the fulfillment of her vocation."
In this spirit you can see why she didn't remain at home bemoaning her life circumstances. Instead, she began her teaching in high schools, moving from them to the college faculty of the newly founded College of St. Teresa in Winona, Minnesota, and the College of New Rochelle, in New York; but she soon found herself drawn to the new profession of social work. Victoria prepared for it with night classes at Fordham University School of Social Work, which was just in its beginning. Soon she obtained a position with the newly founded Catholic Charitable Bureau in Bridgeport, Conn. From about 1918 to 1930 she saw this work extend to five branch offices. She wrote, "It was a treasured privilege to have a small part in this flowering of Catholic Social Welfare in Connecticut. My family and friends assumed that I found complete satisfaction in this professional career. Unquestionably, there was satisfaction in serving people in need and in trouble. Actually, all this social work provided satisfaction only as a substitute for Maryknoll and only to the degree in which I could every day make it consecrated service offered up for Maryknoll."
In 1930, Victoria worked for the New York State Division of Parole, when New York became the first State in the Union to make this application of the principles of social casework mandatory in parole work. She stated, "This was to be a unique adventure. No other State had made such an attempt. It was a stupendous task. The Division suddenly took over legal responsibility for approximately 6,000 paroled felony offenders….The parolees being 98% men, the parole officers had to be practically all men. Men with professional social work training were not available…" and it fell to her to set up a plan for in-service training for these men.
All of this occurred before Victoria entered Maryknoll. Was her life to continue to be a unique adventure? Would such a creative and visionary person continue to grow in the midst of Religious rules and regulations? We have only time and space this morning to state, however briefly, some of her accomplishments. You would need to read her life and speak to those who knew her well to get the full story:
1. She began Sociology courses here at Maryknoll.
2. In Honolulu, she not only developed the Catholic Social Services, but raised the standards of Social Work in the then Territory by lifting, "the tone of the general discussions out of the 'Big Five' subservience to some recognition of the dignity of the laborer…." as well as by placing an emphasis on Family Life.
3. In the 1950's she was laying the ground work for our present Research and Planning Department by beginning the Mission Education Secretariat and the Mission Research Library.
4. She tried to establish an office which would have contact with agencies doing similar work — what we now call collaboration.
All these ideas were freely placed before authority with a freedom and humility with amazed me. One example will give you an idea of this. In a memo to Mother she stated, "Here are my building stones, but you may have your own building blocks. Have fun enjoying building your castle."
Her own words can be the only fitting conclusion to this account of her life — "Each day finds me more puzzled as to why the dear Lord should have wanted to work out such an elaborate pattern of circumstances… Each day I realize a little more deeply that I did not choose Him; He chose me. Why, I do not know, except that once in a while He chooses to grow a century plant."
In thanksgiving for Sister Victoria Francis' life, we enter joyfully and reflectively into this Eucharistic celebration, knowing that this "plant" is blooming vigorously in the fullness of new life with Jesus.