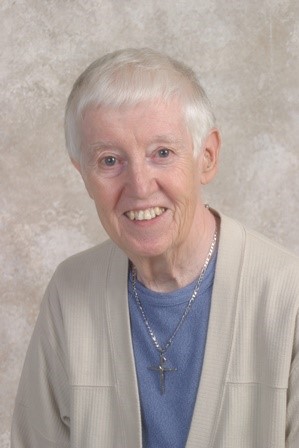 Sister Virginia Farrell, MM
Born: August 12, 1925
Entered: October 18, 1964
Died: April 14, 2020
Sister Virginia Farrell died on April 14, 2020. She was 94 years old and a Maryknoll Sister for 55 years.
Virginia (Ginnie) Farrell was born in Patterson, NJ to George and Mildred (Pyle) Farrell on August 12, 1925. Soon after, her family moved to Connecticut. Ginnie had two brothers, Thomas and George, and one sister, Ruth. Her early Catholic schooling was in the Bridgeport, CT area, and she graduated from Bassick Senior High School, Bridgeport, CT in 1943. She received a Registered Nurse degree and a Bachelor in Nursing Science degree from the University of Connecticut in 1948.
She took various nursing jobs before she entered the US Army Nurse Corps in February 1952. In this capacity, she served in Korea, Germany, and Iran.  It was in Korea that she received the Bronze Star for her service and also met the Maryknoll Sisters while helping as a volunteer in the Maryknoll Hospital in Pusan, Korea.
Ginnie wanted to serve the poor and in 1961 contracted with the United States Agency for International Development (USAID) to train health care workers in Managua, Nicaragua, where she again met the Maryknoll Sisters and volunteered with them.  After her service with USAID was completed in 1963, she volunteered with the Maryknoll Sisters in Siuna, Nicaragua for a year.
On October 18, 1964 Ginnie entered Maryknoll at Valley Park, MO, saying that she "wanted to be closer to God." She made her First Vows at Maryknoll, NY on June 24, 1967 and, after renewing her Vows at the Center on June 24, 1968, she volunteered as part of a medical team in Vietnam, sponsored by the United States Catholic Conference (USCC) in partnership with USAID and the Vietnamese Ministry of Health. She was named Field Director of the group which was doing training for counterparts in rural hospitals in South Vietnam. Based in central Vietnam in Nha Trang, she coordinated a large team of medical personnel and at great risk, regularly visited the field clinics and medical centers. In June 1969, she was transferred to Saigon, now named Ho Chi Minh City. There she volunteered with orphaned children who roamed the streets and tried to bring them to safe spaces, literally and figuratively.
At the end of her two-year commitment in Vietnam, Sister Ginnie applied for work in Latin America with the World Health Organization (WHO) and was sent to Peru to work with local personnel setting up nursing administration facilities. While she was there she assisted with relief work after the tragic earthquake in Juarez, Peru, which killed more than 50,000 people. The WHO then sent Sister Ginnie to Managua, Nicaragua, where she set up a clinic, and also worked with HOPE (The  Christian Medical Missions Organization) Hospital. Through all these assignments, Sister Ginnie was faithful in communicating with the Maryknoll Sisters' Central Governing Board (CGB) and discerning future work and appointments with them.
Sister Ginnie expressed interest in joining the Middle America Region, and this was accomplished on May 30, 1970. But Sister did not find a ministry in Middle America that she felt suited her special skills, so she asked for and received permission to transfer to the Eastern US Region on November 10, 1972. At the time, she was involved in preparing a proposal for a Congregation-wide Education and Review of Health Care Services. However, this large project was deemed beyond the scope of the Congregation as it faced the enormous changes which flowed from the 1968 General Chapter. Sister Ginnie also worked at the Center collaborating in the preparation of an in-service care program for lay and Maryknoll Sisters staff at the Bethany Nursing Home of the Maryknoll Sisters and helped out in the Mission Institute. Sister Ginnie made her Final Vows at the Maryknoll Motherhouse, Maryknoll, NY on June 22, 1974.
The following years opened the door to a whole new flowering of ministry filled with many kinds of medical service among the people of Appalachia.  As Sister Ginnie said at the time: "I want to go to work in an area of extreme poverty." Her companion there was her dear friend, Ms. Georgia Fitzpatrick, with whom she lived for many years—along with an assortment of cats, dogs, and other wounded animals. She was a staff nurse, then head nurse and then Director of Nursing in the Appalachia Regional Hospital in Hazard, KY from 1972-1978. Throughout this time, Sister kept up her membership in the United States Army Reserve, retiring as a Colonel on August 12, 1985.
Feeling the heart-call to a different kind of service, Sister Ginnie founded the Hazard—Perry County Community Hospice Program in 1979 in which she served as Program and Executive Director until 1992. This was a very new concept at the time and Ginnie met the challenge with her usual grace and humor. The people called her "Sister Virginia of the Mountains", and there were many who said she could move mountains! In 2011, the Mountain Community Hospice in Hazard dedicated a new wing named for Sister. She retired as Director in 1992, but volunteered at a feeding center in Hazard, KY.
Sister Ginnie was also a parish worker at Mother of Good Counsel Parish for eleven years. She received the Award for Service from the Diocese of Lexington in 1998. This was one of many awards she received, including The Eleanor Gill Award for Clinical Nursing from the University of Connecticut 2005, and the Woman of the Year Award from the Hazard-Perry County Civic Association in 1981.
In 2003, Sister Ginnie felt it was time for her to leave Hazard. Her grand farewell was evidence of the love and respect the people had for her there in Kentucky. She moved in with the Maryknoll Sisters in Baltimore, MD from 2003-2005. At her own request, she was assigned to the Chi Rho Community October 1, 2005 at the Maryknoll Center and then to the Eden Community, the Maryknoll Sisters' Residential Care Unit, on  January 1, 2009 where she died.