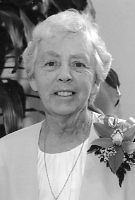 Sister Virginia Stivers, MM
Born: January 19, 1934
Entered: December 30, 1959
Died: December 10, 2010
"I see myself living in a wonderful place. It fills all my needs and desires" (From a note found on Sister Virginia's desk.)
On December 10, 2010, Sister Virginia Ann Stivers died at Phelps Memorial Hospital in Sleepy Hollow, New York.
The second of three children and only girl, Virginia Ann (Ginny) was born to Phoebe (Tabbert) and James Stivers in Orange, New Jersey on January 19, 1934.
After graduating in 1951 from St. Michael's High School in Newark, New Jersey, Ginny studied nursing at St. Michael's Hospital receiving an RN in 1954. She continued working at St. Michael's as an operating room nurse for five years specializing in thoracic and cardiac surgery until 1959. Among the qualities observed by her nursing supervisors and later evident in her missionary life were: quiet, serious, unassuming, responsible, keenly interested in her patients, dependable, and persevering.
After reading the Maryknoll Magazine in Grammar School, Virginia felt drawn to Maryknoll and wrote the following: "Ever since I can remember I've longed to care for those less fortunate than I and bring them to our Divine Lord." She entered Maryknoll at the novitiate in Valley Park, Missouri from St. Rose of Lima parish in Newark on December 30, 1959. Having received the religious name of Sister Maria Corde, Virginia made her First Profession of Vows on August 22, 1962 at Valley Park and her Final Vows on June 5, 1970 in Riberalta, Bolivia.
From 1963 to 1965, Ginny worked as a qualified operating room nurse at Queen of the World Hospital, Kansas City, Missouri, the first integrated medical facility where black doctors could practice their profession leading to acceptance in all hospitals in the USA.
After assignment to Bolivia, SA in 1966, Virginia became involved in work in the Riberalta Government Hospital which was the first hospital in the vast northern jungle area of the country. She was an all around nurse serving in surgery, pharmacy, outpatient services, and supervising the auxiliary nursing students. In 1975, meeting the challenge of supervising the operating room, doing clinical supervision of nurses, teaching in the School of Practical Nursing and providing in-service education for Graduate Nurses, Virginia felt the need once again to use her nursing skills by taking the position of Healthcare Supervisor of Maternal and Child Care in a Pre and Post Natal Clinic.
In 1981 Virginia returned to Maryknoll for four years working in the Development Department. It was upon her return to her beloved Bolivia in 1985 that she joined a Pastoral Team of six Maryknoll Sisters becoming involved in Community-based Health in the small outlying town of Capinota nestled in the Andes Mountains. She was noted for her continual follow-up of the poor who were sick making several trips weekly to and from the city of Cochabamba. It was here that Ginny was able to realize her God-given ministry of working with the physically-challenged adults and children. Her greatest desire was to help as far as possible especially children to realize their dreams. Ginny was given a citation by the Mayor of Capinota for her work in Community Service.
Well before preventive measures especially natural ones were popular, Ginny had a deep interest in "wellness", continually studying and updating her understandings of what maintaining good health might look like especially as it related to women's health, at a time when health studies were done exclusively on men and applied to women.
In 1998, due to illness, Ginny returned to the Center and remained until 2002. After therapy, an acceptance of her physical limitations and a determination to be with the people she loved, Ginny returned to Bolivia in 2004 where until 2009 she chose ministry in CERECO (Center for Physical Rehabilitation). Ginny knew well the challenges patients face. Working with a young girl, she said, "My aim is not only to help Gabriela with her physical therapy, but also with her mental attitude and spiritual growth. What a joy it is to see the changes in her!"
Ginny was very dedicated to her family and kept up with all that was happening with them especially with regard to their health. Few of the sisters knew that she had a letter writing ministry – dashing off a note or a card to those who were seriously ill and/or depressed.
On the light side, Ginny loved to shop without buying anything. She had a wonderful community spirit and was known to sit for hours and listen to others.
After celebrating her Golden Jubilee in 2009 with her Profession group, Ginny graciously accepted remaining in the U.S. due to frail health. She became a part of the Rogers Community at Maryknoll.
Many of her friends were aware of the fact that her deep spirituality was based on her great love and devotion to our Blessed Mother. Her daily spiritual practices were enhanced by praying the Rosary. How apropos for Our Lady to call her home between the Feasts of the Immaculate Conception and Our Lady of Guadalupe!
We wish to welcome all of Ginny's relatives and friends present with us here this morning, and to thank them for all they have been and done for Ginny. We also welcome and thank Fr. William Coy, MM who will preside at the Liturgy of Christian Burial. We are grateful for this opportunity to accompany each other in our loss.