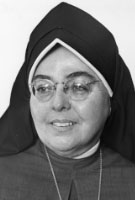 Sister Virginia Therese Johnson, MM
Born: February 1, 1913
Entered: December 8, 1933
Died: October 25, 2008
On October 25, 2008 our Sister Virginia Therese Johnson slipped away, quietly and unexpectedly, into eternal life, her destiny with God, at 5:15 am in Maryknoll Residential Care IV. She was 95 years of age and had been a Maryknoll Sister for 75 years.
Born on February 1, 1913 in Brooklyn, NY, Rita Johnson was the first of 13 children of Thomas H. and Loretta (Daly) Johnson. Five daughters of the Johnson family entered religious life. Rita graduated from St. Saviour Academy in Brooklyn in 1929 and earned a teaching certificate in 1932 from Jamaica Teachers College. She taught in city schools of New York while working for a history degree at St. John's Teachers' College before entering the Maryknoll Sisters in 1933.
At Reception she received the name Sister Virginia Therese. She made her First Profession of Vows on June 30, 1936 at Maryknoll, NY and was assigned that same year to Hawaii, where she taught at Maryknoll High School in Honolulu. Sister made her Final Vows on June 30, 1939 in Honolulu. She earned a B.A. in American History in 1938 and seven years later a M.A. in Hawaiian & Pacific History, both at the University of Hawaii.
In 1945, the year after the arrival of the first Maryknoll Sisters in Nicaragua, Sister Virginia Therese was assigned to that country. She taught primary grades in Siuna and became principal of the school. It seems she was a Brooklyn Dodgers fan, for in 1950 she wrote Mother Columba from Siuna about the celebration the Sisters had over the Dodgers winning the National League pennant and her hopes that they would win the World Series. They did not, the Yankees won 4-1!
Sister Virginia Therese was assigned back to Hawaii in 1955 and served as principal at the Maryknoll School in Honolulu. Her life took a turn two years later when she received a new assignment to Hong Kong. Once again in the classroom, she taught in the Maryknoll Sisters School and took courses in Asian studies at the University of Hong Kong.
In 1962 Sister Virginia Therese returned to Maryknoll and shortly after, to her Alma Mater, St. John's University in Jamaica, New York, where she became the first doctoral candidate in the then newly opened Asian Center. In 1966 Sister received a PhD in Asian History and began a 15 year career of distinguished and dedicated teaching at St. John's Center of Asian Studies, where later she also served as Associate Dean. At the time she was the first religious Sister, and only the second woman, to hold the rank of full professor in the 107 year history of St. John's. Sister Virginia Therese attained extensive recognition as an outstanding scholar. Her capacity to interpret the Asian world in terms of its deeper religious and cultural significance was of particular importance. Recipient of many academic honors, her essay "Traditional and Modern Influences on Japanese Political Institutions" won first prize in a nationwide contest sponsored by Georgetown University. The prize included a summer course of study at Sophia University in Tokyo. She participated in numerous conferences, and many of the papers she presented on these occasions were eventually published. She wrote book reviews for religious and professional journals such as Catholic World, Review for Religious, and World Mission.
Simultaneously, while teaching at St. John's, Sister Virginia Therese conducted seminars at Maryknoll Seminary and taught at Mary Rogers College for some years. Her commitment at St. John's, she believed, was a way to give witness as a religious, to awaken and develop a mission involvement in the laity, and to provide financial assistance for the Maryknoll Sisters.
She retired from St. John's in 1980. The following year the University conferred "upon this scholarly and dedicated daughter of Maryknoll, Sister Virginia Therese Johnson" The President's Medal, the University's symbol of highest esteem.
At Maryknoll, Sister Virginia Therese served in Archives for ten years, recording oral histories of many of the Maryknoll Sisters. She retired in 1992 and was assigned to Residential Care IV in 1997. Her prayer ministry was Nicaragua.
Sister Virginia Therese had once said, "I have never wished to be anything else but a Maryknoller. To my shame and confusion I admit I'm not always the kind of Maryknoller I should be and want to be but in my heart there is always the wish and prayer that I will live like and die a saintly Maryknoller." She requested that after her death family, friends, and the whole Christian community would pray for her and rejoice with her "because of the mercy and love of the Trinity," with whom she hoped to be united for all eternity.
We offer our condolences to the entire family. We welcome our Maryknoll brother, Father Leo Kennedy, who will preside at our Liturgy of Christian burial.
Today, we, your family, friends, and your Sisters, pray for you and rejoice with you, Sister Virginia Therese, for we are assured that "There was never a time when God was not thinking of you…"