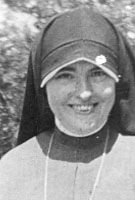 Sister Xavier Marie Hayden, MM
Born: December 2, 1898
Entered: October 15, 1927
Died: April 30, 1933
Sr. Xavier Marie was born in Somerville, Massachusetts on December 2, 1898. After graduation from Somerville High and Winter Hill Business College, Helen spent several years in the business world before entering Maryknoll in October, 1927. Sr. Xavier Marie and Sr. St. Teresa's went home the previous fall for Sr. St. Teresa's pre-Departure home visit. They parted either at Harmon or Ossining on their return and Sr. St. Teresa felt sure that that was the last time she would see Sr. Xavier Marie on earth. The following April 30 Sr. Xavier Marie died.
In lieu of either an eulogy at Sister's Requiem Mass or letter from Mother Mary Joseph to the Community about her death, the following has been compiled from the 1933 Diary:
"On April 29 Sr. Xavier Marie's brother and wife arrived to be with her on the 30th. Other members of her family were due for the 30th; but since Sister is so ill, her brother telephoned them of her condition. Father General visited her in the early evening; it seemed unlikely that she would live until the Feast of St. Catherine on which she expected to make her Final Profession.
Mother, Srs. Columba, de Paul, Regina, Felicita and two nurses — Srs. Angelica and Lillian — with Mr. and Mrs. Hayden stayed with her during the night.
At five minutes past twelve Mother told Sister that her vows were to be read to her, and Sister responded by opening her eyes and looking at Mother, assuring her thus that she was conscious and realized what was being done. Mother held Sister's hand, receiving her vows which we feel sure were made at least by an act of her will, while Sr. Columba pronounced the formula close to her ear. Mother then signed the formula card and gave it to Mr. Hayden.
At ten minutes past six, after Srs. Felicita and Regina had left her room, while the community was in chapel, Sr. Xavier Marie entered into eternity, on the great day to which she had so long looked forward.
During the night the other members of the little Final Profession group had been summoned to her room to sing the Salve with those watching beside her. The announcement of her going at this particular time was a rather awesome and at the same time a jubilant one. In referring to it, Father said surely St. Catherine must have welcomed her. All who knew of her brave, generous spirit of sacrifice and resignation to God's will felt her homegoing was a triumphant one. It did not cast gloom on the great feast. Fr. General's talk at her funeral Mass was lovely and there was a striking lack of the sense of depression one might expect on such an occasion. May she rest in peace!