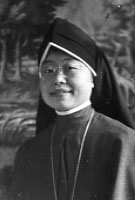 Sister Yae Ono, MM
Born: April 6, 1918
Entered: September 6, 1944
Died: March 16, 2012
Sister Antoinette Yae Ono died peacefully in Residential Care IV Friday, March 16, 2012, at 10:55 p.m.  She was accompanied by many of her Sisters since that morning when she had taken a turn for the worse. 
Sister Yae, as she was known to us, was born the sixth child to Masayo (Chiba) Ono and Manshiro Ono on April 6, 1918, in Mountain View, California.  She graduated in 1935 from Santa Clara High School.  Yae was a practicing Methodist, but in April 1942 she was baptized a Catholic at St. Francis Xavier Church, the Maryknoll parish in Los Angeles.  In August of the same year, she, along with 110,000 Japanese and Japanese Americans, was interned in Manzanar, one of ten Japanese Detention Camps.  Many thought Yae was a native-born Japanese, but she was an American-born citizen, and a Nisei, as the second generation American/Japanese are called.
While in Manzanar, Sister Yae and her sister Minnie taught catechism, assisted Maryknoll Father Leo Steinbach, who became pastor of the church, and helped the two Japanese Maryknoll Sisters, Susanna Hayashi and Bernadette Yoshimochi, who volunteered to live with the ten-thousand people imprisoned there.
Sister Yae decided to become a Maryknoll Sister, and after great difficulty, she was able to enter the Maryknoll novitiate in New York from the Manzanar Detention Camp on September 6, 1944. At her Reception Yae received the name of Sister Paul Miki, one of the twenty-six Japanese Martyrs.  She made her First Vows on March 7, 1947, at the Maryknoll Sisters' Center in New York, and her Final Vows in 1950 in Japan. Sister Yae first worked for the Maryknoll Fathers in New York and, in 1948, she was assigned to Japan. Upon completing her Japanese language study in 1949, she joined the two-Sister parish ministry in Hikone and Kyoto.  From 1954 to 1960, Sister was the Superior in Kyoto. Following the completion of this assignment she once again engaged in pastoral ministry.
In 1971, Sister Yae returned to the United States where she studied cooking in Chicago in preparation for teaching domestic science to women in Japan. She returned to Japan in 1972 where she taught women cooking and family life education until 1979 when she returned to the Maryknoll Sisters' Center, having been assigned to work in the CGB Secretariat.  When Sister Yae returned to Japan in 1982, she became Regional Bookkeeper and a volunteer at the soup kitchen at Hope House, a center for discriminated people in Kyoto.  Sister worked with a group of women in the local parish, teaching both English and religion to housewives.  Over the teaching years Sister Yae served on Regional Leadership Teams four different times.
After 56 years of devoted service to the Japanese, she retired at the Maryknoll Sisters'Center in 2003.  She was assigned to the Chi Rho community until February 2011 when she transferred to the Eden Community, Residential Care IV, where she took Japan for her prayer ministry.
Sister Yae always had a warm welcome and a delicious meal for both Sisters and visitors at our Center House in Kyoto.  During her many years and various ministries everyone appreciated Sister Yae for her warm-hearted response to the poor or disabled whom she met with great kindness.  When another Sister would respond to the doorbell, a gentleman in need would ask for "the other Sister."  Sister Yae was very practical and down to earth, fun to be with, and was known for her love and care for birds and various animals.  She could always be called upon to remember the history of the Maryknoll Sisters in Japan.
We welcome and thank our Maryknoll Father Emile Dumas, who will preside at our Liturgy of Christian Burial.