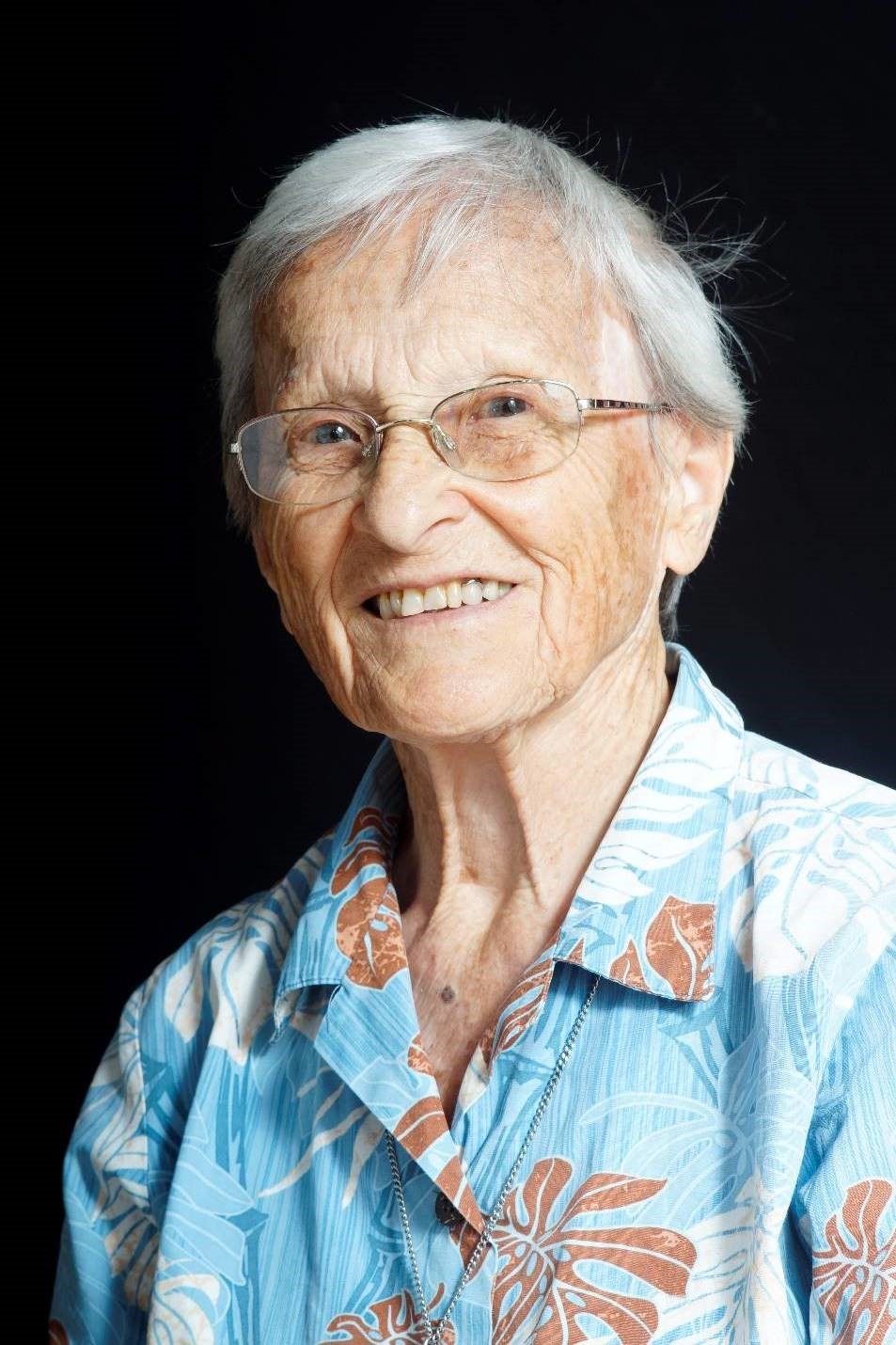 Sisters Cecelia Santos, MM
Born: January 30, 1929
Entered: August 18, 1947
Died: March 18, 2022
Here in the Annunciation Chapel of the Maryknoll Sisters Center at Maryknoll, New York and those in Hawaii, and in Coelemu and Chillán, Chile, S.A. and elsewhere, who are joining us as we gather to celebrate the life, death and new life of our beloved Sister Cecelia Santos. WELCOME, BIENVENIDOS! We also welcome our Maryknoll brother, Fr. Clyde Phillips who will preside over our Eucharistic Celebration.
Cecelia Rose Santos was born in Paia on the island of Maui, Hawaii on January 30, 1929 to Manuel S. Santos and Alexa (Gouveia) Santos. Of 13 siblings (nine boys and two girls plus two foster children, a boy and girl) Cecelia was the baby.  Growing up on a ranch, she learned not only how to ride a horse, but even became a jockey in the local horseraces. In addition, Cecelia was gifted as well with a beautiful high soprano voice that was enjoyed by all.
Cecelia was a Maryknoller from her earliest years, having been educated by Maryknoll Sisters at St. Anthony's Grammar and High School in Wailuku, Maui. After her high school graduation in 1947, she wasted no time in applying to join the Maryknoll Sisters Congregation and entered the Novitiate at Maryknoll, New York on August 18, 1947.
At her reception into the community, she was given the name Sister Rose Mediatrice.  She returned to her baptismal name, Cecelia, after Vatican Council II. She pronounced her First Profession of vows on March 7, 1950 at the Maryknoll Sisters Motherhouse, Maryknoll, NY and her Final Profession of vows on March 7, 1953 also at Maryknoll.
During the years 1950 to 1954, Cecelia attended the Maryknoll Teachers College at the Motherhouse and graduated with a Bachelor of Education degree in June 1954.  That same year she received her assignment to Hawaii where she taught until 1962 in Maryknoll Schools in Kalihi and Wailuku.  In 1962, she received her assignment to Chile, South America.
After a year studying Spanish in the southern town of Pucon, Chile, Cecelia went north to Buzeta, a slum area outside of Santiago, to teach the 4th grade in St. John of God parish school until 1966. In 1968 she was assigned to the very rural town of Curepto as principal and teacher, and in 1968 she went further south to the city of Chillan, again teaching 4th grade at St. Vincent's Grade school.
In 1969, Cecelia received word that her elderly mother was ill and she asked to return to Hawaii to be closer to her mother. Her request was granted and in June 1971 she returned to Waikiki, HI until her mother's death. In January 1972 she returned to Chillan, Chile where she taught 6th grade, taught bible study classes, did home visiting and taught mothers who were preparing their children for their first Holy Communion.
In 1976, Sr. Cecelia and Sr. Mary Ellen Manz left Chillan and St. Vincent School under the direction of very capable lay teachers to return to Maryknoll for Congregational Service.  Cecelia worked for two years until 1978 in "Supportive Services" and requested to join the Maryknoll Contemplative Community for a period of one year. At the end of that year, she returned to Chile to Coelemu, a town of 20,000 in the Diocese of Concepcion. She and Sister Rebecca Quinn, MM would be the first religious sisters the people had ever had in their parish. During the years that followed, Sisters Julie McCarthy, Jeanne Rancourt, Angela Brennan and associate Sister Margaret Mary Fitzgibbon, a Sister of Charity, joined Cecelia.
It wasn't long before the people of Coelemu grew to know this little, white haired  woman, who rode a bicycle like a teen-ager and seemed to be everywhere that she was needed, especially reaching out to help and befriend the poorest, homeless and neglected people. Cecelia's ministry had changed from School Teacher to Pastoral Worker during her 35 years in Coelemu. That included being Chaplain in a 60-bed hospital, Director of the parish Catechetical Department, forming Basic Christian Communities, doing Leadership Training and Youth work, leading Sunday liturgies when the parish priest was elsewhere, and Coordinator of the Eucharistic Ministers. She ran an eyeglass bank for those who needed glasses and encouraged the people to donate clothing and food, which was distributed to those in need. In 1991, she was presented with a plaque honoring her with the town's award of "Outstanding Neighbor" by the Mayor who said, "Sister, I want you to know that not only myself, but the members of all the institutions in this town, as well as countless people, named you as the person deserving of public recognition for the countless things you do for all of us, but most of all, for your tireless work with our most needy brothers and sisters. This is our way of saying, THANK YOU."
Sisters Cecelia and Jeanne Rancourt left Coelemu in 2015. Sr. Cecelia was reassigned to the Central Pacific Region and Sacred Heart Parish in Honolulu, HI where she volunteered in the parish food pantry.
After learning that she had stage four cancer, Cecelia asked to return to Maryknoll and arrived on February 24, 2022, where she died peacefully on the morning of March 18, 2022.  Those of us who knew and worked with Cecelia recognized in her a woman of deep spirituality and commitment to Jesus, to her Maryknoll community, to mission and the people she served, especially the most needy. She was tiny in stature, but a giant in her dedication to her students in Hawaii and in Chile and as a pastoral worker in her thirty-five years of ministry in Coelemu, Chile.
Sister Cecelia generously donated her body to medical research.