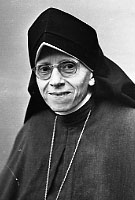 Sister Marietta Lauer, MM
Born: January 26, 1906
Entered: October 14, 1925
Died: March 25, 1967
Sister Marietta died at St. John's Mercy Hospital, St. Louis about three o'clock on the morning of March 25.
Sister Marietta (Catherine Arnie Lauer), was born at Eden Valley, Minnesota, January 29, 1906. She entered Maryknoll on October 14, 1925, and was professed April 30, 1928. She studied at Catholic University, preparatory to her assignment to Hawaii in 1930. For twenty-nine years – until 1959, Sister devoted herself to teaching in our schools in Hawaii. Sister loved her mission, her work and her pupils, and looked back upon these years as having been most fruitful, and the fulfillment of her apostolic mission — to teach!
When Sister returned for decennial in 1959 she was quite ill. She underwent intensive medical treatment at Bethany and the Motherhouse. During this time Sister was determined, despite her limitations, to work — and hopefully, to teach. There was no hope of returning to Hawaii, but the Chinese Mission, St. Therese in Chicago, offered a tempting challenge to her for even a limited apostolate in teaching. This mission filled her need to give all that she had to children who needed help.
In October 1966, Sisters' progressing illness forced her to relinquish her teaching. She accepted graciously, Mother Mary Columba's invitation to come to Valley Park, where she would find many little jobs. Sister's response was that she would be willing to go anywhere – since she did not want to be a burden to the Sisters at St. Therese's.
Sister adjusted well to her mitigated regime at Valley Park until she became suddenly acutely ill and had to be hospitalized.
Sister Marietta will be buried at the Motherhouse. The funeral Mass will be at eleven o'clock on Tuesday.