Moments of Mercy online exhibit – Week 6
"When asked what he would consider the high point of his mission career, [Fr. Daniel Ohmann answered, 'No question that it was the three years in the Rukole Refugee Camp with Rwandese and Burundian Refugees. There you met first hand how good people can be, and, how cruel people can be to one another, and experience difficulties of people which only Faith and Sacraments can help. If all could experience some of the joys and peace our priesthood gave to me and the refugees…'" (quote from Maryknoll Fathers and Brothers Africa Region website)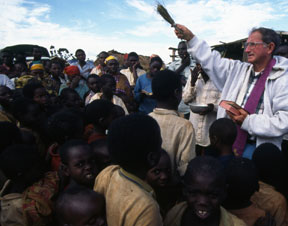 Easter –
I see people coming from all directions… It was the largest crowd I ever said Mass for. It was a glorious sight and I'm grateful to God for this chance among the refugees.
Such problems, as we have here living as refugees, are not God's plan.
This is the work of man…because we Christians have not done our work which Christ has given us. I asked all to begin today in their homes.
Home is what God wants…
If we don't, this same cycle of death and refugees will continue
and continue
and continue…
Fr. Daniel Ohmann, Tanzania