I recently had the opportunity to work with the Maryknoll Sisters' Contemplative Community collection.  One of the items that I came across was the Cloister Cookbook.  According to the book, the "aim is to serve God by a life of prayer and penance.  For this we need sound minds in sound bodies.  Therefore, nourishing food is necessary, sufficient in quantity and carefully prepared.  There should be nothing superfluous, nothing extravagant."
The cookbook holds numerous recipes for all types of food from cheeses to vegetables, eggs to cakes.  The last section of the book has suggestions for meals on certain types of days.  For example, a Sunday dinner could be a salmon soufflé or a fluffy omelet.  A meal during a fast day could include noodles in mushroom sauce or hard boiled eggs.
Below are two recipes taken from the cookbook.
Panned Egg & Vegetable Hash (attributed to Mother Mary Joseph)
2 tb. fat drippings
1 tb. minced onions
1 cup finely diced cooked potatoes
¼ cup finely diced cooked carrots
¼ cup finely diced cooked beets
5 eggs
1/3 cup milk
Salt & Pepper
Melt drippings in frying pan, add vegetables & cook until slightly brown & slightly crisp.  Season to taste.  Beat eggs slightly with milk, salt & pepper & pour over vegetables.  Cook slowly; lift occasionally with spatula to allow uncooked egg mixture to run underneath.  Fold & serve on hot platter.
N.B. Season both eggs & vegetables.
Yield – 6 servings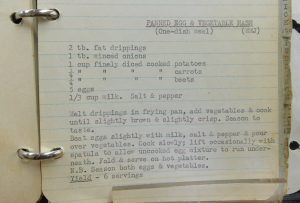 Graham Drops
1 cup shortening
1 ½ cups sugar
1 egg
½ cup molasses
¾ cup flour (white)
1 tsp. salt
1 tsp. [baking] soda
2 ¼ cup whole wheat flour
1 tsp. cinnamon
½ cup sour or buttermilk
Cream shortening & sugar.  Add egg & molasses.  Beat well.  Sift white flour with salt, [baking] soda, cinnamon.  Add whole wheat flour.  Add flour mixture alternatively with sour milk.  Chill 1 or 2 hours.  Drop from teaspoon on greased cookie sheet.  Press a big raisin or nut-half in centre.  Bake in oven (350) for 15 min.  Makes 7-8 dozen.