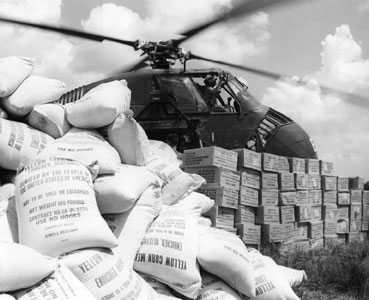 "The storm had no name…it came without warning…During thirty-six terror-filled hours, thirty inches of rain, accompanied by high winds and an awesome display of lightning, lashed the coastal lands into submission." (Maryknoll Magazine, May 1960)
This natural disaster, which was the worst flood to strike Taiwan in 60 years, set the stage for what became known as Operation Mercy. Once the rains stopped, an estimated $100,000,000 in damages was assessed. Homes, bridges, rice fields – all were swept away by the powerful force of the water. The Maryknoll priests who were stationed in Taichung sprang into action wanting to help the people as best as they could. The 49 priests were part of a huge relief effort working with the Catholic Relief Service, the Chinese Air Force, the US Navy and the US Marine Corps. Over the course of 10 days the military helicopters carried food, medicine, clothing, firewood, and water to the needy people. Nearly 1,000 missions were carried out bringing 1,850,000 pounds of supplies to 17 different areas.
Below are the actual Western Union telegrams sent by the priests in Taiwan to Maryknoll, New York informing leadership about the massive operation they were a part of. Also included is a photograph of one of the military helicopters involved in the mission of bringing much needed supplies to the people of Taiwan.