Happy Fourth of July everyone! Today we remember and celebrate the unanimous passing of the Declaration of Independence by the Continental Congress on July 4, 1776. For 245 years this day of independence has been celebrated. It has been celebrated with music, fireworks, outdoor activities, food, gatherings, moments of peace, quiet reflection and in countless other ways. Some of my fondest fourth of July memories are from when I was a kid, chasing fireflies in the large open field with friends as the light faded and brought on spectacular fireworks in the night sky that I would sit under with my family and watch in awe. That is once I got passed being horribly scared of the tremendous sound the fireworks made! So eventually the sheer terror turned to the tangible awe I remember on those warm summer nights. What will you be doing this Independence day or, as the Sisters referred to it, "the glorious fourth?" What have the Sisters done in the past to mark this day? I went into the Maryknoll Sisters Diaries collection to find out! Please enjoy these excerpts from Fourth of Julys' past that share what the Maryknoll Sisters did to celebrate "the glorious fourth" at home and around the world!
"The great and glorious Fourth! Mass celebrated by Fr. McGinn, followed by the special prayer for Civil Authorities, recited by Mother, and Benediction in the afternoon by Fr. O'Melia, assisted by Fr. Cleary as deacon and Fr. Murrett as subdeacon, comprised the spiritual side of our celebration.
The day broke gray and threatening, with a heavy blanket of mist which covered the district until shortly after dinner. Then the sun shone during the stay of a large circle from Corona, L.I. This circle showed special interest in the Sisters and priests assigned to overseas work, all of whom were on service duty to these generous friends.
During super, an electrical storm came our way, extinguished lights at St. Joseph's, and brought all hands to work with dish pans 'in the good old fashioned way.'
Fireworks were in the heavens, free to all who cared to enjoy them.
On account of the heavy rain we had to 'stay put' so recreation followed dish washing. It seemed for a while that clear weather would follow, but it was only long enough to go to chapel for night prayers and promptly scatter to the four houses for the night.
Our refectory was gay with American flags and shields. A giant fire cracker that looked as if it might send Maryknoll property across the river, had a conspicuous place in the center of the room. On each table, small fire crackers stood in position to be 'touched off' by some noisy patriot.
Old Glory decorated the road side of St. Paul's building and drew many admiring glances from passersby."
Ossining — Motherhouse Diary, 1923
"Wednesday – the Glorious Fourth. A bright new flag was the decoration on the refectory mantel. Outside the window some of the more daring of our overall boys shot caps at us. On the whole, the day was quiet, compared to Fourths back East. Summer classes at home went on as usual. In the evening we all went to the back yard for fireworks. Father Swift and the Brothers came over with their guests, Brother Fauss of Maryknoll and another man. Brother Charles had made the word MARYKNOLL and a large ChiRho of sawdust wet with gasoline. While this was lighted we sang Maryknoll, My Maryknoll. The skyrockets from Hollenbeck Park were very clear to us. Ice cream for Sisters and children had been donated."
Los Angeles, California, 1923
"Sr. Miriam joined us for Mass at the Adoration Convent Tuesday, the fourth of July. Three of our guests went to the big city to see the parade and witness games at Burnham Park. A greased pig could be had for the catching. They came home with fireworks which we all enjoyed setting off in the evening on the solarium."
Baguio, Philippines, 1933
"The Fourth of July – Mass in our Chapel began the holiday for us. The firecrackers Father Schiff had given us were arranged into a decorative centerpiece by Sister Joan Michel and gave festive note to our refectory. We set off one pack of firecrackers to the children's delight at the ten o'clock recess. Sister Catherine Maureen's patients were able to join in the fun from their seats of honor around the dispensary and enjoyed the shrills of the school children as much as the children did themselves.[..]
After supper the aspirants were invited to hold the seats of honor on the veranda as we entertained them with our fireworks' display. Father had even given us a few roman candle type and the beauty of these really delighted the girls. The regular firecrackers though frightened them and a few of the bigger girls who were the most frightened, took refuge in our recreation room till the noise died down."
Tanganyika, 1951
"We got a real thrill today out of seeing a beautiful American Flag waving triumphantly in the breeze next to the Bolivian banner. Both were outside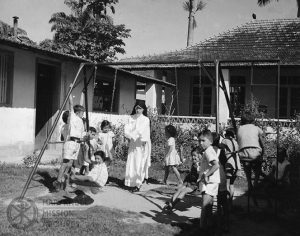 the U.S. Rubber Reserve Office. 'Madre', said Scholastica during the course of the morning, are you a Yan-kee'. 'Yes', said the Madre, swelling with pride. 'Then today is your birthday, isn't it?' 'It's the birthday of our country', said the Madre. 'Then why don't you have the band playing', she asked – for even the poorest here has the band play for his birthday."
Cobija Convent, Bolivia, 1944