The celebration of Jubilee happens yearly at Maryknoll. Though the celebration of this accomplishment is undoubtedly different this year due to the current health crisis, the amazing achievement of the 3 Fathers and 1 Brother from the Class of 1955 remains. This year marks 65 years since their ordinations and first oath. 65 years of mission throughout the world. Join us in celebrating their unique journeys as Maryknollers with this brief glimpse into their long and rewarding mission careers!
Reverend Francis H. Beninati, MM
Reverend Francis H. Beninati was born on January 11, 1928 in Farmington, Connecticut. He joined Maryknoll on September 6, 1948 and earned a bachelor's degree in philosophy in 1951 from the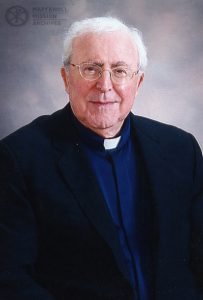 Maryknoll School of Theology (MST). In 1955, he received his master's degree in religious education from MST and was ordained to the priesthood on June 11. From 1957 to 1992, Fr. Beninati was assigned to Korea to work in Masan, Pusan and other large urban areas, with only a brief interlude from 1980-1986 working in the Formation and Education Department in the US. During his many years in Korea, he began projects to care for the refugees and the poor, which focused on projects such as housing, water supply systems, animal husbandry, and night school for working children. While pastor of inner-city parishes in Pusan, Fr. Beninati served as director of Hansen's disease and Service from 1960-1992. He was also director of the Vietnamese resettlement and refugee camp in Pusan from 1988-1992.  In 1992, Fr. Beninati oversaw Maryknoll's entrance into Vietnam where he taught in Ho Chi Minh City and, from 1993 to 2000, he accepted an invitation to serve in the Korean Autonomous Province of China, formerly Manchuria, where he taught at Yanji City, Yanbian University, Yanbian Nursing College and Yanbian Vocational Training School. Fr. Beninati retired in Korea in 2000.
Reverend Daniel F. Ohmann, MM
Reverend Daniel F. Ohmann was born on July 6, 1927 in Greenwald, Minnesota. In 1945, after graduating from Melrose Public High School, he joined the United States Army. Following his honorable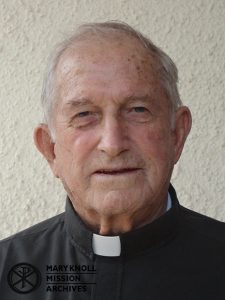 discharge, he studied math and music at St. John's University, Collegeville, Minnesota, before entering Maryknoll on September 6, 1949. Fr. Ohmann received bachelor's degrees in philosophy (1950) and sacred theology (1954) from Maryknoll Seminary and was ordained to the priesthood on June 11, 1955. Following his ordination, he worked in the US Development Department until his assignment to Tanzania in 1964. Fr. Ohmann served as pastor of the Ndoleleji Catholic Church, a parish of 27 villages, trained church leaders for these villages and was active in developing hospitals, clinics and agricultural projects during his assignment to Tanzania which continued until 1996. The project in the village of Ndoleleji that involved constructing windmills for the villages drinking water supply stands out to him. Fr. Ohmann retired in Africa in 1996, where he remained working with the Watatulu tribe in the Diocese of Shinyanga.
Reverend Philip F. Sheerin, MM
Reverend Philip F. Sheerin was born on November 18, 1928 in New York, New York. In 1950, he graduated from St. Peter's College in New Jersey with a bachelor's degree in English and on September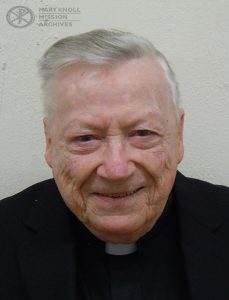 10 of that same year he joined Maryknoll. Fr. Sheerin was ordained to the priesthood on June 11, 1955 and began his assignment to Tanzania that same year. Upon arrival, he and Fr. Donald Sybertz were sent to Busanda to assist Fr. Lou Bayless. In 1963, Fr. Sheerin became pastor of Buhangija. In 1965, he took over Fr. George Pfister's position as director of the language school in Makoko alongside his fellow director, Sr. Anita MacWilliams, MM. He remained at the language school until his assignment to the US in 1980. Once there, Fr. Sheerin began his work as a department director within the administration and continued in this role until his retirement.
Brother DePorres Stilp, MM
Brother DePorres Stilp was born on August 6, 1932 in Wilkes-Barre, Pennsylvania. He joined Maryknoll on September 29, 1953 and took his First Oath June 29, 1955. Brother DePorres was an original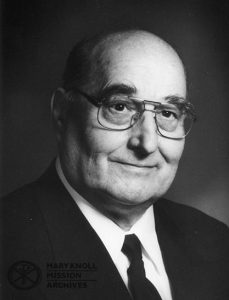 staff member of St. Joseph's Institute where skilled and trained Brothers ran the classes for younger untrained Brothers in areas like auto mechanics, carpentry, plumbing and electrical wiring, office work and bookkeeping. He also worked in the Development Office for a time. Brother DePorres was assigned to Korea in 1963 and he remained in that mission location until 1993. During his time stationed in Korea, he assisted the new Catholic Charismatic Renewal movement by developing textbooks in the Korean language and he later developed teaching materials for use nationwide in Korea for the National Catechetical Committee of Korea. He was assigned to Rome for a term while he worked on the set up and printing of the magazine Evangelization 2000. Brother DePorres officially retired in 2000 but remains active in the Charismatic Renewal and its healing ministries. He has also done prison ministry work at the Luzerne County Prison and State Correctional Institution at Dallas.