October is Archives Month, so today we highlight some of the less-typical work done at the Maryknoll Mission Archives since March. Our Archivists' work this year has looked quite different to how it looked before COVID-19. Back then, we spent most of our days reviewing, organizing, and describing collections of paper and photographic records. We call these our analog collections. But after moving to work-from-home over the spring and summer, we were separated from the analog collections and had to make new plans. We turned our attention to two main topics: digital records and "clean-up" projects.
Since our Archivists have more experience with analog records than digital, that's what we feel more comfortable working with. Older, analog records are also much more popular for research at Maryknoll than new, digital records. This means that sometimes digital processing projects get pushed aside in favor of analog projects that are more in-demand and more familiar to the Archivists.
But now, some of the backlog of digital projects has finally been addressed. A few of the most impressive projects were processing complex Maryknoll Lay Missioner records, the Archives' huge collection of digital photos, and a large hard drive of Maryknoll Affiliates records.
The "clean-up" projects addressed work that moved up the priority list. This included things like converting finding aids on Word documents into database-readable finding aids; consolidating and reorganizing the department's shared drives to streamline workflows and remove unnecessary files; and addressing policies and procedures in need of update.
We were also able to clean up a few of our own messes. We could add more detail to finding aids, re-organize files in ways that made more sense, create widely-applicable file structures for our collections, and re-address collections that were not processed properly the first time.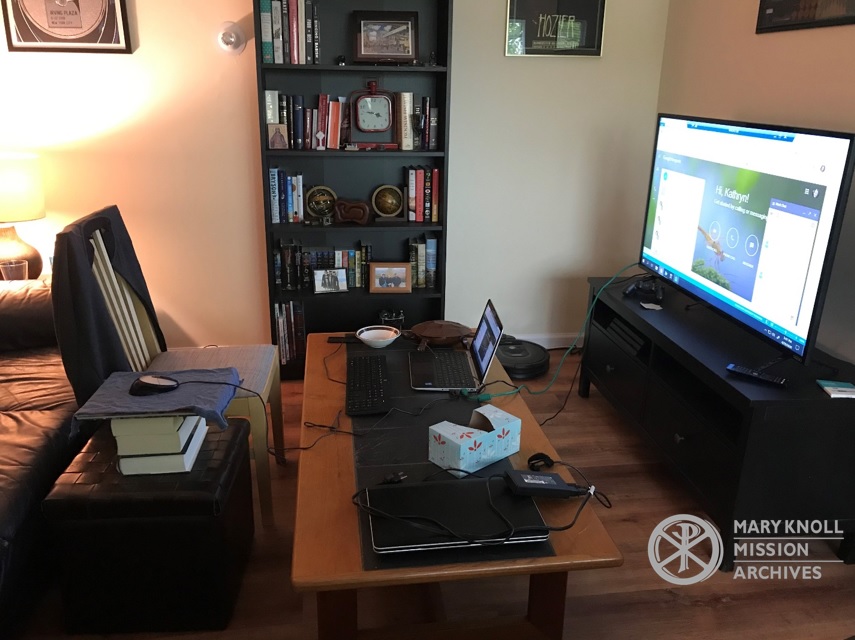 The author's work-from-home area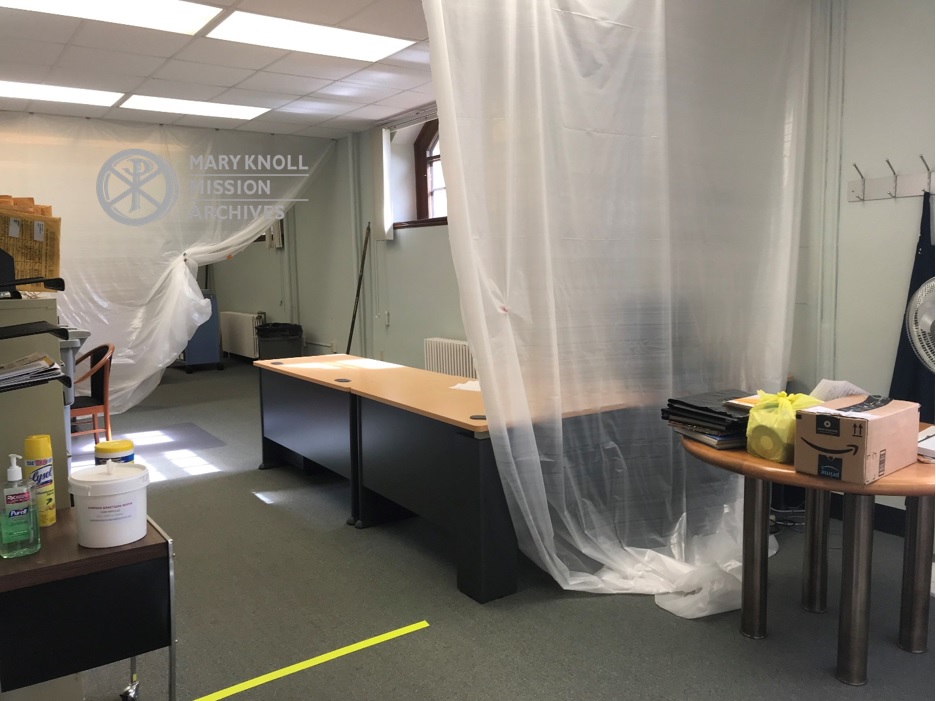 The Archives office, now with mail decontamination station, cleaning supplies, and protective barriers between desks.
We transitioned to working in shifts in the office in the summer. This allows us to address our pre-COVID office projects and our at-home projects. The hybrid approach was definitely challenging when we began. First, each of us had to develop two work plans. Then, we had to make sure we had the equipment we needed in both work spaces. Finally, we had to determine how to work in the office safely. How many people can be in the stacks? How far apart must our desks be? What's the protocol for using the copy room? It took a lot of planning, but we are now able to do our normal and new-normal work concurrently. It hasn't always been smooth, but with a little grace and good communication we've made it work.
None of this would be possible without 21st century tech and a lot of creative thinking. Instead of calling out questions in the office, we ask them in our group chat. Instead of catching up about fun moments over lunch, we have a weekly conference call. I'm sad that I haven't seen all my colleagues together since March, and probably won't for a long time yet, but I'm glad we've been able to stay connected.
We have all become better detectives in the last few months, too. When we can't access the usual reference material, we dig into old reference requests, finding aids, Google, and each other's memories to get what we need. Without the ability to use remote desktops, our work would not have been possible. We wouldn't have been able to answer questions, process records, or address the "clean-up" projects without access to the resources on our shared drives. We're thankful to have the technology and adaptable dispositions we needed to complete our work and make lemonade out of 2020's many lemons.
Our new normal is still different to how the Archivists worked before. However, the upheavals of the last eight months have certainly led to creative problem solving, flexible work styles, and some exciting archives projects. We hope that by next Archives Month, the Maryknoll Mission Archives will look a little more familiar to everyone.