On September 7, 1918, four Maryknoll priets left for the Society's first foray into the foreign missions. Co-Founder Father Thomas Frederick Price, Father Francis X. Ford, Father Bernard F. Meyer, and Father James Edward Walsh set out for Yeungkong (Yangjiang), China, traveling by car, train, steamship, sailboat, and foot. It was the most exicting time of their lives, and using their diaries and letters, we can follow their story over 100 years later. Please click on the photos to enlarge and view captions.

The first leg of the missioners' journey, from Maryknoll to Yokohama, Japan
Maryknoll, my Maryknoll, goodbye! We shall probably never see you again, and as we parted that night we knew that we should never behold again in this life the faces of some at least of those through whose of love of God and one another you have been to us really 'Mary's knoll!'… But the same love that now calls us away brought us to know you and so we go, with grief for the parting but rejoicing in the unity and purpose that you have given us This parting, even, is only a physical one. United by love of Christ and souls we shall be ever one in heart and deed, depending on one another, bound together by an invisible but potent bond that even death cannot break, that will be only strengthened the other side the grave.
We had come to Baltimore especially for the purpose of seeing his Eminence Cardinal Gibbons… for he had given to Maryknoll every encouragement from the beginning. We departed the richer for his blessing and Godspeed!
We have traveled every night since leaving New York and are yet only half way across the continent. We did not realize that the country is so large. Here is the land of the novel and 'movie' – a gently undulating prairie gradually rising towards the mountains…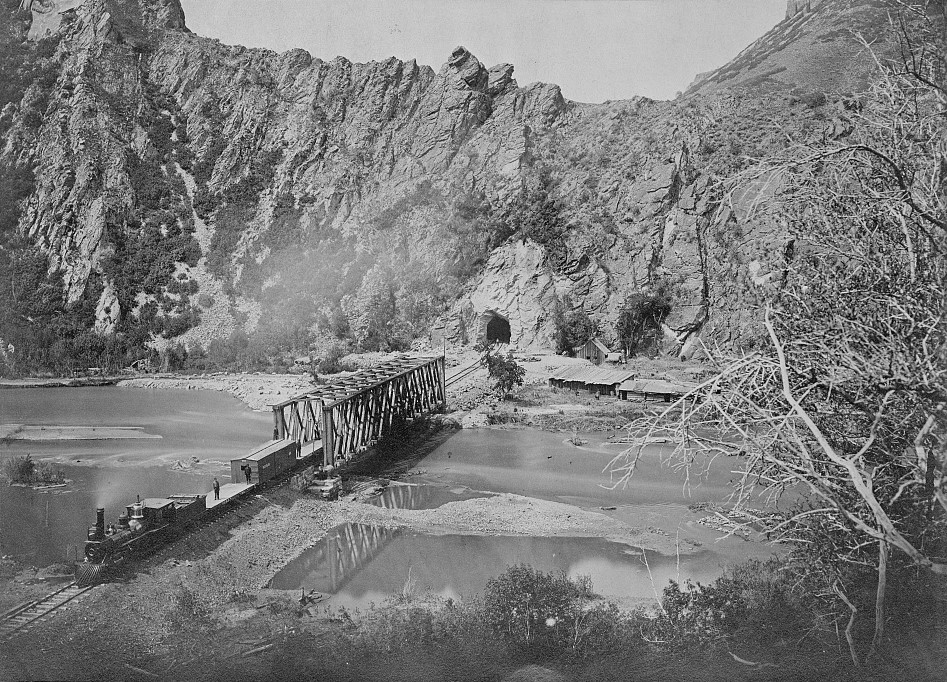 We had several reminders during the process that it is war time. Our cameras must be licensed and then handed over to the purser of the boat to be given us at our destination, papers of all kind must be examined and passed, and phonograph records played for the benefit of the inspector…
At last the day! We made for the dock where our boat pulled at her moorings as if eager to get away…our pulses ran a little quicker as we saw the gang plank raised and felt our craft begin to back away…[the Golden Gate bridge was] soon left behind and out on the deck we sang softly, 'Ave Maris Stella.'
The cry of 'land, land' does not perhaps mean so much to the seafarer in these days of steam and wireless and yet we confess to a feeling of relief as a dim outline appears on the horizon.
Tomorrow we pass the 180th longitude. Unusual things happen then. We are to drop one day out of our calendars.
It was our first glimpse of Japan and we regarded it with a certain awe as we realized that Christ is here regarded as an alien enemy by a people who have never known the sweet liberty of the Gospel. And from each heart went up a prayer that the Morning Star might shine over it as the herald of the full light of day.
In Yokohama, our missioners parted ways. Father Price and Father Ford traveled north through Japan, Korea, and China to visit friends of Maryknoll and see local religious sites, before going south to Manila and Hong Kong. Father Meyer and Father Walsh went directly to Shanghai, then on to Manila, Hong Kong, and Canton, to meet with the MEP Missionaries (Paris Foreign Missions Society) and make the necessary arrangements for the Maryknollers' new lives in China.
Highlights from Father Price and Father Ford's Journey
Highlights from Father Meyer and Father Walsh's Journey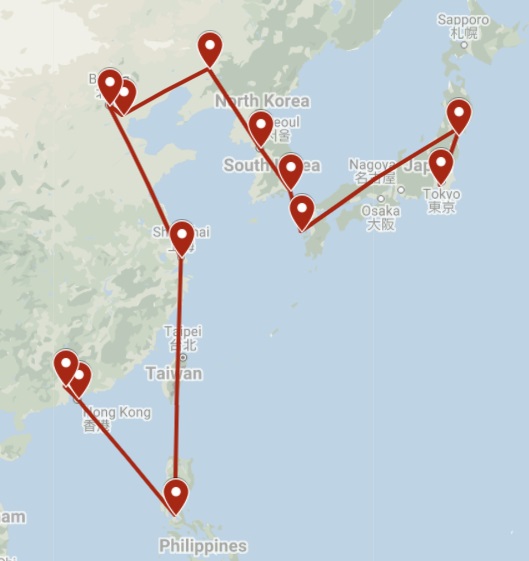 Father Price and Father Ford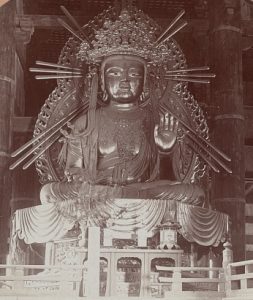 Day 42 – October 18, 1918, Nara, Japan
Today we visited Buddhist temples and superstitions – biggest Japan bell in Osaka with Father Walter then went to Nara and saw where Buddhism began and their great idol [statue of Buddha] and also the church at Nara…
Day 52 – October 28, 1918, Seoul, Korea
All those I have met seem real missioners, rejoicing to suffer all things to bring the souls to God, and it is a great happiness to live in such an atmosphere.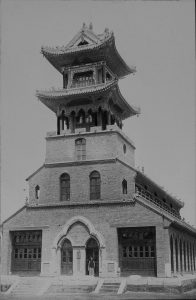 Day 54 – October 30, 1918, Mukden (Shenyang), China
At last we are on Chinese soil and we are delighted. We visited the Seminary, College, Sisters' orphanage and school with Bishop Choulet. The Chinese seem large and splendid and so modestly dressed and more like our good Catholics than ourselves.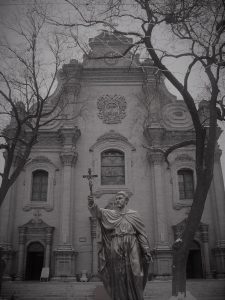 Day 57 – November 2, 1918, Beijing, China
At 10 we attended in surplice and Chinese mirtre the High Mass (cantata) and joined the singing with the whole congregation – Kyrie etc. – and it seemed like heaven.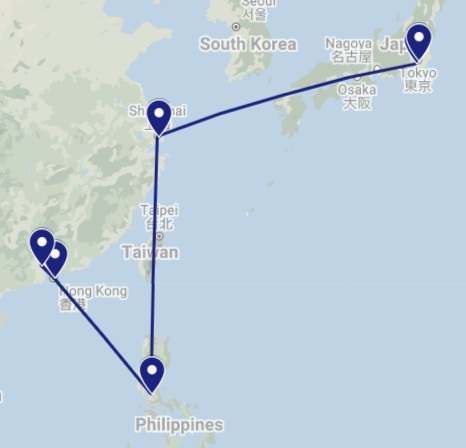 Father Meyer and Father Walsh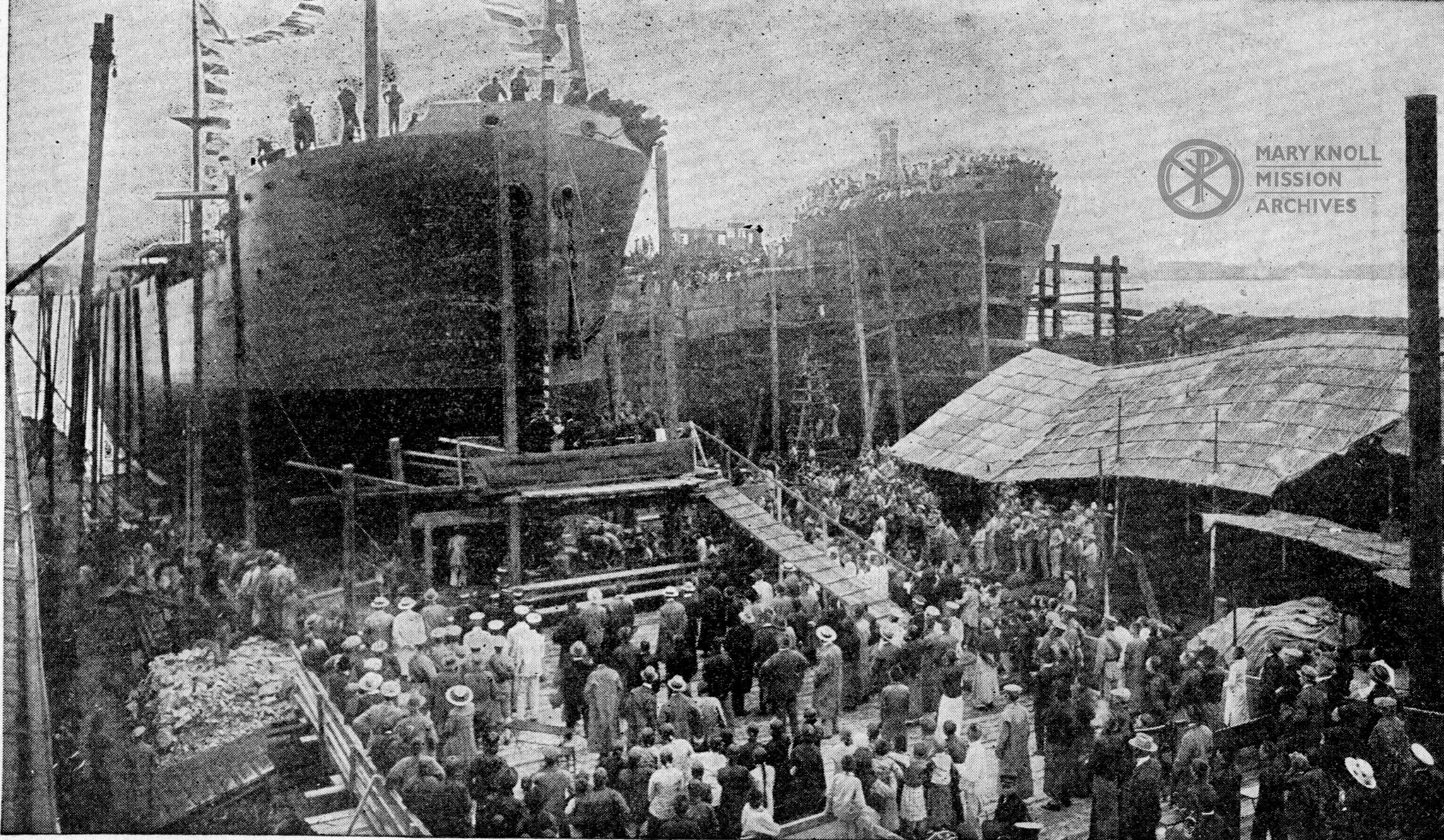 Day 42 – October 18, 1918, Shanghai, China
It was about nine o'clock [when] we two stepped onto the soil of China… we were not unmindful that this was 'the land of our dreams' and something akin to a thrill went to what the future might hold for us here…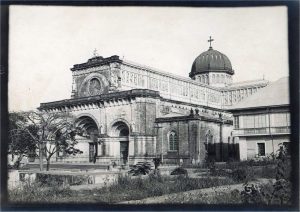 Day 52 – October 28, 1918, Just Outside Manila, The Philippines
At the entrance to the village presumably the whole congregation met us with a band and as we marched to the church the Te Deum Laudamus (We praise Thee, Lord) was sung. Then all repaired to the new school for exercises…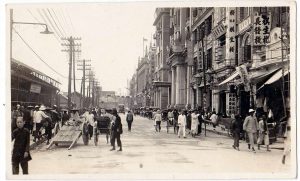 Day 66 – November 11, 1918, Canton (Guangzhou), China
It is all very interesting. The strange languages, instead of making us feel not at home, rather lend zest to our life here… We have begun the study of Chinese. We spend four hours a day with our teacher, a native, and are keeping very busy. The language is quite difficult – at least at first…
On December 1, 1918, 86 days into their journey, the four missioners were back together again in Canton (Guangzhou), China. They spent the next few weeks learning the Cantonese dialect, buying supplies, setting government paperwork in order, and visiting the mission sites of their hosts, the MEP Missionaries. Finally, it came time to begin the last leg of the trip to Yeungkong (Yangjiang).
At last we are really off for our mission, and God willing, we shall arrive there within three days. If we are not killed or kidnapped we shall send word immediately of our arrival. Au revoir!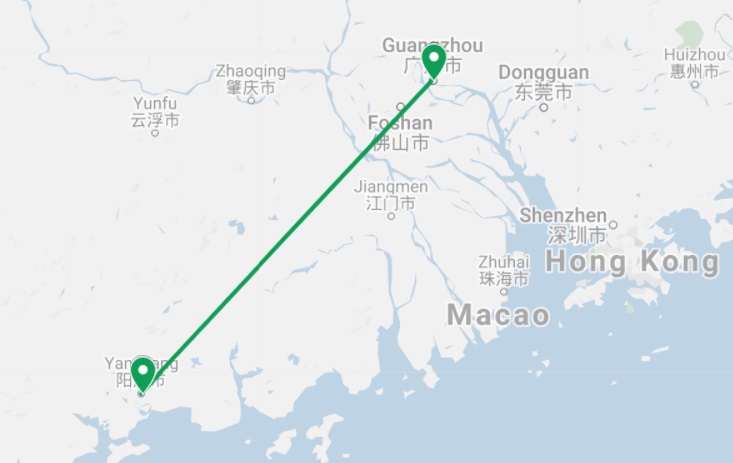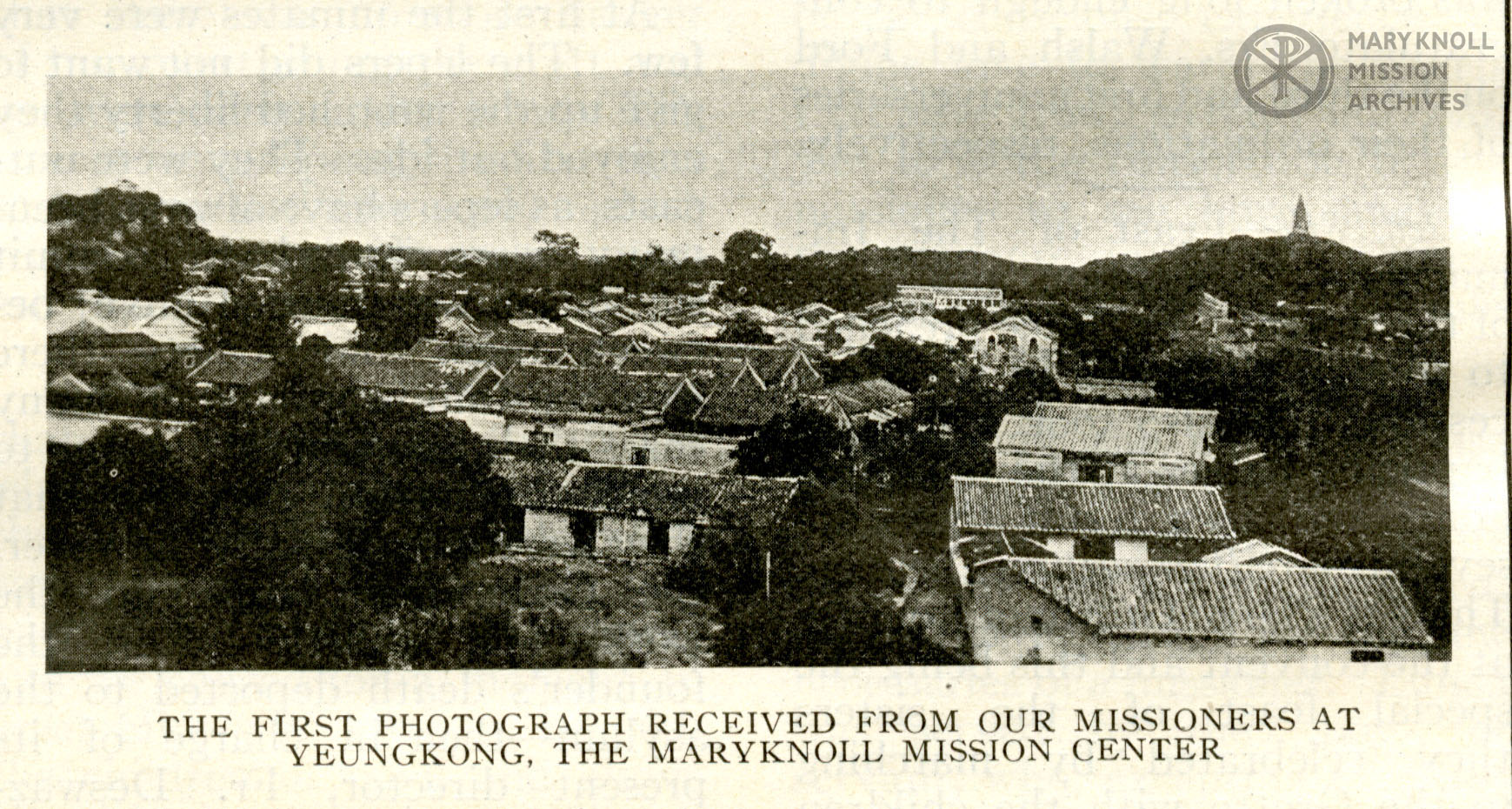 Here we are at last, all of us – safe and sound and happy. We arrived at eleven o'clock last night all worn out – came in a sail boat the last 25 miles as the Captain of the Chinese junk refused to budge from where he was for another 24 hours or so, more or less… The whole place is much better than we had thought. The few Christians [had] festooned the front of the Church to greet us, came to Mass, shot off fire crackers in our honor, paid us a visit and insisted on giving us a special dinner.
We leave you with Father Price's first impressions of Maryknoll's new mission in China, from a letter written to Bishop James A. Walsh.
Since [I last wrote on Dec. 21] we have celebrated Christmas, such a Christmas! Christmas we never dreamed of nor conceived of in all our lives. The Christians made a gala day of it, pouring in on Xmas eve and all day during the feast in delegations from all the villages, celebrating both the feast and our arrival in one great pour out… All the Christians that could went to Holy Communion and after Mass, a Chinese band hired by the Christians played Chinese music all day nearly, and the Christians shot off loads of fire crackers during the day. They insisted on giving us a banquet which they were considerate enough to let our 'boy' prepare and such chickens and ducks and shrimps and meats, etc. it would be difficult to match… On the afternoon of the feast [on Dec. 26] we had Benediction of the Blessed Sacrament at which I preached my first sermon to the Chinese telling them of our happiness in coming to them, of what we hoped to do and how we needed their cooperation. Fr. Cauthier translated to them my words, of which they had understood not one, and we concluded that they were much pleased. It was a great day such as we will never again experience perhaps and we thank God for it.
For more information about Maryknoll's early work in China, see the Maryknoll Mission Archives' collections of Mission Diaries and China Mission Records.
2021 marks 103 years of the Maryknoll Fathers & Brothers mission work in Asia and the Pacific islands. In addition to China, the Society has worked in Hong Kong (1920), Korea (1923), the Philippines (1926), Japan (1933), Taiwan (1950), Indonesia (1974), Bangladesh (1975), Western Samoa (1976), Nepal (1977), Thailand (1983), Cambodia (1990), Vietnam (1992), and Myanmar (2006).