In these interesting times, which as time passes by I can only assume that times will always feel and appear to be interesting, one cannot help but look for some strong footing, or, if nothing else, some semblance of an answer to the questions that the current state of things pose. While looking through some poetry written by Maryknoll Sisters, I came across two particular poems that struck me and provided a little bit of guidance. The first poem, If Only The Earth Could Talk written by Sr. Jean Fallon, MM, compels us to stop and listen. Listen and take stock of the past and the present. The second poem, by Sr. Reina Paz Kakilala, MM, suggests that one looks at both the dark and the light. Without either the whole picture cannot exist. We must not look at the world through rose colored glasses. We must look at it in its entirety, good, bad, light, dark, past, present, and move forward with hope into the future.
If Only The Earth Could Talk
If only the earth
could speak!
"Tread lightly my friend
for here the Creator
grew great forests
with flora and fauna
greening the gasses
to air."
Speak!
so that we might
breathe.
If only the earth
could talk!
Slow your on-ward race
hu-man
for here once lived
ancestral beings
learning to
stand up-right."
Talk!
so that we might
see God.
If only the stones
could shout!
"Walk prayer-filled O pilgrim
for here were fought
fierce battles
civilizations
rising from
ashes."
Shout!
so that we might
learn peace.
If only the earth
could tell!
"Listen well O beloved
for here my wind blows
the voices of wandering
crowds seeking refuge
from weapons and want
and fear."
Tell!
so that children might
all be free.
"Ah yes!
from the past to present
I speak, I talk
for all
I shout and I tell!
My words
are on the ozoned air
my voice
in the wind-blown soil
my shout
is in the hand-clenched
stones
I tell
through your diaspora!
I scream and wail
on the wind…
Look up
I will help you see our God!
Walk lightly
be pilgrim…
My beloved
Be human again!"
By: Sr. Jean Fallon, MM
October 13, 1991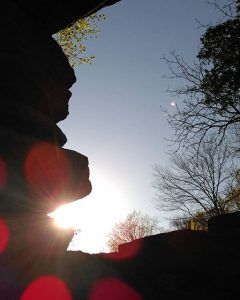 Dark shadows highlight life
as nothing else can —
meant to be pierced, they
ferret from my deep
mists of mystery,
like lights pirouetting
with life's ups and
downslide shifts, indeed
as nothing else can —
meant to be faced, they
beckon me to focused
stance on faded truths
slowly, coming on, as
hues of power in faith
by which I finger-paint
life mists on shadows —
as only God and I can.
By: Sr. Reina Paz Kakilala, MM