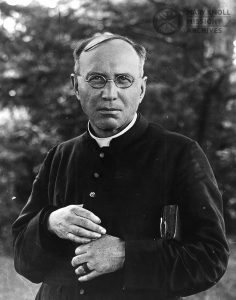 100 years ago, Father Thomas Frederick Price, co-founder of Maryknoll, died in Hong Kong.  Today we celebrate the legacy of Father Price and remember all that he did for the young Society.
Thomas Price was born in Wilmington, North Carolina on August 19, 1860.  He entered the St. Charles Seminary in Catonsville, Maryland in August 1876 and was ordained to the priesthood on June 20, 1886.
After its foundation in 1911, Father Price would travel around the United States spreading the word about Maryknoll.  By 1918, the Society was ready to send its first missioners overseas and Father Price was chosen to lead the group.  On September 7, 1918, the first group of missioners (including Fathers Francis Ford, James Edward Walsh, and Bernard Meyer) left Maryknoll to begin their long trip to their new mission field in Asia.
Father Price arrived in Yeong Kong in December 1918.  He would spend the next ten months devoted to the Chinese people.  In August 1919, Father Price was diagnosed with appendicitis and died on September 12.
Though his time with Maryknoll was cut short, his legacy remains.  In the October 1919 issue of The Field Afar, Father James A. Walsh wrote:
Fr. Thomas Frederick Price had a host of friends in this country, from His Eminence, Cardinal Gibbons, to the poorest of the poor in every walk of life.  These friends will hear with sadness the news of his death, and some who knew him will say, 'He was a saint!'
They will recall his apostolic labors in North Carolina, the State in which he was born fifty-eight years ago, his struggles and privations, his hopes and disappointments, covering a period of twenty-five years.
Some will think of his days at St. Charles' and St. Mary's, Baltimore, among the Sulpician Fathers, for whom his affection was strong indeed.  Many among our readers will remember him in his zealous efforts to spread among the faithful a Catholic appreciation of the foreign missions and a particular interest in Maryknoll and its Field Afar…
And we of Maryknoll will treasure his memory as co-founder of this work and exemplar of the virtues he loved, – humility, devotion to The Immaculate Conception, and the burning zeal for souls.
What has been said about Father Price by those who knew him?  Below please find some tributes to Father Price.
Bishop James E. Walsh, 1950:
Simplest, humblest, most unpretentious, honest and open of men, Father Price was not a puzzle, although he puzzled a good many people….
His brief year in China has often been described…What I chiefly recall is the excellent, even extraordinary, impression he seemed to make on all the people he encountered in that new and strange land, including missioners of all nationalities, travelers of all descriptions, and the good Chinese people themselves, as it happened, most of all.
Father James Drought, 1938:
So we remember him – Father Price, our Co-Founder – because we love him, because we love to think of him….He would disdain to have us speak of him, you know that. He would disdain it, and he would smile.  He was amused by praise – and why? Because he never sought it himself…
He was the master of spiritual living.  Hour after hour, throughout every day, Father Price, our Father, our Co-Founder, offered consciously his very being to the God who made him.  And he came away from that prayer uplifted in spirit and clear in mind that he was but the creature of this Infinite and Majestic God.  He came away, clear in mind that those about him, young and old, were the beloved creatures of God, more worthy, he thought, than himself, of Divine Favor.
Bishop Francis Ford, 1946:
Legends have grown up about Father Price, mostly based on facts, but so isolated as to draw a picture out of focus.  He was known for his prayers in our woods, for his devotion to the holy Rosary, for his absent-mindedness, for his avoidance of celebrations and his dislike of being photographed…
To offset and balance this picture…I could tell you that in the company of his fellow priests during recreation, Father Price was easily the 'life of the party.'  In Rosary House when gales of laughter roared from the priests' recreation room, it was a sure sign that Father Price was telling one of his thousands of anecdotes, all illustrating some phase of his missionary life in the South.  He never, I am sure, deliberately told a joke as a joke, but he had the faculty of seeing the humorous side of innocent happenings and a story bubbled forth so perfectly told and pointed as to do credit to a professional actor.  All saints of course bring cheer to others about them, but I daresay only America could produce a humorous saint.