A few months ago I discovered that the foundress of the Maryknoll Sisters, Mother Mary Joseph Rogers, made a cookbook! The book was compiled sometime in the 1920s for Maryknoll Missioners going overseas. The idea was to provide them with the knowledge needed to maintain a good diet while in a brand-new environment. Mother Mary Joseph even held cooking classes for the Maryknoll Fathers about to depart for mission, many of whom had never cooked before.
Before becoming an Archivist, I was a trained Chef and an avid foodie. As I read through her 100 year old recipes, my curiosity was thoroughly piqued. I could not resist getting out my kitchen tools and trying a few of them out. And so, over the next year I will be posting four blogs where I will look at Mother Mary Joseph's recipes, test them out, and offer the thoughts of myself and the rest of the Archives Office. Please join me as we venture Into the Kitchen with MMJ.
How This Will Work
Each edition of Into the Kitchen with MMJ will feature 4 to 5 recipes with a seasonal theme. I will first introduce each recipe and share our thoughts on it. Then I will give my input as a culinarian in a Chef's Corner section, giving feedback on the cooking process and offering tips for how to cook the recipe at home.
This edition will focus on recipes that would be fit for an nice spring day, whether it is on the chillier or warmer side. You can find our menu for this edition down below. Let's dive in!
Pineapple Lemonade
Cream Scones
Yung Chow Min
Moist Chocolate Cake with Boiled Frosting
What better way to start off a spring day then with a refreshing glass of lemonade? This particular recipe offers a quick and easy way to make lemonade for those warmer Spring days.
What did We Think?
What a refreshing beverage this was! I will note there was a difference between when this recipe is fresh made and when it sits. When I first made the recipe, the pineapple was a subtle flavor and it was very lemon forward. However the next day when I brought it to the office, the opposite was true. As the lemonade sat, the pineapple came forward more. Even then, it was still a good balance of flavor. Positive remarks from the entire Archives staff!
Chef's Corner
There is not too much to add to this one, the recipe is pretty straight forward. I will note that "grated" pineapple is what we know as crushed pineapple, available at most supermarkets. Just dump the whole can, juices and all, into the sugar syrup when it's ready. The recipes says to strain the pineapple, which gives you a lighter pineapple note. You can leave some (or all) of the pineapple in to really pump up the flavor.
With a refreshing beverage in hand, how about a nice scone to go with it? These Cream Scones are one of MMJ's base recipes that can be modified as anyone sees fit.
What Did We Think?
The scones created an interesting dilemma amongst the Archives staff. On the one hand, they were the right combination of fluffy, tender, and perfectly baked. On the other, they were very under-sweetened from what we were expecting!
We all agreed that the scones would be perfect with a nice jam or clotted cream to help add some sweetness. Either way, the scones would be a perfect accompaniment to a nice cup of afternoon tea. Earl Grey anyone?
Chef's Corner
What really piqued my interest in this recipe was that this is the exact method I learned. It is so interesting how little things can change over a hundred years. Why fix what isn't broken?
Now to address the sweetness, I think I could have put more sugar than I did on top (or used a sweeter sugar like Demerara). That said, I am fairly certain these scones are not meant to be sweet. Most people at the time would have eaten them with an accompaniment that would add the needed sugar. If you want to make these yourself, eat the scones with jam, or double the sugar in the recipe to four teaspoons.
We had a nice afternoon tea with some delicious scones, but it is about time we moved on to Dinner. Let's try something a bit different with Mother Mary Joseph's variation on a traditional Chinese dish. As stated on the recipe, this is an emulation of a noodle dish from a place called Yng Chow.
What Did I Think?
Since this is a dish best eaten fresh, I will be sharing just my thoughts on the recipe.
Overall, I really enjoyed this one. The fried noodles, gravy, and all the protein created a very savory and hearty dish. If I were to remake this, I would add some freshness to the dish in the form of additional vegetables or some chopped green scallion.
With all that said, the meal was absolutely delicious and very filling. I was skeptical about frying the noodles, but they did not get oily and actually added an interesting crunch to the dish. I think you could make it with just steamed/boiled noodles, but I implore you to try the fried variant at least once.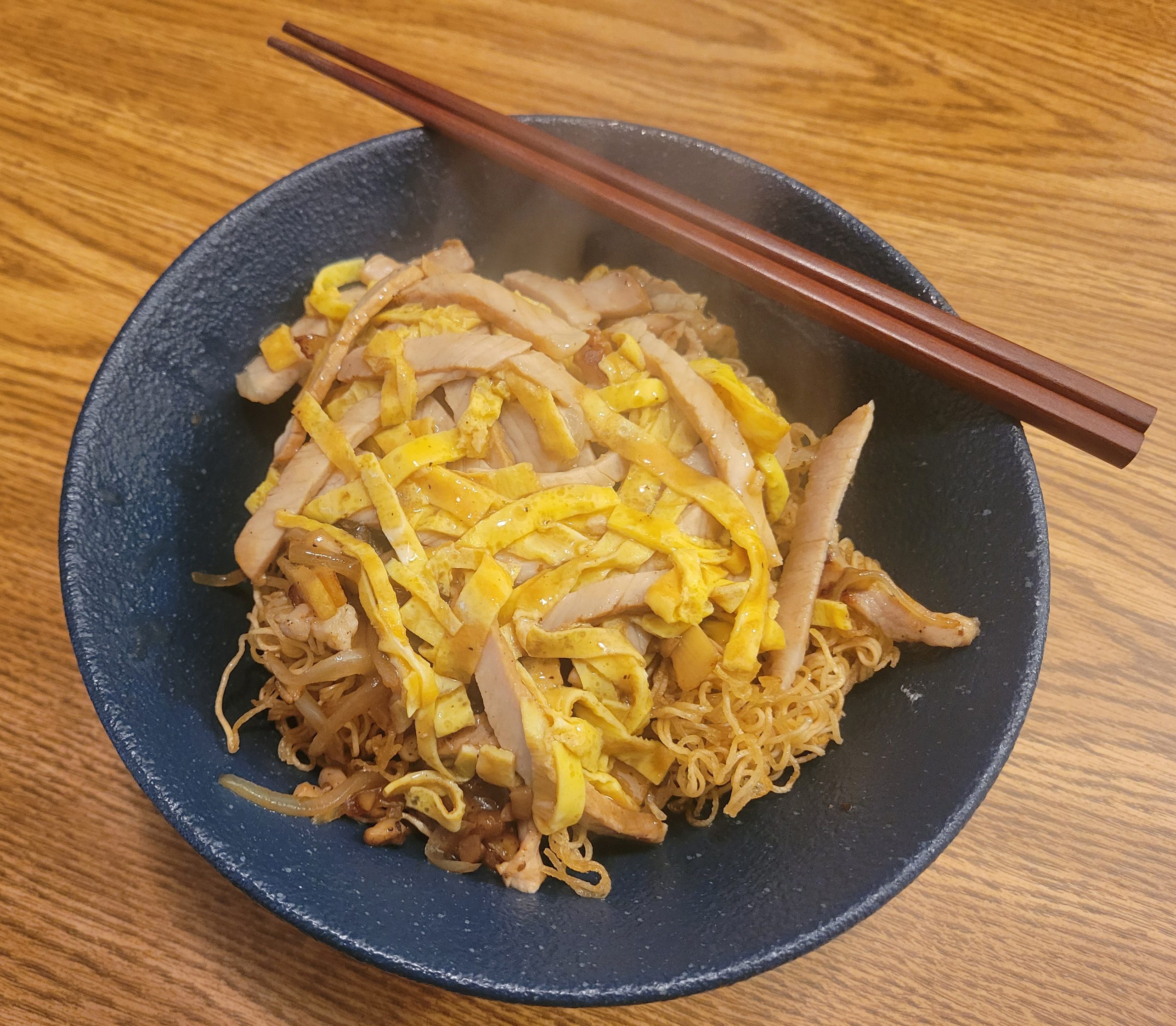 Chef's Corner
This recipe required a bunch of research and interpretation for parts of it. For this Chef's Corner, I am going to talk about how I prepared specific individual components.
Roast Pork: For this, I did a Chinese inspired marinade for my roast pork considering the origin of the dish, but I don't think that was entirely necessary. It did add a unique flavor, but I think any flavored pork loin will work here. Just roast it simply and ahead of time so you can cut it more easily. With how thin you will cut it, the gravy will reheat it.
Primary Soup: This is something Mother Mary Joseph touches on earlier in the book. Essentially this is a broth made from the meat and bones of an animal (usually beef or veal), with vegetables and spices added when available. For the purposes of this recipe, just use any Unsalted Beef Stock you can get at the store.
Noodles: For these I had to figure out how to steam dried noodles. I am almost certain the original recipe is looking for fresh noodles, which can be rather hard to find in my area of the world. Firstly, if you are using dried noodles use half the amount the recipe states. Next, you want to boil a pot of water and place the dried noodles in, stirring just enough for the noodles to loosen up. Transfer the noodles to a colander and place them back in the pot so the noodles do no touch the water. Place the lard (I used butter instead as I had it already) on top and cover the pot, steaming for about 20 to 30 minutes. Yes it will take that long, since you do not have direct contact with the water. After the noodles are done steaming, fluff them so they mostly separate and place them in a pot of oil with about an inch of oil, frying until golden brown. This step is not necessary if you do not want to fry the noodles. The point of steaming is so there is a limited amount of moisture when you fry, which makes it easier and cleaner. 
Find That Ingredient!
There are two unique ingredients here: Bamboo Shoots and Chinese noodles.
Bamboo shoots can easily be found in most Asian sections of your local supermarket, usually in a small tin can. They tend to be pretty neutral flavored, and have a good amount of vitamins and fiber.
Chinese noodles can mean anything really, but I think this recipe is supposed to use a thin Chow Mein noodle. Really, what you are looking for a very thin egg-based noodle to follow the recipe exactly. You can use any other types of noodles, but they probably will not fry properly so just steam/boil them.
Moist Chocolate Cake with Boiled Frosting
Time for the most important meal of the day: Dessert! Mother Mary Joseph was known for her desserts and here I will feature two recipes: a cake and a frosting.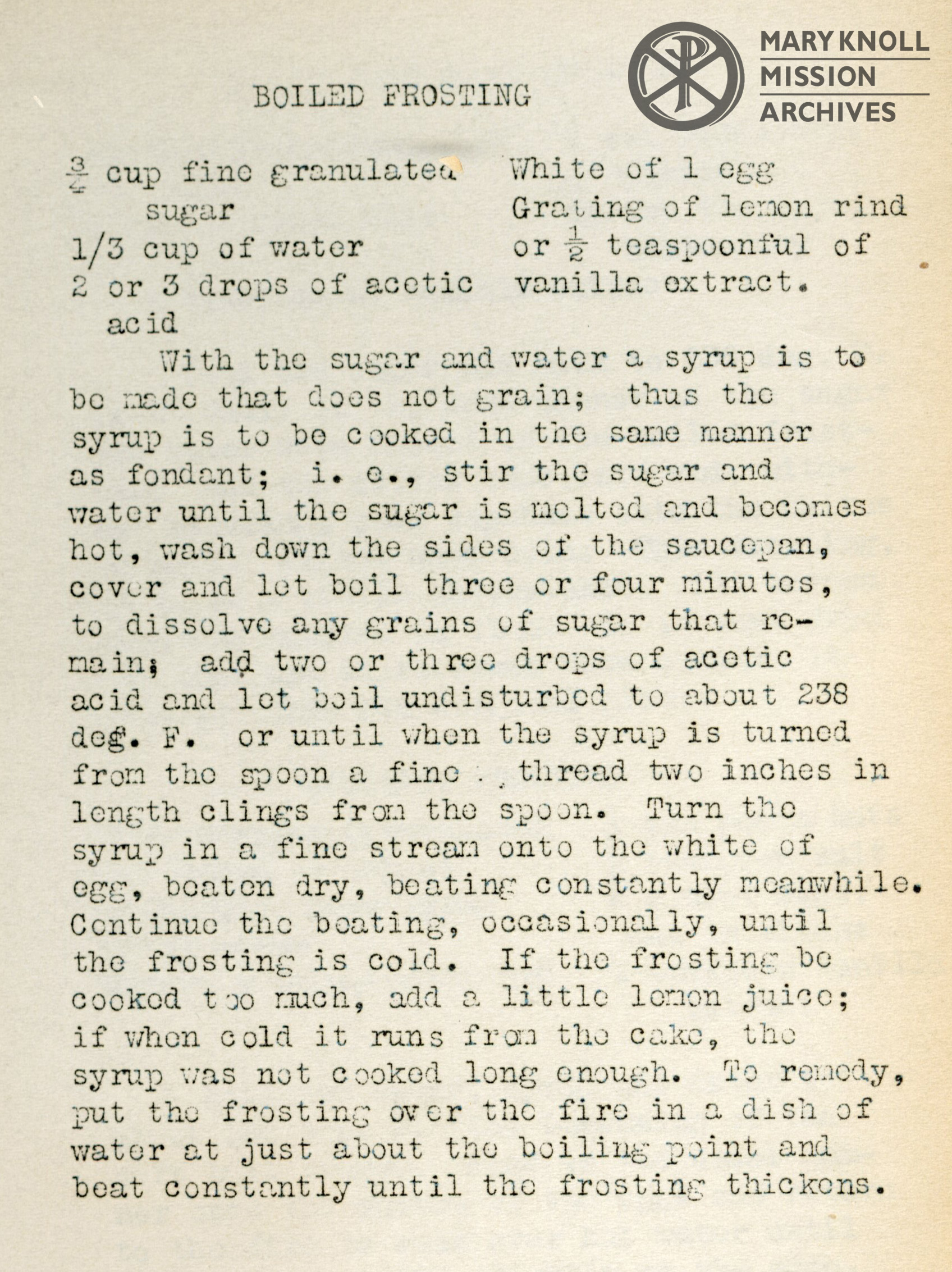 MMJ's Cake Method
The recipe states to finish the cake in "the usual manner", which is referring to her section on how to make cakes. For the purpose of using this recipe, I will describe the following steps and baking instructions here:
Preheat your oven to 400 F.
Add the flour in 3 batches to the mixture, beating on the lowest speed. When all the flour is incorporated, stop beating and add the egg whites, beaten to stick peaks. Use a spatula to fold the egg whites into the batter, being careful to not over mix.
Place the batter into a greased 8 x 8 pan, or into cupcake pans. If you want to make cupcakes, make sure you fill the mixture to the top as the cake doesn't rise much.
The recipe makes one 8×8 pan, or about a dozen full sized cupcakes. Bakes in a 400 F oven for 14 minutes for cupcakes or 24-30 minutes for a full cake. Use a toothpick to check for doneness, looking for the toothpick to come out clean.
What Did We Think?
This was a really confusing recipe for us, and only part of that was due to user error. For me, I really wanted to try this specific cake recipe because it had mashed potato in it. It was just too unique to not test, and I really wanted to see why Mother Mary Joseph puts the mashed potato in.
The result was not what we expected. The Archives staff all agree that it hardly classifies as a chocolate cake, and I suspect I know why. The entire recipe contains only a single ounce of chocolate, which is barely enough to give a vague hint in the cake. Our running theory is that chocolate was most likely scarce where the missioners were going, and so the recipe rations what someone might have.
Regardless of the reason, everyone thought that it wasn't a great chocolate cake. However, it was a pretty good spice cake! The spices added a lot of flavor, and would have been overpowering if not for the frosting on top. I used vanilla in the frosting, adding much need balance to the cake. That said, the frosting is where the user error comes in as it clearly was not right (look at the picture below).The frosting tasted just fine, but was much too loose and ran down the sides of the cakes. I'll touch more on what went wrong in the Chef's Corner.
Overall, the cake and frosting were good, if not what we expected it to be. A nice way to end a meal.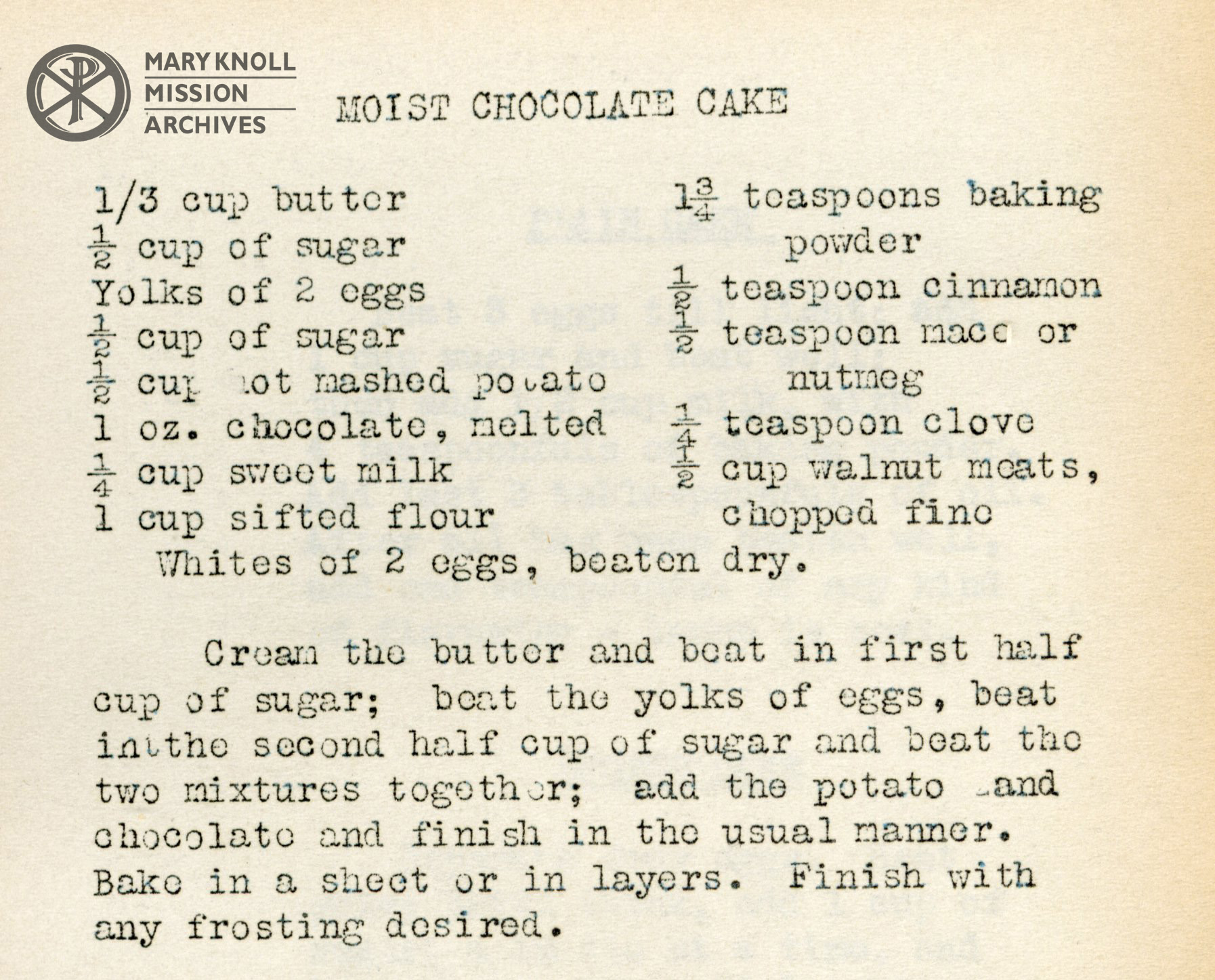 Chef's Corner
Follow the recipe and the above Cake method to make the cake. Mother Mary Joseph does not give a specific temperature to cook the cake, but I tried it at 425 F and it definitely overcooked a bit. For the method, I lowered the temperature to 400 F and added a few minutes, which should make it come out perfect.
As for the mashed potato, just use plain, unseasoned potato. I think the potato is in the recipe to make it fool-proof. The potato helps the cake retain its structure and adds some moisture even if you overcook it (which I did). Also feel free to add different spices, or double the chocolate for an actual chocolate cake.
Now to talk about the frosting, If you read the recipe I think you can figure out what happened! The frosting was not "cooked" enough, though I'm unsure exactly where I went wrong. If I had to give some advice, make sure your egg whites are a little past stiff peaks. This will help ensure they don't completely deflate when you add the sugar. Also, make sure you completely chill the frosting by putting it in the fridge, this should stop it from being runny. If it is runny it will still taste good, but it will function more as a glaze than a frosting.
Thanks for stopping by!
I hope you enjoyed learning about a few recipes from just under 100 years ago. Mother Mary Joseph's Cookbook is full of so many different recipes, both savory and sweet. There were so many I could not hope to fit them all into one post, so keep an eye out for new editions in the future!
The next edition will be sharing some more Summer themed recipes, good for backyard barbeques and beach days!