As women religious, Maryknoll Sisters don't have children of their own, but on this Mother's Day, we highlight two Sisters who became beloved mother figures in their adopted communities.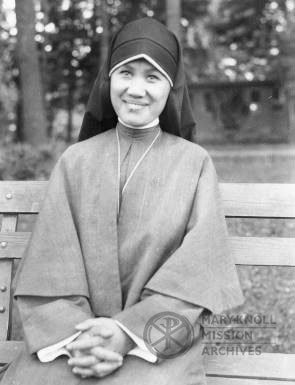 Sister Teresa joined Maryknoll in 1927 and was assigned to Hong Kong. There, she led the Sister's vestment production and many other ministries. As said in her biography, "Sister was Moderator for the Children of Mary Sodality; she organized a vernacular school for education of girls who could not attend classes during regular hours; she cared for babies left on "our doorstep", usually by arranging for a foster home but one little tyke was crippled from birth so this baby needed "specialing". Sister, herself was the specialist, and with love, gave confidence to the little alive bundle that she really counted."
Hong Kong surrendered to the Japanese army in late 1941. In 1942, Sister Teresa and her fellow Sisters were interned at the Stanley Prisoner of War Camp. Upon her release late in the year, she and other Sisters went to Macao to serve the Chinese refugees there. Soon, the Sisters' mission was feeding and housing hundreds of orphaned children and other refugees.
Sister Teresa collected funds and supplies to support the mission. The orphans in her care loved her and often helped Sister's efforts. As one story says, the children collected dried grasses to feed the rabbits Sister kept, which she hoped to trade for rice. The children also helped the Sisters look after the community's farm animals. When the War ended, Sister Teresa returned to Hong Kong and brought with her two orphaned Chinese girls who she cared for as if they were her own.
Sister Candida Maria was also in Hong Kong before the War. She was born in Macao and joined Maryknoll in 1929. As a Portuguese citizen, Sister avoided internment in Hong Kong with the other Sisters. During the War, she helped her fellow Sisters and refugees however she could. She smuggled messages to and from Maryknollers, nursed wounded prisoners, and collected food and other supplies.
Once the other Sisters were released from internment, Sister Candida Maria went to the Maryknoll mission at Yeungkong. The war hit the area badly and left many children orphaned. Sister took several children under her care at the convent. She said, "The little ones were my lifesavers. There were five of them, aged three, four, and five, and so sweet. I would play with them and take them to chapel. I couldn't have survived that period without the children." Eventually the Sisters left Yeungkong, fleeing the Japanese army. Sister Candida Maria went to the mission in Loting, where, with Sister Monica Marie Boyle, she continued to care for local orphans.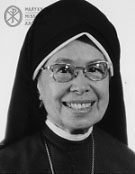 On behalf of the Maryknoll Sisters, Happy Mother's Day to all mothers and mother-figures!