Teddy the Airedale, Missioner in Korea
When our blog covers stories in mission, we typically focus on the humans involved. After all, Maryknoll Fathers, Brothers, Sisters, and Lay Missioners have done (and continue to do) some pretty extraordinary things around the world. Before discovering Teddy's story, I never considered that dogs played a role in mission too. Having grown up with Airedale terriers myself, I instantly fell in love with this furry missioner and wanted to know more about his story. I hope you find his tail-wagging story as interesting as I did.
Piecing Teddy's story together was more difficult than most of my subjects, and not only because dogs can't write. Like many domestic fury friends, Teddy's name changed when he swapped owners. Until I figured that out, I couldn't finish his story. I met him first under his birth name, Patsy (a common nickname for "Patrick"). Fr. Patrick Byrne (later Bp. Byrne) renamed him Teddy during their early months missioned in Korea.
I imagine that "Big Patrick" was not keen on having a "Little Patrick".
Teddy is a much better name for an Airedale, as they look like teddy bears. While we'll never know all the details about Teddy's life, I've done my best to reconstruct his story through the history of his breed and the eyes of his human companions.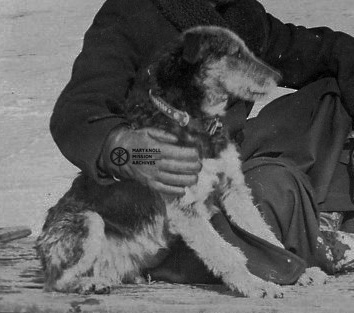 Young Teddy on a sled in northern Korea, ca. 1925

What is an Airedale terrier?
Nicknamed the "King of Terriers", Airedales are the largest breed in the Terrier Group, often standing head and shoulders above their cousins. They average around 2 ft. in height and weigh between 50-70 lbs. Their distinguishing features include long tan legs, a black saddle, and the box-shaped muzzle and beard traditionally found in terriers. Airedales were bred in the mid-1800s as hunting dogs by factory workers and laborers of the Aire Valley (or Dale) in northern England. While their smaller cousins hunted rats, Airedales were intended to hunt larger vermin, birds, and waterfowl.
Why pick an Airedale for mission?
Airedale personalities are a good match for missionary service.
The American Kennel Club describes Airedales as "friendly, courageous, and clever". Airedales are gentle and protective with children, making them great family dogs. They can be stubborn at times, however, they are extremely brave in the face of danger and deeply loyal companions. Because of these traits, Airedales served in the British Armed Forces throughout World War I. They assisted the war efforts as sentries, spies, and trackers in search and rescue teams. They are most famous for their daring feats as messengers, risking life and limb to bring vital information across enemy lines.
Their popularity soared following the war, and Airedales became more readily available in the United States. Their prominence at the time may have influenced Fr. Byrne's choice. He would have wanted a courageous, loyal, and friendly companion to help grow his new mission.
Teddy was the perfect choice.
Who is Patsy the Airedale?
This is the question I found myself asking while reading The Early Days of Maryknoll by Bishop Raymond A. Lane. Patsy the Airedale Terrier appears suddenly in Chapter 24. It's Saturday, November 10th in 1923, and he's boarding a ship in the Port of Seattle with Fr. John Morris and Fr. Raymond Lane. Patsy has been assigned to mission in Uiji County, Korea, and Fr. Patrick Byrne is already there waiting for him!
Patsy Goes Sailing
Bp. Lane remembers Patsy experiencing difficulties on his journey to Korea in 1923. The trouble started once they boarded their ship in Seattle.
 …with the aid of a friend's long coat, we hustled Patsy up the gangplank and into our cabin. Patsy was an Airedale we were bringing to Father Byrne. Being a sociable critter, Patsy liked company, and when he was alone in the cabin he set up a long, mournful wail. This was all right during the excitement of leaving port, but as we moved out to sea and things aboard ship became quieter, his constant yelping was getting us into trouble. We had to hand him over to the cabin boy who took him below, and he made the rest of the trip to Yokohama in steerage. "Just because," as Father Morris said, "he wouldn't keep his mouth shut." (p.283)
I mentioned before that Airedales can be stubborn, but they can also throw obnoxious temper-tantrums when they don't get their way. It's easy to imagine Patsy feeling lonely and isolated in a cabin when everyone else was above deck. His sorrow would have slowly turned to frustration and anger at being continually ignored. It would have been a deep betrayal to have someone finally open the cabin door, only to be hustled off elsewhere and further away from his companions.
Patsy may have gotten the better end of the deal though. The Fathers' traveling diary has multiple entries on the crying baby bunking in the cabin next to theirs. They didn't always sleep through the night. Because of his room transfer, Patsy took his meals with the crew and, according to one diary entry, the Fathers noticed him gaining weight. They guessed that crew members were slipping him extra food from their own rations.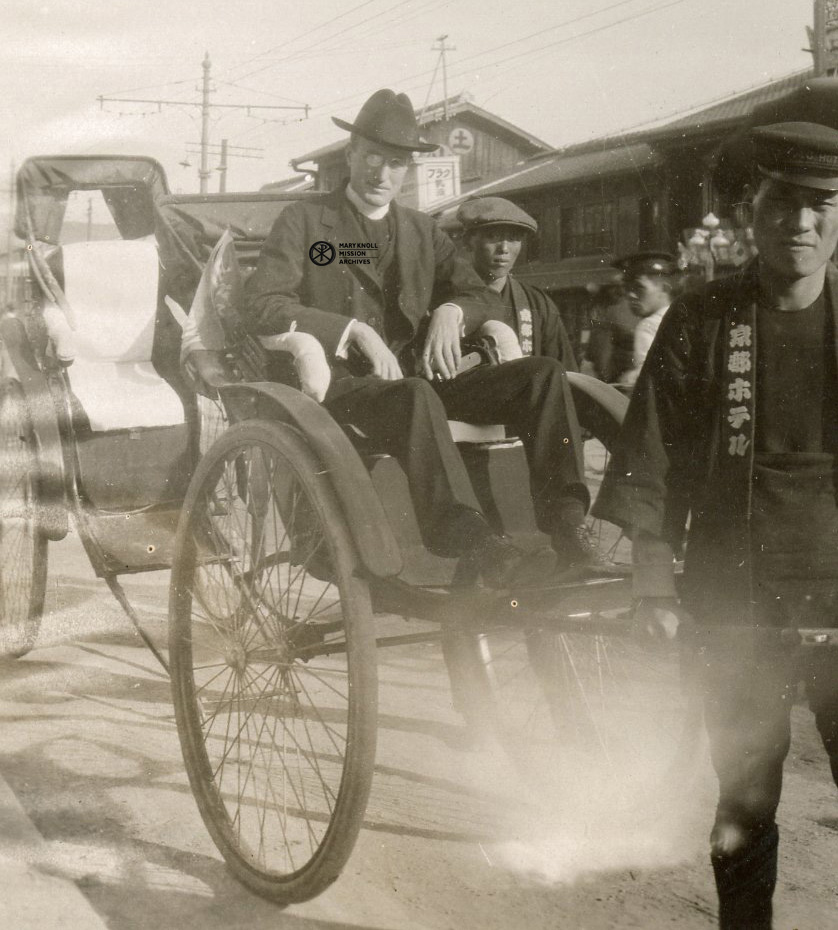 Fr. Patrick J. Byrne traveling in a rickshaw, 1923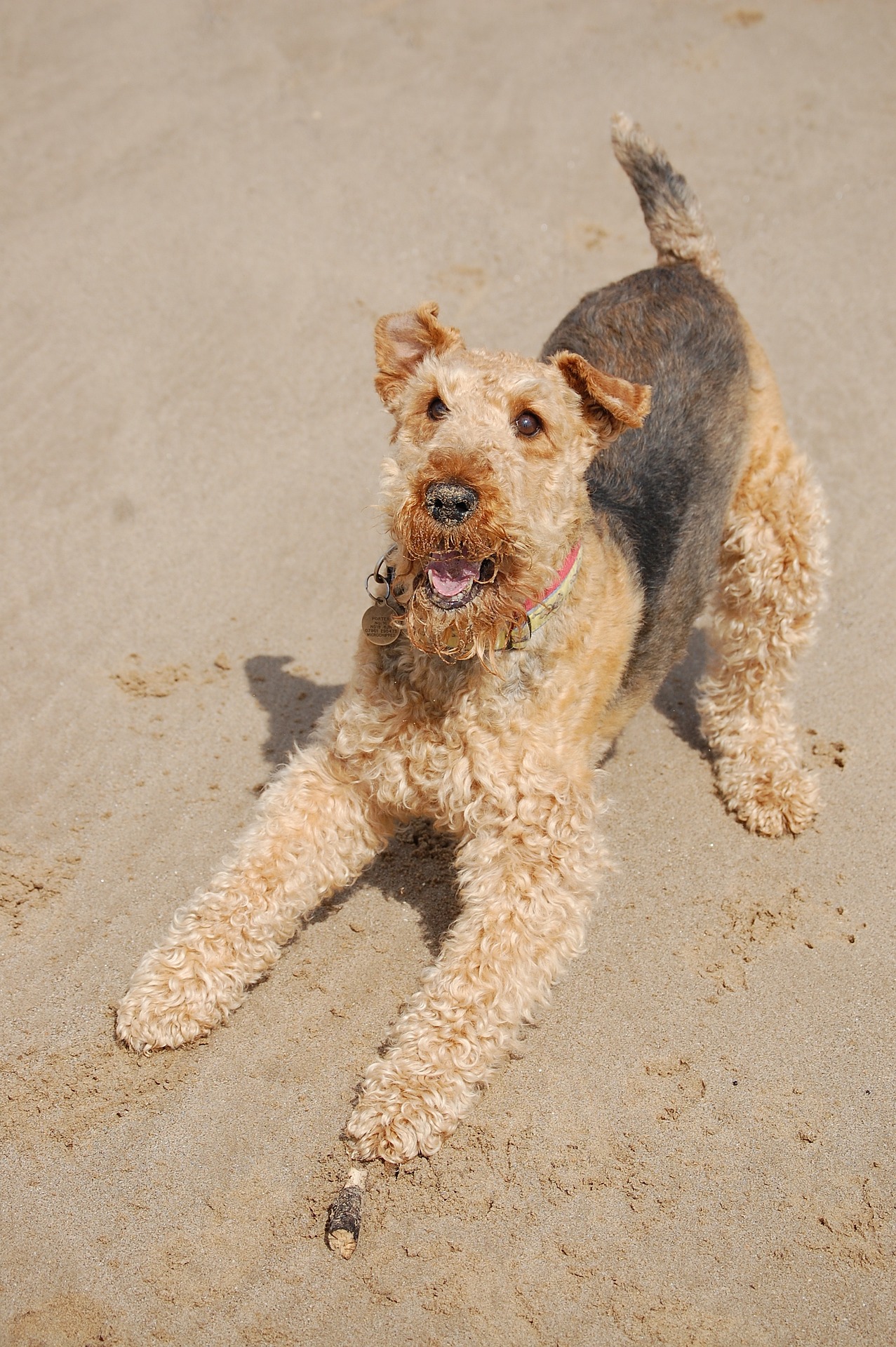 Patsy Visits Yokohama
During their journey to Korea, Fr. Morris, Fr. Lane, and Patsy made a stop at the Port of Yokohama, Japan. Their goal was to visit Catholic Churches and friends of Maryknoll across Japan before continuing their journey. While Fr. Lane went on to visit Tokyo, Fr. Morris and Patsy were supposed to visit Kobe. Instead, they got stuck in Yokohama.
Father Morris… was in a railway station at Yokohama when the quake occurred. He had asked for a ticket and when he looked up to the window again to get his change and the ticket, the clerk was gone. Then he noticed the station had been abandoned… He picked up his bags and fled in terror. The Japanese standing outside greeted him with smiles and chuckles as he shot through the door, just about thirty seconds too late if the station had fallen. (p.284)
Due to the earthquake, Fr. Lane, Fr. Morris, and Patsy missed their arranged meeting point and did not see each other again until they all reached mission in Korea. Things did not improve for Patsy and Fr. Morris that day.
In the cathedral at Seoul I finally caught up with Father Morris. He accused me of…the mishap that made us lose each other in Yokohama and Tokyo. He said that after he ran out of the railway station in Yokohama he took a rickshaw to go to the church. He had all his baggage with him – and piled it in his lap – a suitcase, a satchel and Patsy, the Airedale, in a crate on top of them all. The rickshaw man slipped, sending Father Morris and his baggage spilling onto the street. The Japanese rickshaws are high, and when Father Morris came to rest, Patsy was under him. No bones were broken, he said. (p.285)
Our fuzzy buddy just couldn't catch a break. Thankfully, the rest of their journey was not so harrowing. Fr. Morris and Patsy made it to their rendezvous with Fr. Byrne in November.
Teddy's New Mission
By late November, Patsy had made it to Uiji County, Korea (now North Korea). He appeared one last time in Fr. Lane's tale before they parted ways.
Patsy, the Airedale, began his new life's work in Korea, chasing fleas. He worked in night and day shifts, and before I said good-bye to continue on my journey, he was already getting nervous and had a distracted look. Father Byrne had to call twice to get his attention. He seemed always to be listening for a flea. (p. 287)
Following Fr. Lane's departure from Korea, Fr. Byrne rechristened the furry missioner "Teddy" and their partnership began in earnest. All jokes of "chasing fleas" aside, Teddy was brought to Korea to be a working dog. What does a missionary dog's work look like? Teddy became a jack of all trades, supporting Fr. Byrne every step of the way.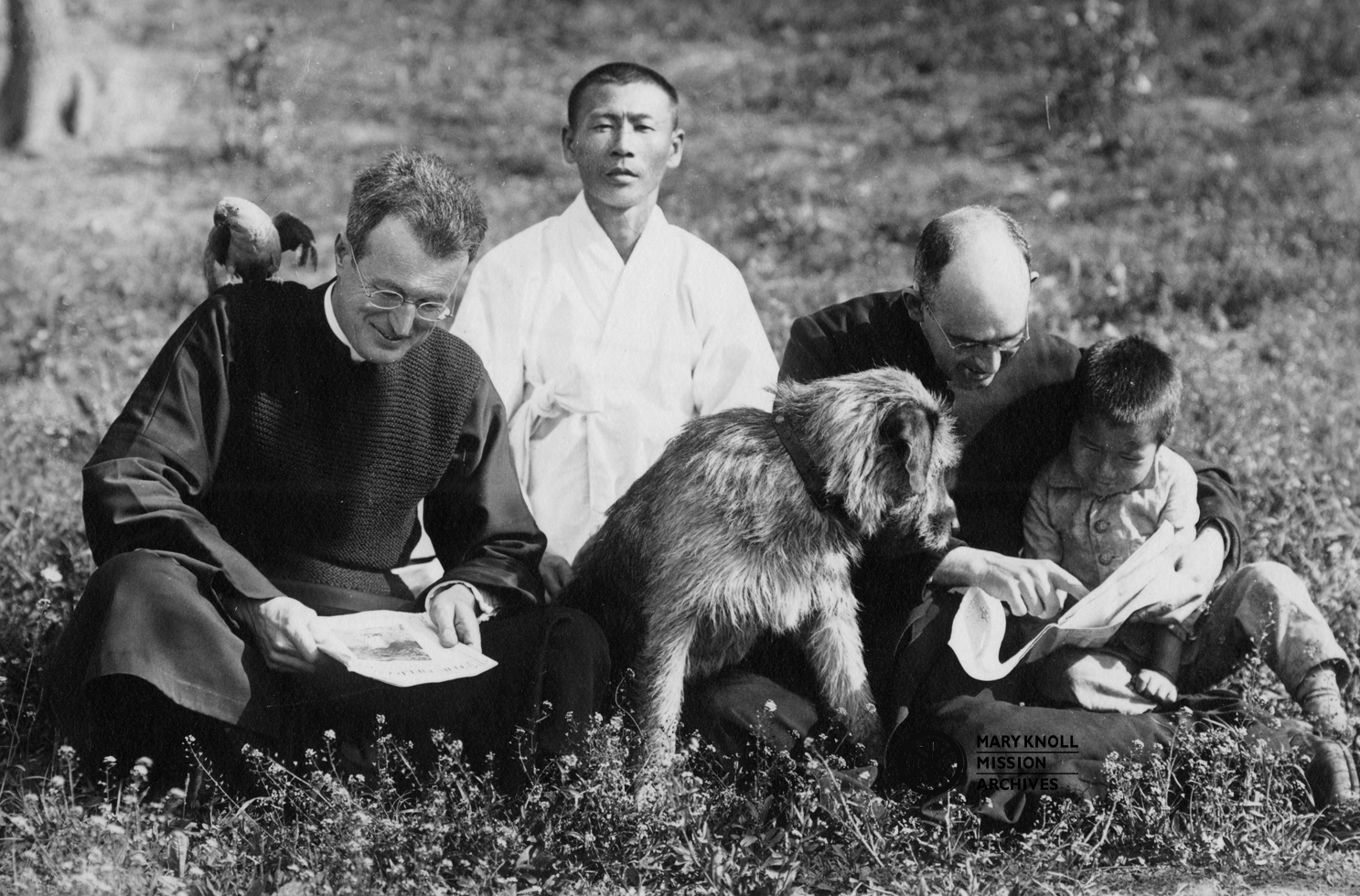 Fr. Patrick J. Byrne (left) and company, Korea, ca. 1920s-1930s
Furry Space Heater
Winter in Uiji County, Korea was extremely cold. Letters from Fr. Byrne to Fr. James A. Walsh state that the temperature was regularly around -20 degrees Celsius during the day. Even with the heater going, it would have been chilly indoors and especially at night. Sweet, loyal Teddy probably would have tucked himself into bed with Fr. Byrne when it got too cold.
A Sympathetic Ear
Like many Maryknollers establishing new missions, Fr. Byrne had his share of difficulties purchasing land for a chapel and rectory. It took until April 1924 to secure land in Shingishu (now Sinuiju, North Korea), and that was before any construction could start! Fr. Byrne's journey to build a thriving Catholic community in Shingishu was long and challenging. Teddy would have been a sympathetic friend to listen and comfort him when things were especially hard. Dogs don't judge us when we're upset. They just want to snuggle and love us until we feel better again.
Dishwasher
"At present I am my own cook, and Teddy is my dishwasher."
           Fr. Patrick Byrne to Fr. James A Walsh, May 17, 1924
Fr. Morris stayed with Fr. Byrne and Teddy for a couple months, but eventually relocated to his own parish nearby. Teddy and Fr. Byrne lived by themselves until Maryknoll Sisters arrived in October 1924. I like to imagine that Fr. Byrne received a lecture on hygiene and letting dogs eat table food when the Sisters found out about their arrangement.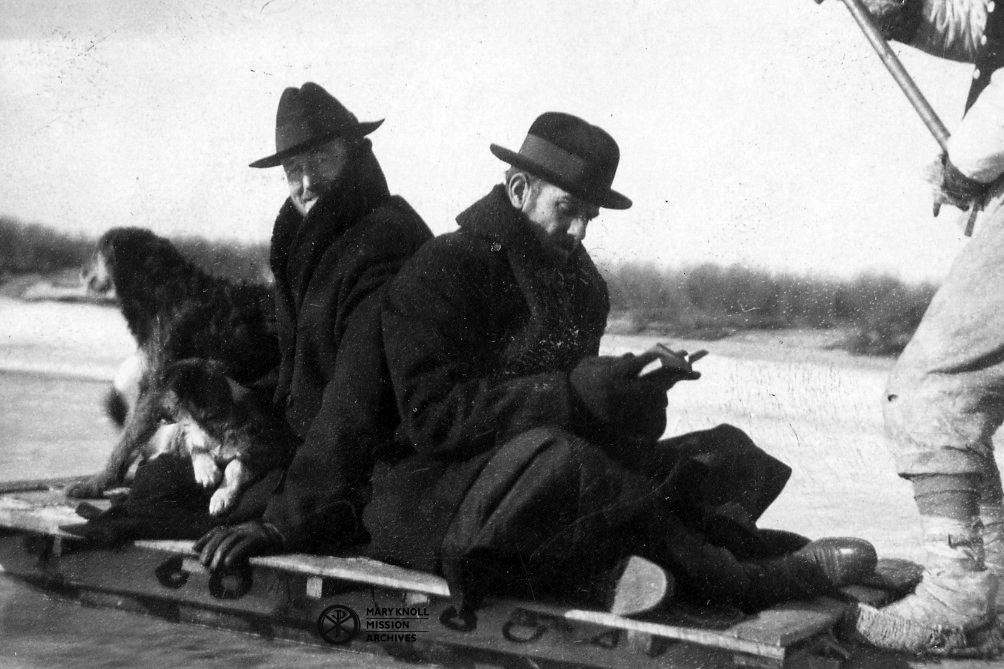 Fathers Patrick Byrne and John E. Morris sitting on a sled, Korea, ca. 1925. While the two dogs on the left remain unidentified, we now believe the dog standing on the sled is Teddy.
Missioner
First and foremost, Teddy served as an ambassador to his new Korean community. He would have traveled everywhere with Fr. Byrne, building relationships and welcoming people to the Catholic Church wherever they went. He couldn't help Fr. Byrne with evangelization efforts, but Teddy would have been skilled at making initial contact with people and introducing them to his best friend. His natural enthusiasm would have helped him make new friends quickly.
Guardian/Watchdog
"He worked in night and day shifts… He seemed always to be listening…"
            From The Early Days of Maryknoll by Bishop Raymond A. Lane
"Teddy, the Airedale who came from Seattle, is looking after us conscientiously, and sends a few friendly wags to all the mutts at the Knoll."
             Fr. Patrick Byrne to Fr. James A Walsh, February 8, 1924
Teddy's superior senses and constant vigilance kept his Maryknoll charges safe. Not everyone is comfortable around dogs, and Teddy's presence would have discouraged anyone inclined to cause trouble. Letters back to Maryknoll during Teddy's mission assignment only mention the group being in danger from cold temperatures.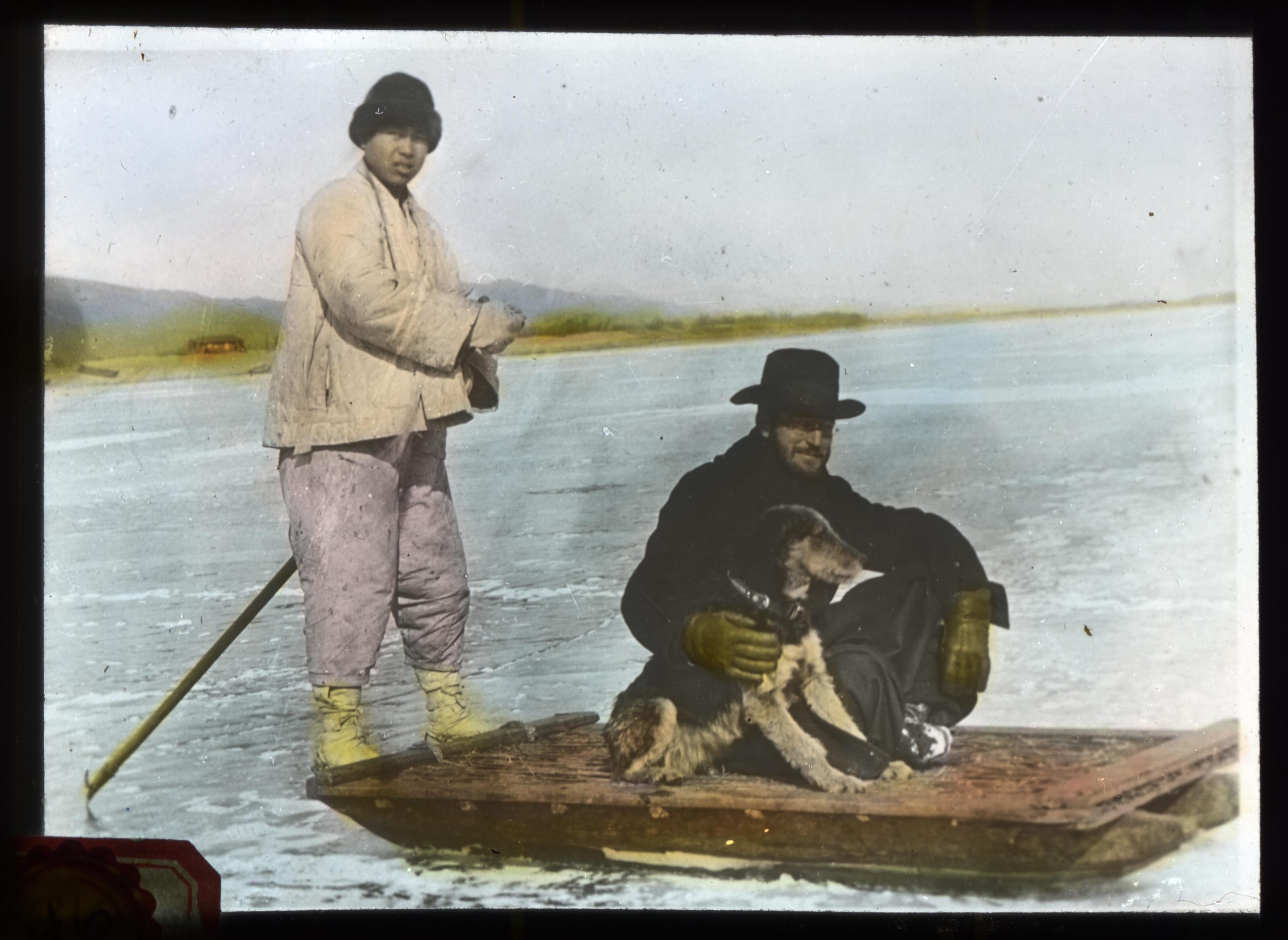 Fr. Patrick Byrne and Teddy sitting on a sled, Korea, ca. 1925. Colorized.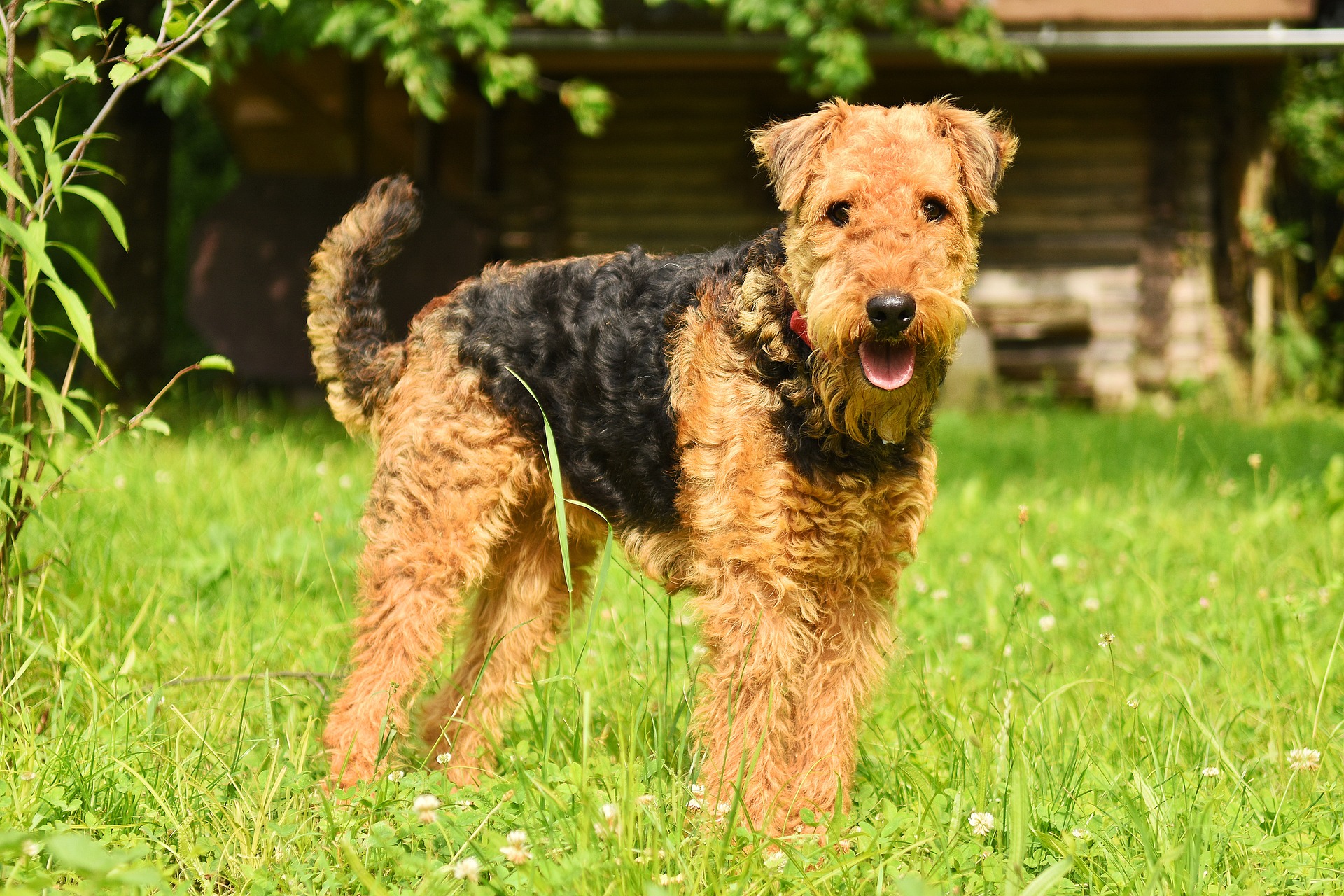 A Life in Mission
By 1925, Fr. Byrne and Teddy were firmly established in Shingishu. Their daily routines would have kept them busy serving the emerging Catholic community. Unfortunately for us, Fr. Byrne's letters to Maryknoll become focused on community development and stop mentioning Teddy. We can only speculate on his life afterwards.
Airedale terriers live for 10-11 years on average. Teddy was still young when he became a lay missioner, so he could have been missioned with Fr. Bryne until 1933 or 1934. Most likely, he passed away in Shingishu, Korea with his best friend, Fr.  Patrick Byrne, by his side.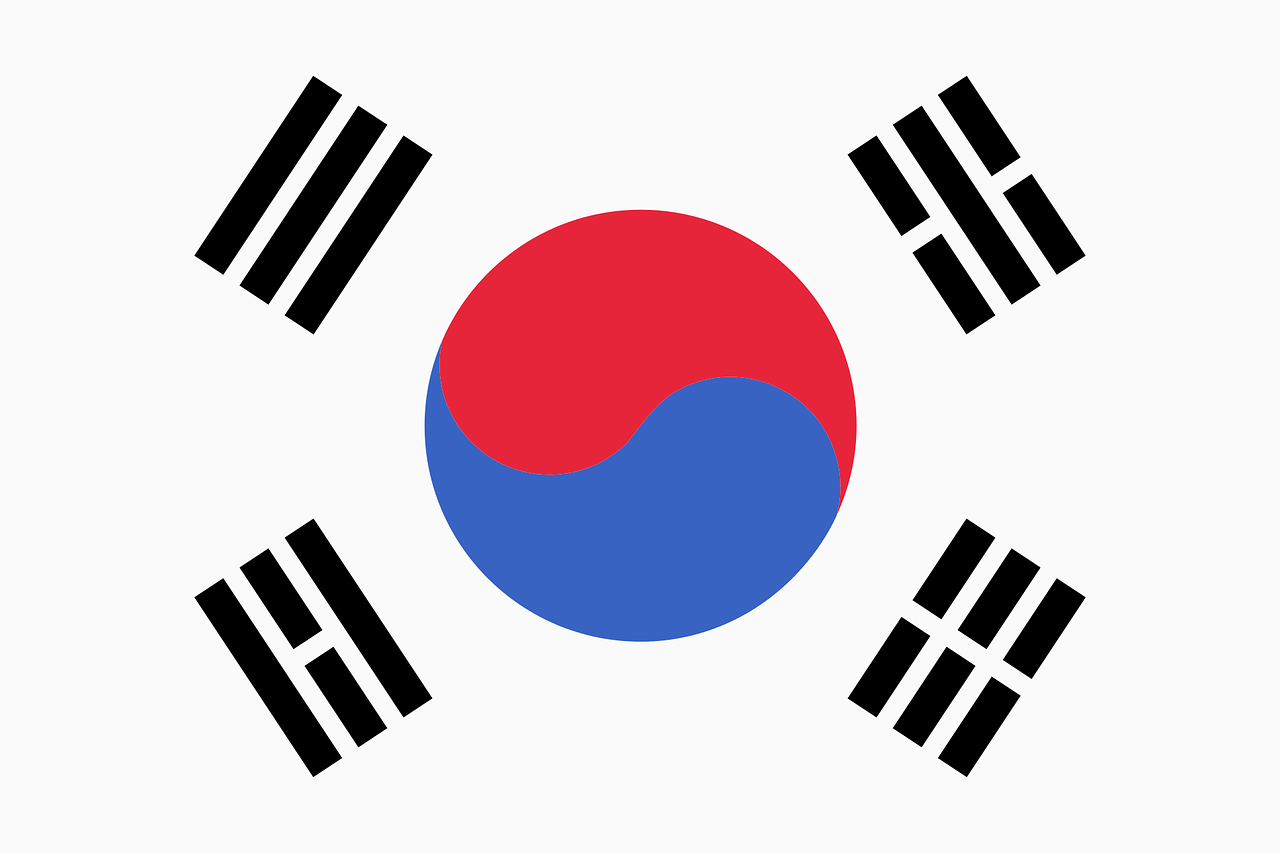 Korean flag during Teddy's time in mission, ca. 1920's
Interested in learning more about Maryknoll in Korea?
You can contact the Archives at:
Maryknoll Mission Archives
PO Box 305, Maryknoll, New York 10545
Phone: 914-941-7636
Office hours: 8:30 am-4:00 pm Monday-Friday
Email: archives@maryknoll.org
Website: www.maryknollmissionarchives.org
References:
Admin. (2017, November 6). Airedale Terrier Dog Breed Information. American Kennel Club. Retrieved from https://www.akc.org/dog-breeds/airedale-terrier/
Bishop Patrick J. Byrne, MM. Maryknoll Mission Archives. (2020, June 29). Retrieved from https://maryknollmissionarchives.org/deceased-fathers-bro/bishop-patrick-j-byrne-mm/
Bishop Patrick J. Byrne Papers, 1915-2000. Maryknoll Mission Archives. (2013). Retrieved from https://maryknollmissionarchives.libraryhost.com/index.php?p=collections%2Fcontrolcard&id=33&q=patrick%2Bbyrne
Bishop Raymond A. Lane, MM. Maryknoll Mission Archives. (2014, April 22). Retrieved from https://maryknollmissionarchives.org/deceased-fathers-bro/bishop-raymond-a-lane-mm/
Father John E. Morris, MM. Maryknoll Mission Archives. (2020, June 29). Retrieved from https://maryknollmissionarchives.org/deceased-fathers-bro/father-john-e-morris-mm/
International Mission Photography Archive, ca. 1860 – ca. 1960. University of Southern California Libraries. (n.d.). Retrieved from https://digitallibrary.usc.edu/CS.aspx?VP3=SearchResult&VBID=2A3BXZSI9JF5O&PN=1&WS=SearchResults
Lane, R. A. (1951). The early days of maryknoll. David McKay Co.
Mission diaries, 1912-1969. Maryknoll Mission Archives. (2013). Retrieved from https://maryknollmissionarchives.libraryhost.com/index.php?p=collections%2Fcontrolcard&id=1&q=mission%2Bdiaries
Wikimedia Foundation. (2023, March 12). Airedale terrier. Wikipedia. Retrieved from https://en.wikipedia.org/wiki/Airedale_Terrier
Wikimedia Foundation. (2023, February 23). Sinuiju. Wikipedia. Retrieved from https://en.wikipedia.org/wiki/Sinuiju