Happy Valentine's Day to all of our
Archives Illuminated readers!
Rather than discuss the life and times of St. Valentine, the Archives would like to share stories about someone nearer and dearer to our hearts; Father Thomas F. Price. His devotion to the Virgin Mary, Bernadette Soubirous (aka St. Bernadette), and his beloved Maryknoll were legendary. His untimely loss was a devastating blow to the Society.
As with all good stories, his doesn't end with his death.
Father Price is not a new subject of study for the Maryknoll Mission Archives. We've discussed him before in Father Thomas Price Remembered. As a co-founder of the Catholic Foreign Mission Society of America, Fr. Price's life has been documented thoroughly. If you're interested in learning more about his life before reading further, you can find his biography here: https://maryknollmissionarchives.org/father-thomas-f-price/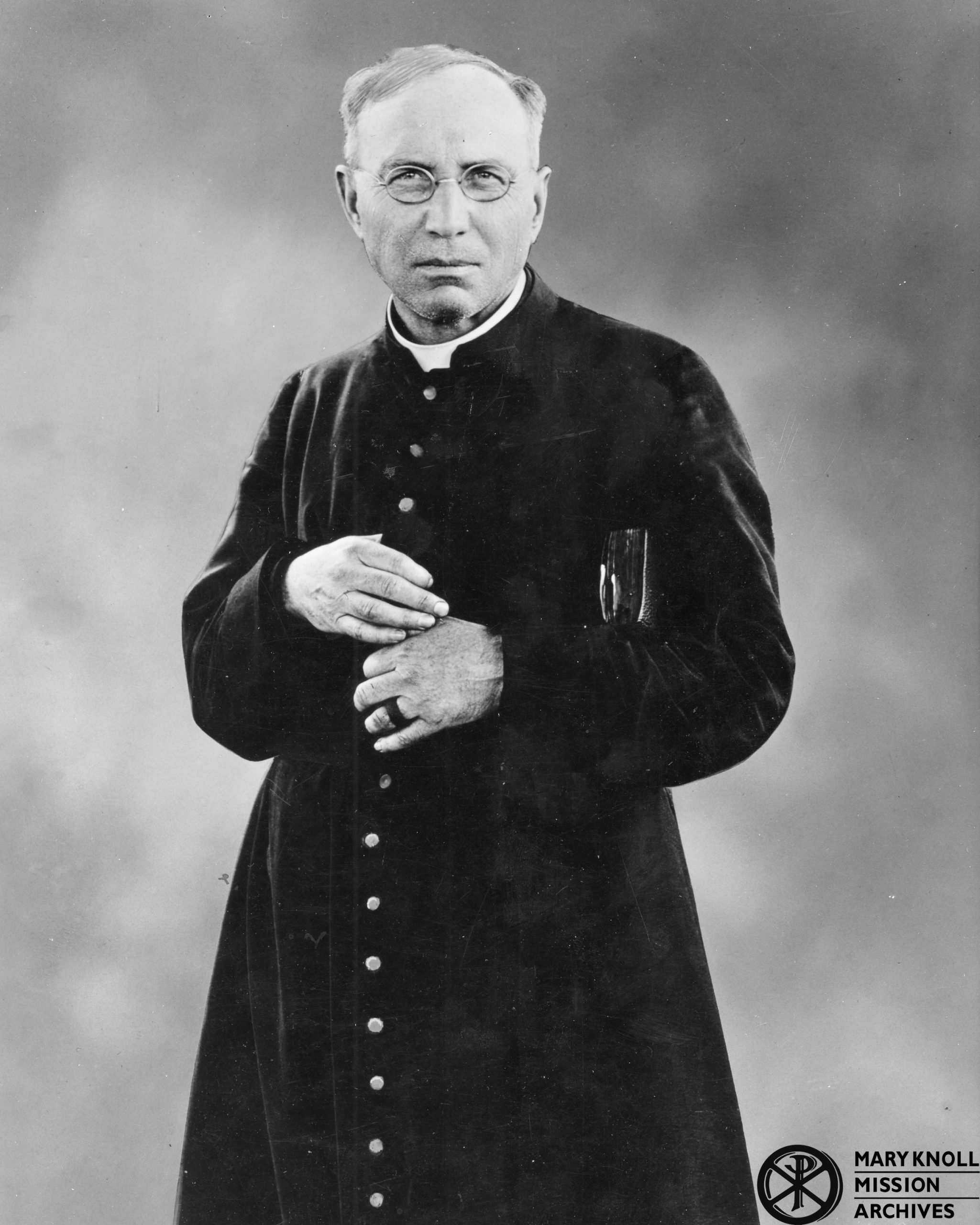 Familiar with Fr. Price's life?
Feel free to skip to the short stories below.
Start with Absence Makes the Heart Grow Fonder
If you'd prefer a short bio:
Thomas Price was born in Wilmington, North Carolina on August 19, 1860 to Alfred and Clarissa (Bond) Price. In August, 1876, he was accepted into St. Charles Seminary at Catonsville, Maryland. He graduated in June 1881, and by September he had entered St. Mary's Seminary in Baltimore. He returned to Wilmington, North Carolina for his ordination on June 20, 1886.
Fr. Price was the first native North Carolinian to be ordained as a Catholic priest. He was affectionately known as the "Tar Heel Apostle" for his evangelization work throughout the state. He dreamed of creating an American seminary and establishing missionaries in other countries. When Fr. Price met Fr. James A. Walsh at a conference, they discovered their mutual goals and began the hard work of creating Maryknoll. The founders received approval from Pope Pius X in June 1911.
Following Maryknoll's establishment and training new priests for mission, Fr. Price and his party set sail for China in 1918. Unfortunately, he suffered a serious ailment as the group travelled inland. He returned to Hong Kong for treatment, but it was not enough to save his life. He passed away on September 12, 1919.
Now as I mentioned before, Fr. Price's story does not end with his death. The Archives would like to present the following tales of Fr. Price, as previously unpublished in our blog. These short stories feature his undying love and devotion, his heart, his body, and his soles.
Yes, that's right. Not his soul, but the literal soles of his shoes.
We'll get to that story in a minute.
Absence Makes the Heart Grow Fonder
Fr. Price was conscious of his failing health during his stay at St. Paul's Hospital in Hong Kong. Several days before his death, he left a sealed envelope in his room labeled "To be opened after my death". It was discovered by an attending Sister, who passed it on to the Hospital's Mother Superior.
The envelope was opened by the Mother Superior shortly after his death, revealing a letter with his last request.
Fr. Price asked that his heart be removed and sent to the Sisters of Charity in Nevers, France. He had an agreement with them for his heart to be interred in an alcove near Bernadette Soubirous, also known as Bernadette of Lourdes. (She did not become Saint Bernadette until 1933. For perspective, Bernadette died in 1879 and Fr. Price died in 1919.) Someone would need to transport his heart to France, but the rest had already been arranged.
Records suggest the only person not shocked by this revelation was the surgeon on duty. He simply removed Fr. Price's heart and placed it in an alcohol solution for preservation. While Maryknollers contemplated how to accomplish transporting a human heart from Hong Kong to France, Fr. Price and his heart were temporarily laid to rest near the hospital in Happy Valley Cemetery.
By law, Fr. Price's heart was supposed to stay buried with his body for seven years. Thanks to the diligent work of Fr. Robert Cairns, Maryknoll Procurator, special dispensation was granted by the Hong Kong Sanitary Board in 1921 to allow removal and transportation of the heart. It wasn't until 1923 however that French missionary Fr. Lecouflet agreed to deliver Fr. Price's heart on his return home. The heart was safely delivered to the Sisters of Charity, where it was ensconced in its promised niche and has remained there ever since.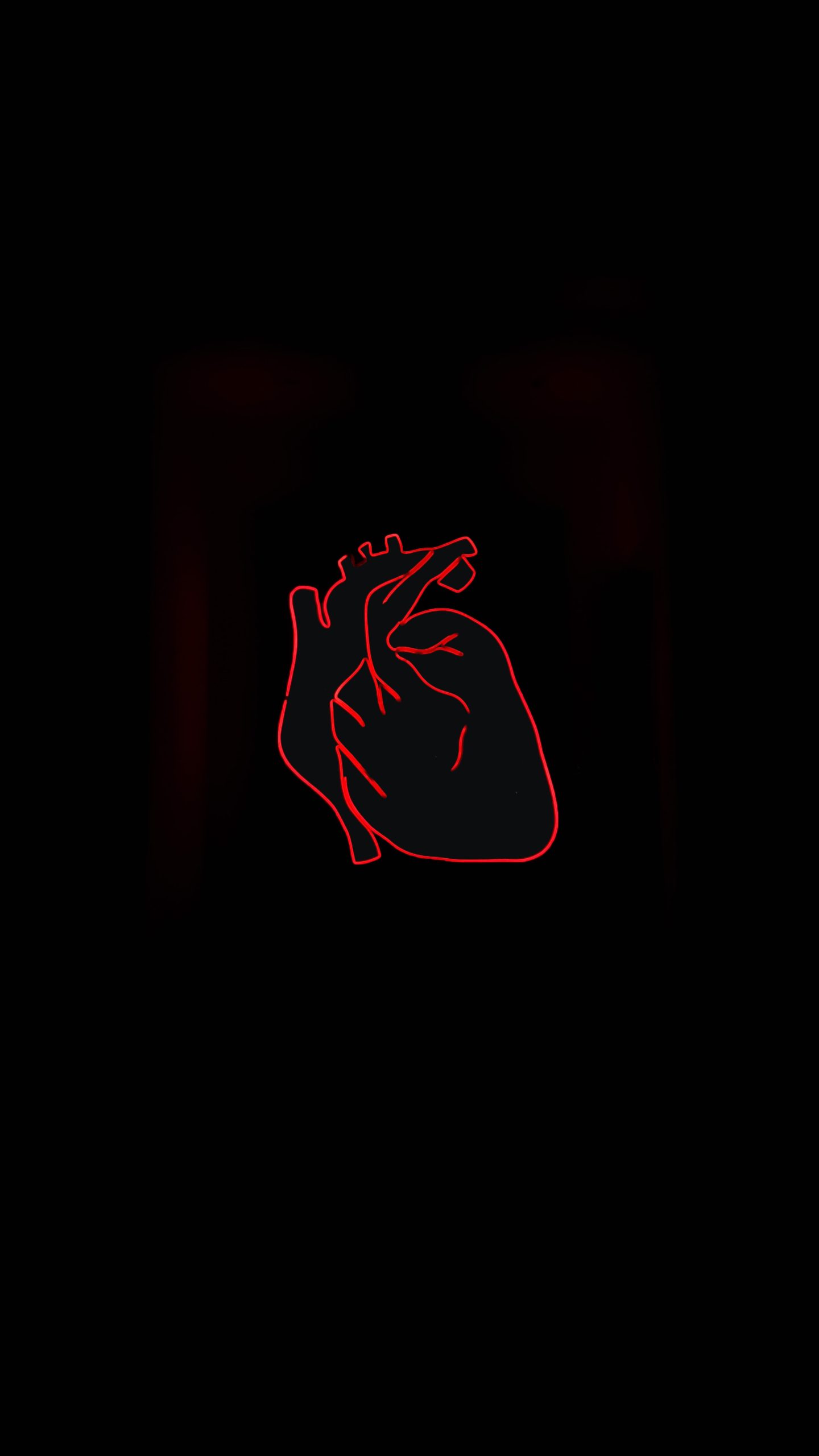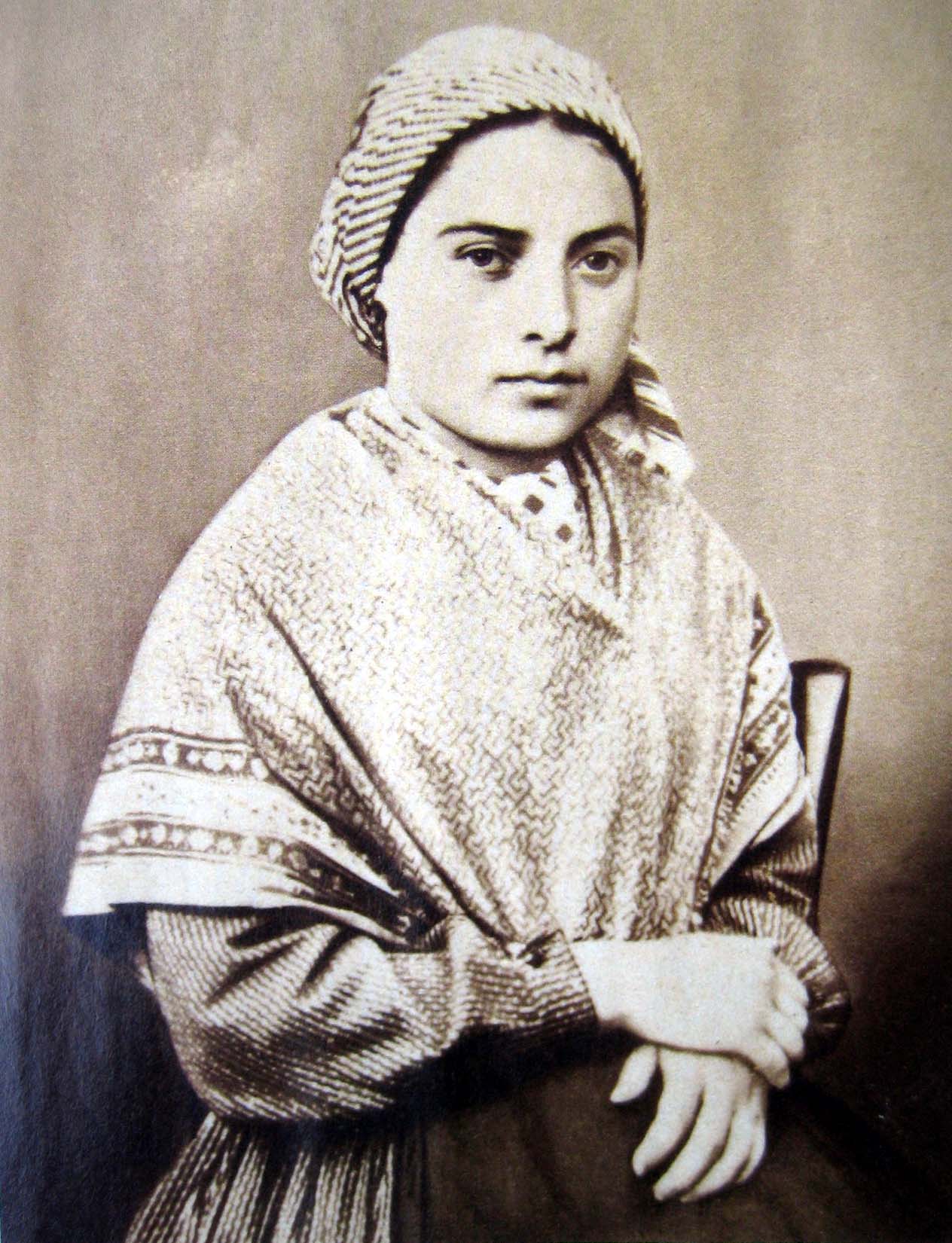 Why Bernadette of Lourdes?
Bernadette is best known for receiving Marian apparitions during her youth. After multiple visitations, Our Lady of Lourdes directed her to cleanse the waters and have a chapel built at the grotto at Massabielle. Following these events, Bernadette joined the Sisters of Charity at Nevers. She remained in the Convent for the rest of her life.
Fr. Price was inspired by her faith and devotion to the Blessed Virgin, which they shared in common. It's understandable that he wished to rest near the person whose life helped shape his own. Records suggest Fr. Price originally asked for his body to be interred next to Bernadette, but it was not possible for the Sisters of Charity to meet that request.
You can learn more about St. Bernadette's life here:
https://maryknollmissionarchives.org/feast-day-of-st-bernadette/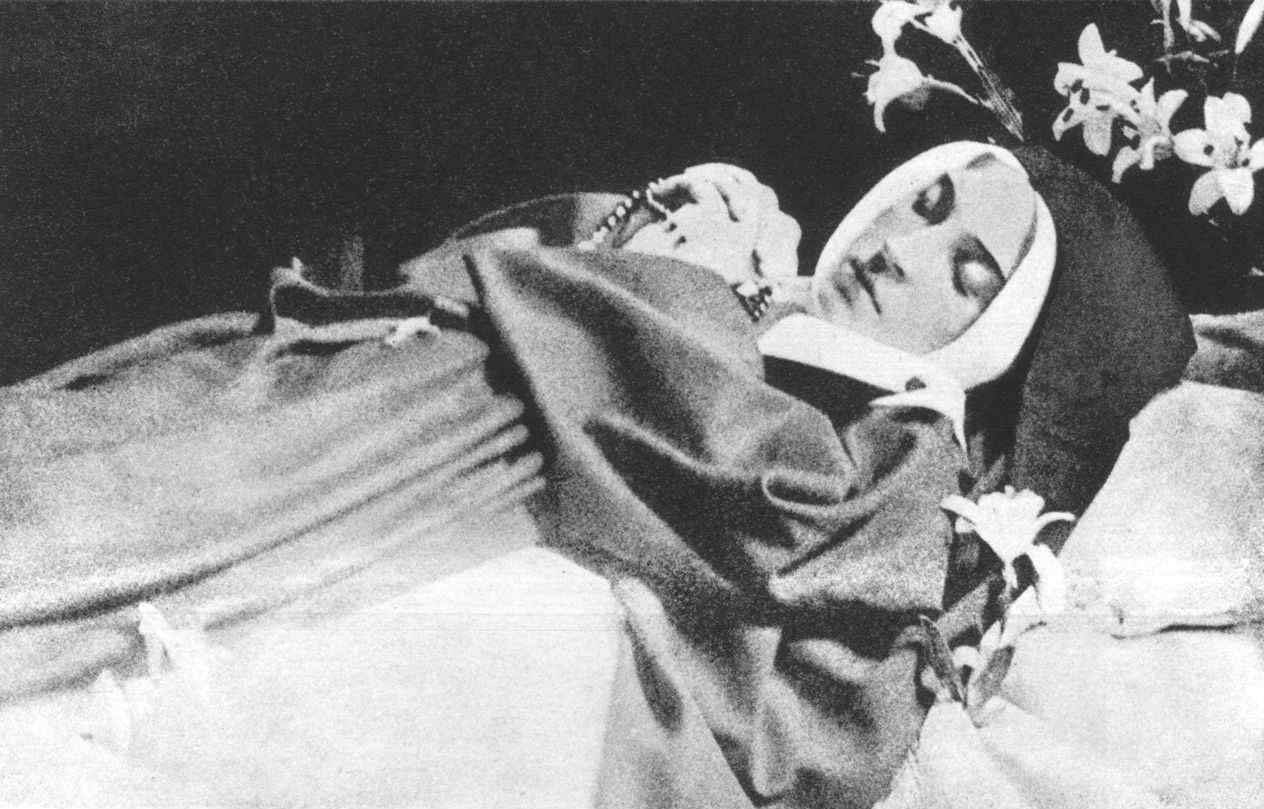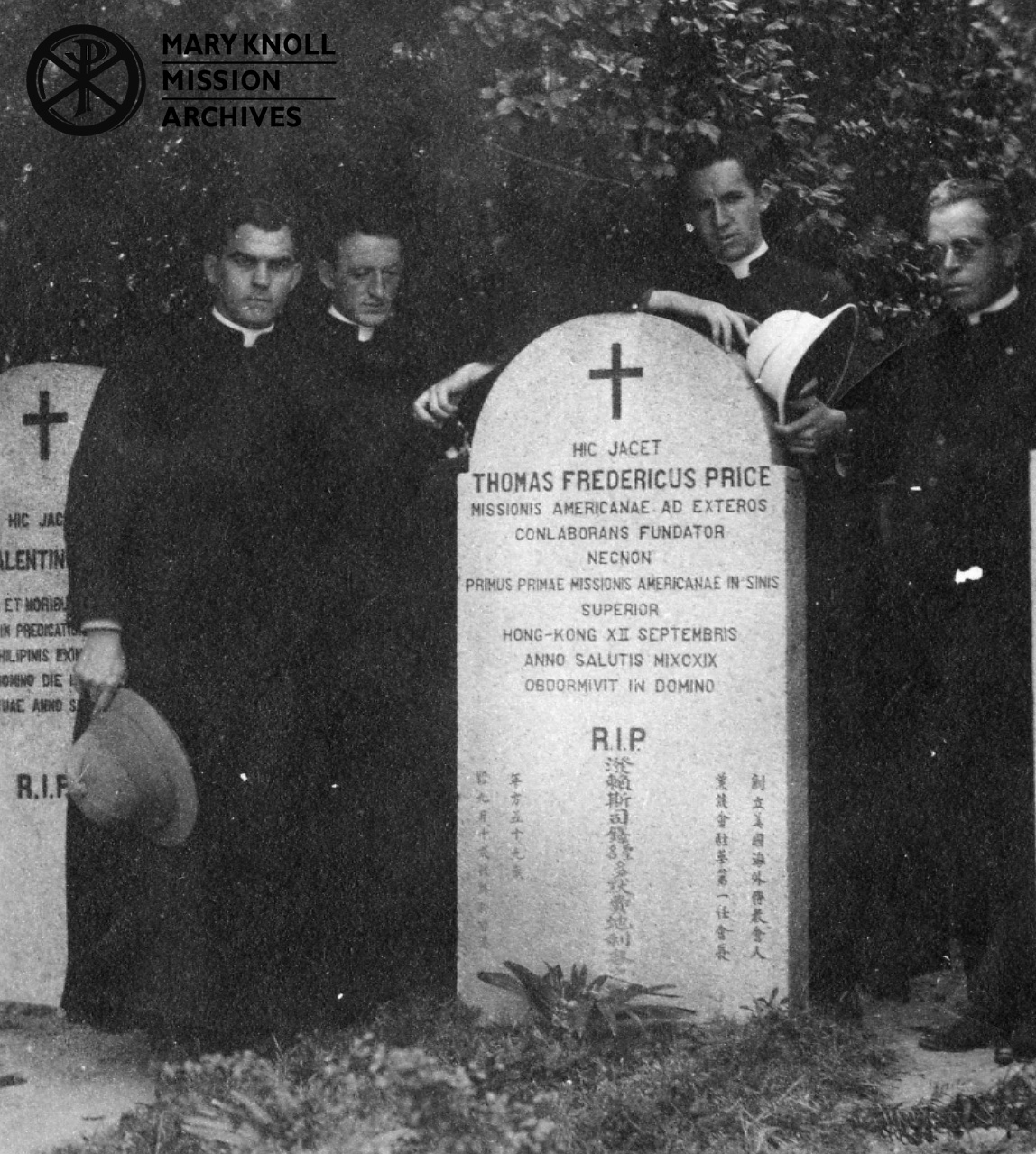 Home Sweet Home
Fr. Price was initially buried in Happy Valley Cemetery, Hong Kong (now Hong Kong Cemetery). Maryknollers hoped to bring his body home, but it took longer than initially expected. Local law, enforced by the Hong Kong Sanitary Board, required that he remain buried for seven years before he could be exhumed. Fr. Price remained in Happy Valley Cemetery for 17 years before his homecoming.
Fr. Price had multiple headstones during his years buried in Hong Kong. This headstone (either the second or third iteration) seen on the left was written in Latin and Cantonese. The photograph captures Frs. Dietz, Taggart, Sweeney, and Murray while visiting his gravesite in Happy Valley Cemetery, Hong Kong in 1923.
His first exhumation was spurred by the death of Bishop James A. Walsh, fellow co-founder of Maryknoll, on April 14, 1936. During the Second General Chapter of the Society (conveniently located in Hong Kong in August 1936), it was decided that Fr. Price should be brought back to Ossining, NY so both men could be buried together.
On December 8, 1936, during the feast of the Immaculate Conception, Fr. Price was interred again in Maryknoll Cemetery. This time, priests and friends from across the country were able to participate in the solemn ceremony and say their goodbyes.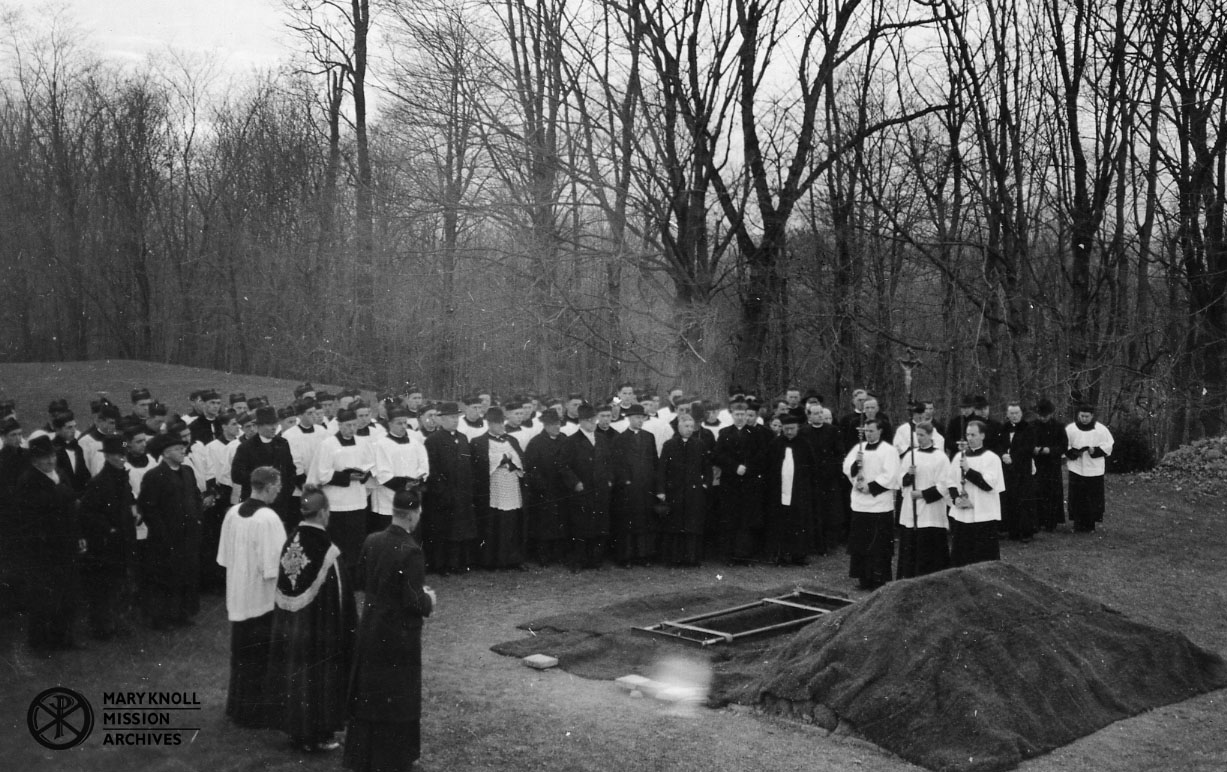 Twenty years later, the Society Chapel was dedicated and the remains of Bishop Walsh and Fr. Price were transferred into the new crypt beneath it. They have rested here together since 1956, with absolutely no plans of relocating again.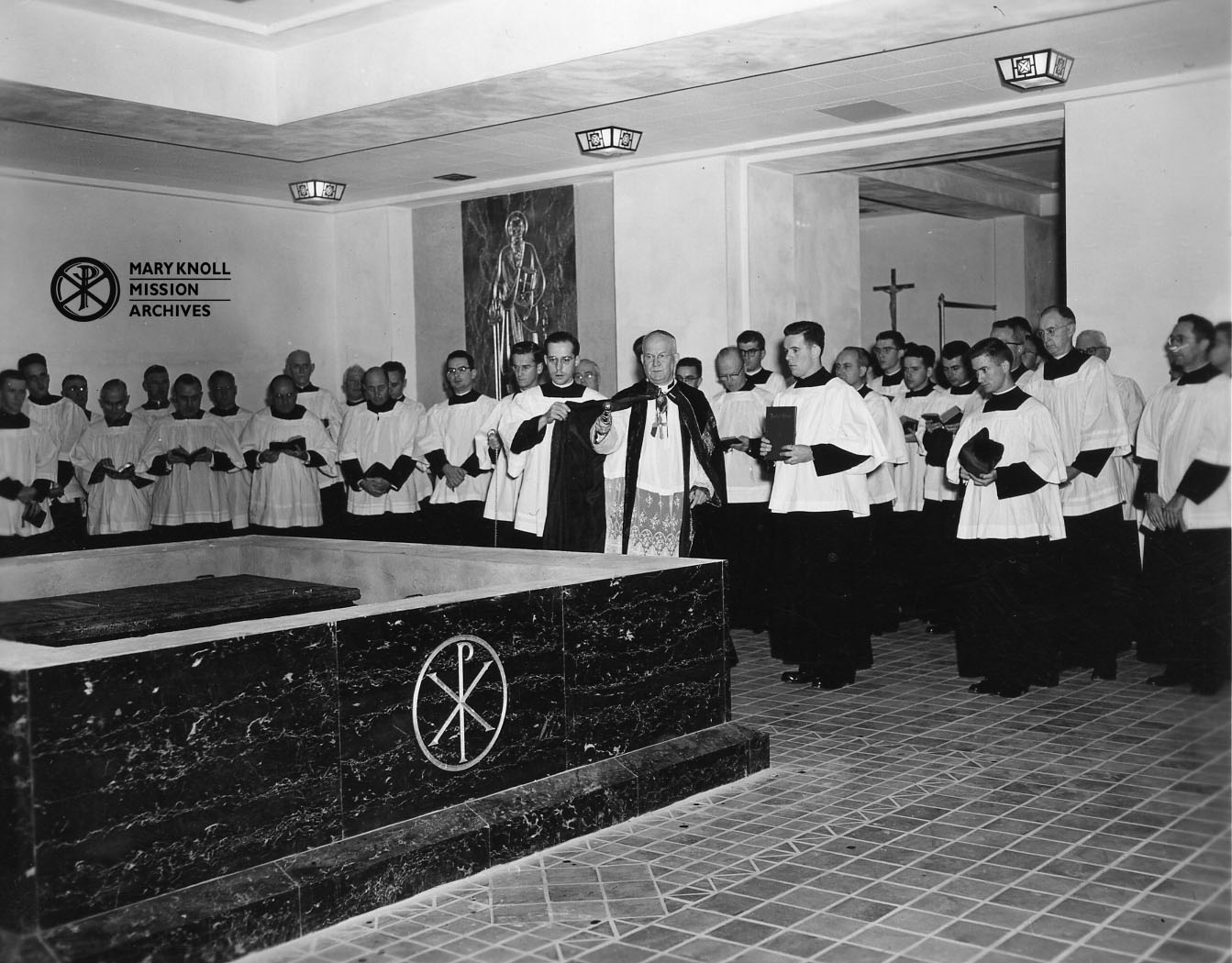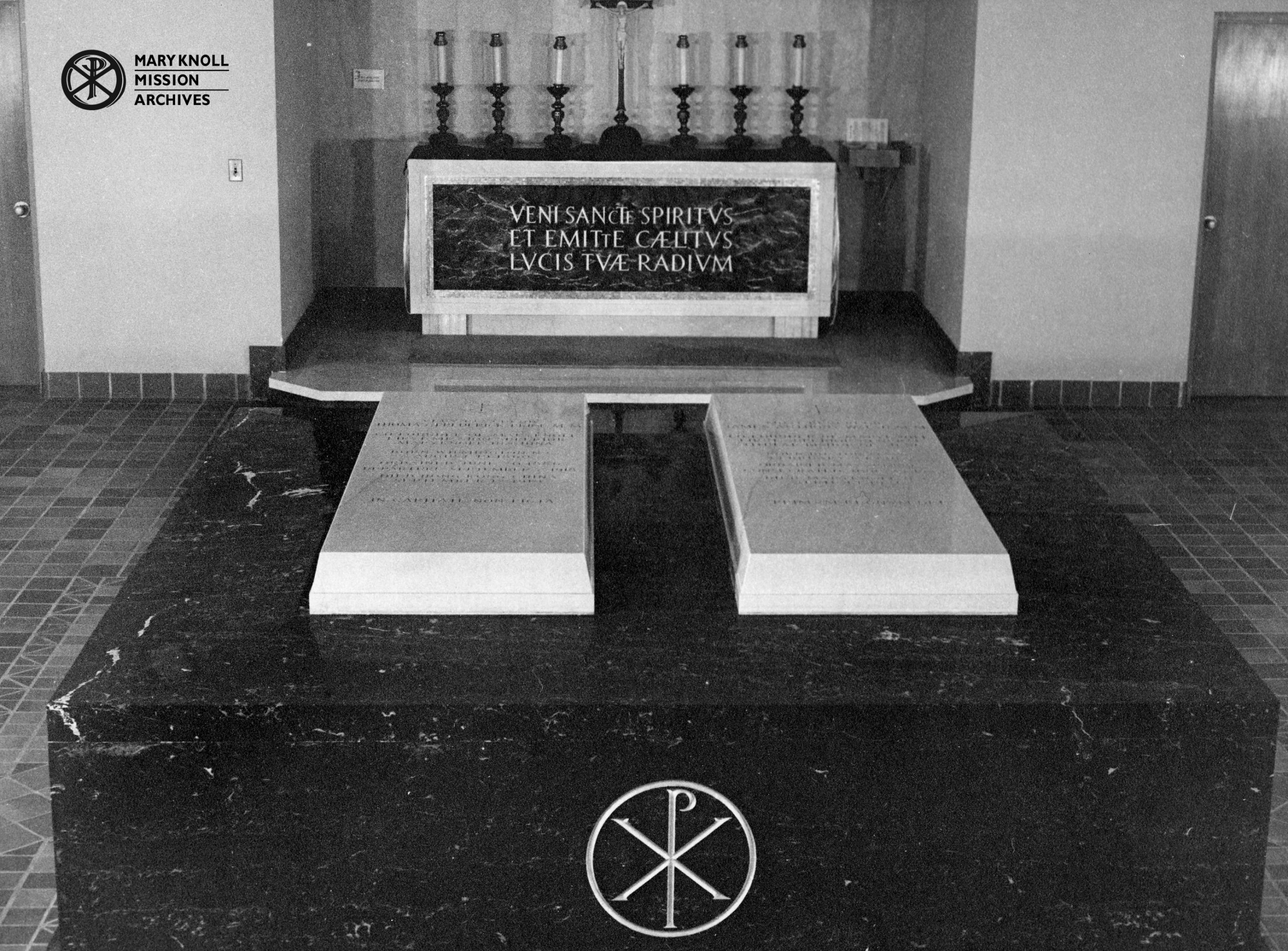 The Soles of a Man
When Fr. Price was exhumed in Hong Kong on August 19th, 1936, his casket was opened and thoroughly inspected by Bishop James E. Walsh, Bishop Valtora, 20 plus priests, the President of St. Raphael's Burial Society, and Merritt N. Cootes, Vice Consul of the United States. Inside were the "well-preserved" bones of Fr. Price, and not much else. The only surviving objects were his Roman collar (made of rubber), a silver ring, an iron anklet, and the soles of his shoes (also rubber). Everything else had disintegrated.
Fr. Price's bones, collar, and soles were resealed in a small coffin and approved for transport by the authorities. His remains were accompanied by Fr. Robert Kennelly, and they set sail for home on October 12, 1936. Bishop Walsh retained the ring and anklet for safe-keeping. Fr. Price was reburied in December 1936, but this time his soles were not.
Today, the soles of Fr. Price are housed in the Maryknoll Mission Archives. As relics of Fr. Price, they rarely leave their climate controlled environment, except on very special occasions. They repose in a transparent case so they can be viewed without endangering their long-term preservation. That case lives inside a box to avoid damage from light exposure. The photo below was taken prior to entering their current housing. These precious relics serve as a reminder to keep walking forward and working hard to build a better future together.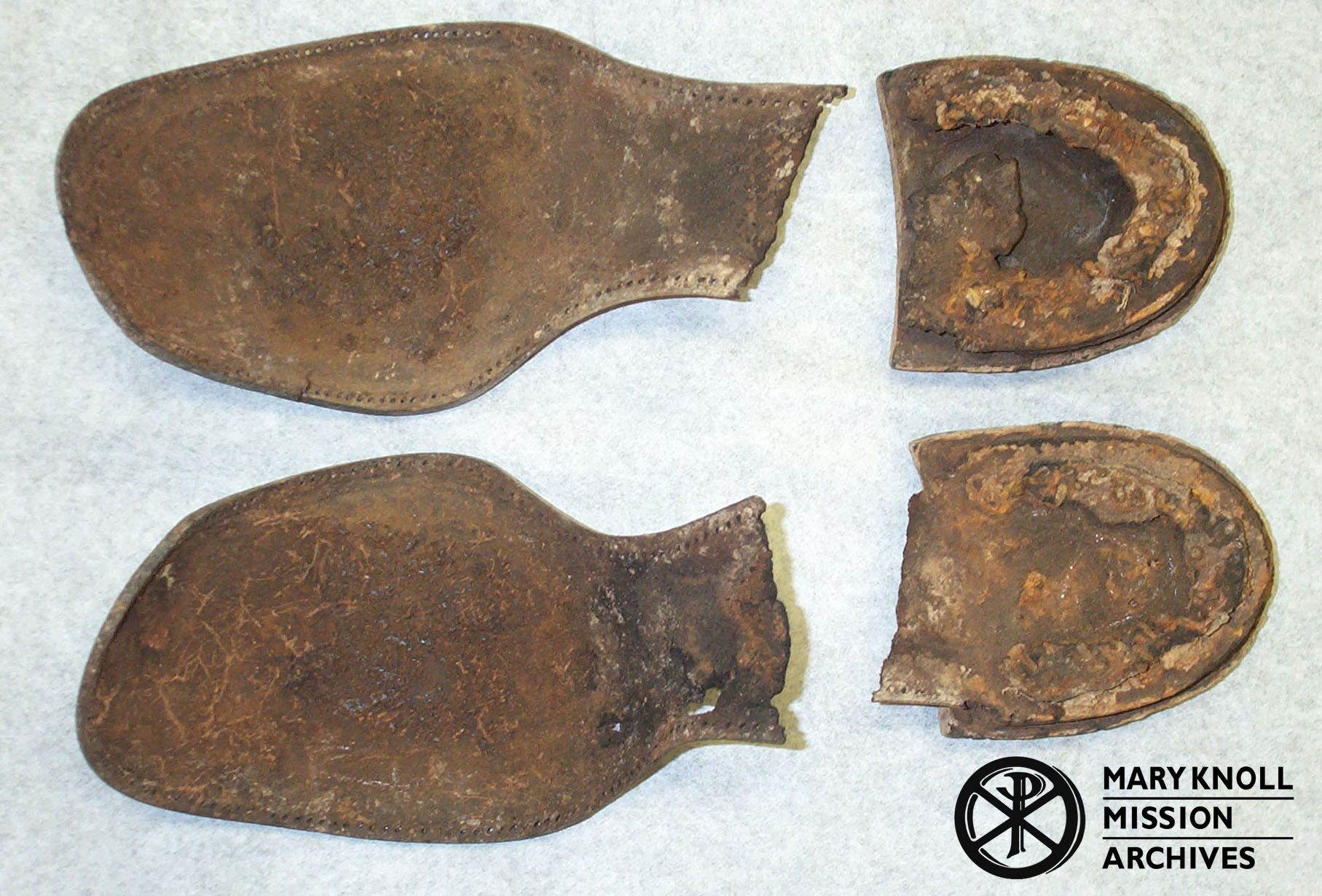 Interested in learning more about Fr. Thomas Price? You can contact the Archives at:
Maryknoll Mission Archives
PO Box 305, Maryknoll, New York 10545
Phone: 914-941-7636
Office hours:  8:30 am-4:00 pm Monday-Friday
Email: archives@maryknoll.org
Website: www.maryknollmissionarchives.org
References:
Conning, S. (2020, February 19). Feast Day of St. Bernadette. Maryknoll Mission Archives. Retrieved from https://maryknollmissionarchives.org/feast-day-of-st-bernadette/
Di Silvestro, J. (2019, October 9). Father Thomas Price Remembered. Maryknoll Mission Archives. Retrieved from https://maryknollmissionarchives.org/father-thomas-price-remembered/
Father Robert J. Cairns, MM. Maryknoll Mission Archives. (2014, April 17). Retrieved from https://maryknollmissionarchives.org/deceased-fathers-bro/father-robert-j-cairns-mm/
Father Thomas F. Price. Maryknoll Mission Archives. (2019, July 25). Retrieved from https://maryknollmissionarchives.org/father-thomas-f-price/
Friends of Hong Kong Cemetery. (2018). Hong Kong Cemetery. Retrieved from https://www.hkcemetery.org/
Gehrlich, F. J. (2013). Father Thomas F. Price Papers, 1885-2000. Maryknoll Mission Archives. Retrieved from https://maryknollmissionarchives.libraryhost.com/index.php?p=collections%2Ffindingaid&id=54&q=&rootcontentid=12310#id12310
Wikimedia Foundation. (2023, January 25). Bernadette Soubirous. Wikipedia. Retrieved from https://en.wikipedia.org/wiki/Bernadette_Soubirous